As a complete beginner, Hungarianpod101 was one of Flo's top resources. In this review, we want to break the online course down and help you decide if and how it can help you at your current language-learning stage and process.
If you follow us for a while, you know our emphasis when it comes to teaching and learning Hungarian is on two things:
Listening (a lot!);

Learning with authentic, native material.
We have created our own language course because we couldn't find any Hungarian-learning products that fit both criteria. However, there's one online resource that comes pretty close and has its entirely different perks – it's HungarianPod101.
Contents:
What is included in HungarianPod101?
Things we like about HungarianPod101
Things we don't like about HungarianPod101
Is this the right course for me?
Do we recommend HungarianPod101?
HungarianPod101 – What Is It About and What's Included?
---
The Backbone: Audio Dialogues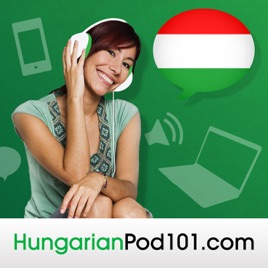 HungarianPod101 is an online Hungarian course created by the Innovative Language family which has created online audio courses and accompanying apps for an astonishing 39 languages.
As the name suggests, the main focus is on spoken audio dialogues and all additional material is built around these.
Ranging from simply learning to introduce yourself up to the lingo of business presentations, HungarianPod101 really covers every Hungarian-learning level.
Once you sign up for free and pick your current level (absolute beginner to advanced) the course will automatically create a so-called "pathway" for you, which is basically the outline and order they suggest you listen to the audios.
The audios are between 5 and 15 minutes long and get longer as you progress. Each one is structured like this:
Dialogue at normal speed;

dialogue at a slower speed

dialogue with Hungarian translations

explanation of the vocabulary

explanation of relevant grammar rules

cultural tips and information
All of them come with the following additional material:
transcript;

vocabulary list;

line-by-line audio;

lesson notes with further, bonus info
Overall, HungarianPod101 presents you with 500+ such lessons.
HungarianPod101 lessons
The course also comes with hundreds of so-called "lessons". Lessons differ from the dialogues, as they are more like little mini-lectures, each around 5 minutes long. Think learning numbers, survival phrases, slang words, the right use of certain colloquial terms or reading comprehensions. The lessons are somewhat the "paddling" around the main dialogues that let you dive deeper into the material.
They are as well sorted according to your language-level (absolute beginner survival phrases to advanced vocab topics).
In addition to lessons in audio format, there are also 100+ short video lessons that help you practice and deepen your knowledge in an entertaining and digestible way and providing you with little additional insights into the culture. You can find some of the video lessons on Youtube.
The course comes with literally hundreds of such mini-lessons.
HungarianPod101 additional material
Additionally, HungarianPod101 provides you with plenty of other materials and features. You can build your own, personal word bank, learn vocabulary with flashcards, download a list of the 2.000 most frequent Hungarian words, receive a word a day to learn per email or take a look at various grammar tutorials.
Note that you can both study with HungarianPod101 on your desktop and download their app for mobile.
What We Love About HungarianPod101
---
We worked ourselves through dozens of Hungarian resources and can assure you HungarianPod101 is among the best ones out there. We highly recommend it, especially for beginners and lower intermediate learners.
The curated pathway based on your current level is just great. In the beginning, when you really don't know where to start and what to learn next, this is a huge relief and the course does an excellent job in taking your hand and walking you through the basics of the language.
We also like the youthful nature of this course (and of the Innovative Language group in general). So much of the Hungarian-learning material out there is just plain old and obsolete. This course isn't – it's really tackling the language including its often complicated grammar rules in a modern, contemporary, digestible and entertaining way.
Then there's the sheer abundance of lessons and things you can learn here – it is definitely the most extensive material you can find. With hundreds of dialogues and lessons you simply can't get bored.
We also like all the additional, cultural input and the relevance of the course for "modern" Hungarian. Often, old language courses try to act cool by adding colloquialisms even my grandmother wouldn't use, but I (Juli) can confidently say that the cultural examples and slang expressions, etc. are all legit.
What's Not to Like?
---
As you reach higher levels, the dialogues might lose their relevance to you.
While HungarianPod101 is an excellent way to build up your basic conversational scripts and vocabulary, the dialogues do not resemble what an actual conversation really looks like. Even the normal speed is way slower and a lot more highly articulated than the usual Hungarian conversational speed. At the same time, the way the characters speak is not natural but remains in a textbook-style of the language, albeit with a modern twist.
While the initial learning curve is steep and relevant it'll lose its real-life application. You'll achieve higher levels within the course but won't be able to follow actual, fast spoken Hungarian nevertheless.
NB: This is the gap we are bridging with our Smart Hungarian Audio Course.
Therefore, once you reach a solid intermediate level the course became more of an additional material for Flo – the lessons remain great and all in all the additional material remains a good reference throughout.
Is this the right course for me?
---
It depends on your Hungarian learning level.
If you're a beginner or lower intermediate learner we can confidently scream "YES!"
HungarianPod101 does an excellent job in taking your hand in the beginning, walking you through the basics, showing you what the language is all about, where to start, how to use basic phrases, etc.
Probably no other course out there will teach you as quickly and efficiently how to introduce yourself, the vocabulary of basic topics and how to talk about them.
If you're an upper-intermediate learner or above it is still a good additional material but we wouldn't (and didn't) give it our entire focus, as it slowly but steadily loses its real-life application.
How much does HungarianPod101 cost?
---
HungarianPod101 comes in various packages, so there's something for every wallet.
See all of the HungarianPod101 pricing plans here.
First of all, you have a 7-day free trial period in which you have access to everything. This is great and you don't see this often – we highly valued this. You really get to try it all out and see if this is something for you. All you have to do is sign up.
Basic subscription:
For $4 a month (paid annually) you gain access to all dialogues, lessons and in-depth lesson notes, as well as 100 core words and phrases. It's a really fair price in our opinion, as this alone exposes you to all those hundreds of lessons they have.
Premium subscription:
For $10 per month you get all the extras: This is where quizzes, recording tools, spaced repetition flashcards, custom word lists and the whole grammar bank come into play. We recommend this option if you've figured that you like the youthful style of HungarianPod101 and want to dive in deeper.
Premium PLUS subscription:
For $23 a month you get a 1-one-1 learning experience. This means that a personal teacher will be assigned to you who will walk you through the program, give you assignments, professional assessment and tailor your learning path. We didn't go with this option so cannot give an opinion on it or evaluate the teachers in any way. All we can say is that $23 is probably as cheap as it gets when it comes to personalized learning.
Here's the link to their pricing links so you can have a look.
Do we recommend HungarianPod101?
---
Yes, 100% if you're a beginner or intermediate learner.
It's a great course and will get you through the initial learning curve and fear of starting out / initial confusion really quickly.
We're big fans of this course and also big believers of learning with audio conversations from the beginning on.
It's progressive and youthful material and will keep you entertained for sure.
Final Thoughts
---
Thank you for reading our HungarianPod101 review.
We wish you a lot of success on your path with this course and are happy to hear and read about your experiences below in the comments section.
Have you tried HungarianPod101? How did you like it? Would you recommend it to your friends and fellow Hungarian-learners?
Anything you care to share or get off your chest?
Don't hold back, but let us know!
… and if you haven't: We look forward to seeing you succeed with this.
Disclaimer: Some of the links above are affiliate links, meaning that, at no additional cost for you, we will earn a small commission if you decide to make a purchase. Nevertheless, we only recommend this product because it is helpful and useful, not because of the small commission we make if you choose to buy something. Please do not spend any money on this products unless you feel you need it or that they will help you achieve your Hungarian-learning goals.
https://www.catchbudapest.com/wp-content/uploads/HungarianPod101-Banner-s2.jpg
315
852
catchbudapest
https://www.catchbudapest.com/wp-content/uploads/cbp_logo_dolt_fekete_karika_vastag-s.png
catchbudapest
2021-05-27 18:00:16
2021-09-15 16:06:23
HungarianPod101 Review (2021) - A Great Course for Beginners and Lower Intermediate Learners