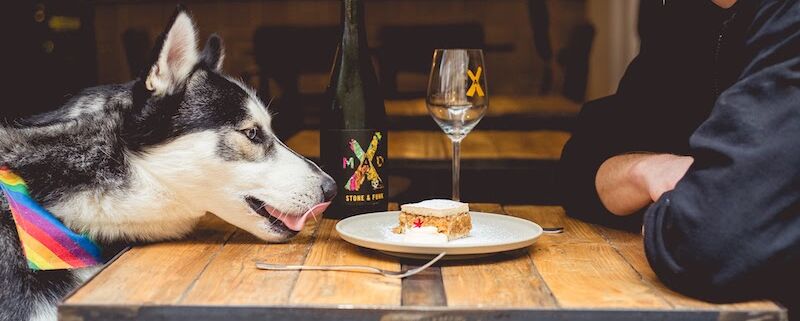 This is a guest post by Olivia Fuller from Ultimate Budapest. Ultimate Budapest is an informational resource and booking service for travelers, ex-pats, and locals to buy tickets and entry passes to Budapest's best tours and experiences.
Dogs are more than just pets – they're a part of the family. We know there are many of you devoted pet owners who just can't bear to be separated from your pup, and you shouldn't have to! We've hand-picked five cafes, bars, and entertainment centers that are not only dog-friendly but actively encourage you to bring along your fluffy friend.
Dog-Friendly Place in Budapest #1: The Goat Herder
Just across the street from the University of Veterinary Medicine, one can find The Goat Herder Espresso Bar, a specialty coffee shop offering light roast coffee and delicious food. Cookies, banana bread, vegan hummus wraps, açai bowls – everything is made in-house! Plant-based milk is available for the lactose/dairy-free crowd.
Visit in the mornings to catch the student crowd or on weekends for a vibrant, fun atmosphere. Or you can join the locals in the mid-afternoon for a more relaxed, slower pace.
"Dogs are almost a permanent feature of The Goat Herder with the vet school just over the road," says Dave, who co-owns The Goat Herder with his wife. "They feel very much at home here."
Address: Budapest, István u. 5, 1078
Opening Hours: Mon-Fri 7:30-16:00, Sat & Sun 8:00-15:00
Dog-Friendly Place in Budapest #2: Neverland Bar
Neverland Bar & Escape Room is an entertainment center in the heart of Budapest, boasting five imaginative escape rooms (with more in the works!). However, escape rooms aren't the only draw; Neverland also specializes in signature cocktails and gin & tonics.
Dogs are happily welcomed at Neverland. Many of the staff are dog owners themselves. The owner's dog, a Hungarian Vizsla named Berlusconi, is a constant feature at Neverland, so beloved that he even has his own instagram account!
Address: Budapest, Dohány u. 22-24, 1074
Opening Hours: Sun-Thurs 9:00-00:00, Fri & Sat 9:00-2:00
Dog-Friendly Place in Budapest #3: Madhouse Craft Beer Bar
Looking for a spot to quench your thirst? This craft beer bar promises to do just that with 25 beer taps that feature weekly rotations, organic wines, lemonades, and more. If you're craving something more substantial, try the lunch menu from noon till 3 pm, Monday to Friday, for dishes that range from classic Hungarian to the Mediterranean to Far Eastern.
Madhouse plays host to events such as ANKERmarket, which gathers small businesses selling handmade goods. If you catch a themed week, you might be treated to special beer cocktails or limited menu items.
Water bowls and dog treats await your pup at Madhouse – after all, they see dogs as part of the family. Don't hesitate to bring your four-legged friend whether you're stopping in for a drink, a bite to eat, or to check out one of their many events.
Address: Budapest, Anker köz 1, 1061
Opening Hours: Sun-Tues 12:00-1:00, Wed & Thurs 12:00-2:00, Fri & Sat 12:00-4:00
Dog-Friendly Place in Budapest #4: Gaby's Restaurant & Bar
An American-style restaurant and bar, Gaby's is the place to be. Saturday brunch, Taco Tuesday, Friday night grooves, drag bingo… whatever you're into, you can find it here!
"Dogs rule at Gaby's, and are welcome inside and out," says Bryan, the owner of both this lively locale, as well as the dog it was named after. "Gaby is my personal dog, and we have lots of dog owners who bring their four-legged buddies."
Want to spoil your pooch for being so well-behaved while you devoured a melty grilled cheese sandwich? Just ask the staff for some dog treats!
Address: Budapest, Katona József u. 41, 1137
Opening Hours: Sun-Thurs 9:00-22:00, Fri & Sat 9:00-00:00
Dog-Friendly Place in Budapest #5: Café Blini
Cafe Blini is a cozy, friendly cafe and brunch restaurant in Buda, where the staff cultivates a personal and conversational relationship with their guests. Here you can indulge in fresh, homemade breakfast sandwiches, tasty quiches, and flavorful soups, or simply get your caffeine fix with their specialty coffee.
This gem of the second district is the perfect place to spend a relaxing morning with your furry friend!
Address: Budapest, Keleti Károly u. 25, 1024
Opening Hours: Mon-Fri 7:00-16:00
---
As you can see, there are many great dog-friendly locations in this city that not only welcome your fur baby with open arms but provide delicious food and drink, as well as a friendly atmosphere. Looking for more ideas? Many outdoor bars in Budapest also allow dogs – just shoot them a message to double-check before you go!
https://www.catchbudapest.com/wp-content/uploads/MG_6500.jpg
533
800
catchbudapest
https://www.catchbudapest.com/wp-content/uploads/cbp_logo_dolt_fekete_karika_vastag-s.png
catchbudapest
2021-11-30 15:44:36
2021-11-30 15:55:53
Top 5 Dog Friendly Places in Budapest