Margaret Island is the green lung of Budapest and has something to offer for everyone. Whether you want some relaxed time for yourself, spend a nice day with your family or are after a romantic date surrounded by nature, Margitsziget has your back. Margaret Island is definitely not your place if you're looking for some mind-blowing new attractions. But it's the perfect spot for you if you're into people-watching, want to see how Budapest unwinds and where locals take their kids. Plus it's a true insider tip for some alternative viewpoints and photo-angles on the Hungarian capital.
We simply love Margaret Island and there is so much more to it than what most visitors usually see. Today, we want to share our personal guide to the unofficial heart of Budapest with you.
Since this is a long post, we have divided it into five parts:
Now let's see what the island can offer you. Here are our top things to do on Margaret Island for singles, couples, families, actives, passives and everyone in between.
Getting There
---
You can enter Margaret Island either from Margaret Bridge in the south (the more popular option) or Árpád Bridge in the north (the lesser-known option).
It's completely up to you, which side you prefer. The entry from Margaret Bridge is what most people use, since it's closer to the city-centre. Trams 4 and 6 both take you directly to this entrance.
If you decide to enter from Árpád Bridge, take M2 to Árpád Híd and either walk or take bus 16 directly to the island.
Or grab your bike or a bubi anywhere in the city and cycle to whichever entrance.
Best Time to Visit
---
We're talking about a park here, so you'll be best off with sunshine and good weather. But don't mistake Margaret Island for a strictly fair-weather destination. You can definitely visit anytime of the year and enjoy its completely different charm in the cooler months; even in winter and snow.
For the Active Ones: Top Things to Do on Margaret Island
---
Margaret Island provides you with a huge variety of activities to get you moving:
Go plashing in the Palatinus bath and spa – Although Palatinus definitely isn't among the most modern baths of the world, it has everything that water- & fun-lovers of every age can possibly desire. With 13 total pools ranging from waves- through thermal to swimming pools and slides, there's no way you'll get bored here anytime soon. Since 2017, a new indoor-area was opened, so that you can now visit year-round and get ready for some water-action.
(location on google maps)
Swim your laps in the Hajós Alfréd bath – Those of you who have a more serious approach to water and regard swimming as an actual sport should head to the Hajós Alfréd bath. Hungary is a true swimming nation and many of its Olympic- and World Champions were trained here. The facilities here are simple and on-point. You should expect nothing fancy but due to its rich history, the whole bath is defined by a special atmosphere. Two of the four pools are inside, so you can come here year-round, too.
(location on google maps)
Bonus tip: The pastries of the kiosk in the entry hall are delicious. You can have a great snack here even if you don't feel like swimming.
Run with a view – For all the joggers of Budapest, including us, Margitsziget is the ultimate haven. There is a running track that surrounds the whole island and makes for a great, flat 5.8 km round. You'll have nature on one and the Danube, Buda and Pest on the other side. Getting those legs working on Margaret Island equals being sporty in top-surroundings. We recommend it over any treadmill of the world.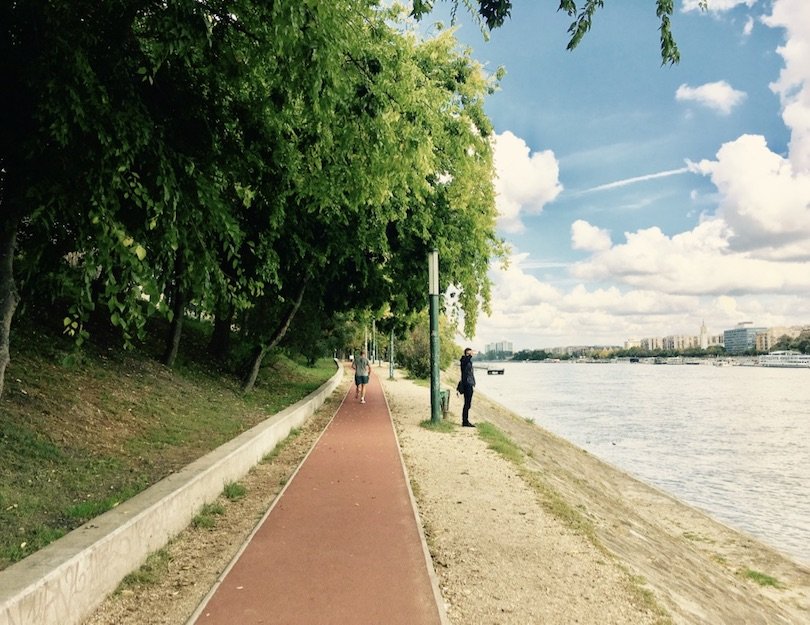 Explore the island on two wheels – Cycle! – A great way to get to Margaret Island is by bike, instead of public transport. Don't fret if you don't want to incur the way there through the city though (or don't own a bike): Bubi (Budapest's bike-network) has you covered. There are three bubi-stations on the island and Margitsziget just lends itself super well for being explored on two wheels. Cycle from Margaret- to Árpád bridge and throw in a picnic at one of the numerous meadows.
Families and eternal children: Ride the Bringóhintó! – Riding a bringóhintó on Margitsziget is a thing every Budapest city-kid has done at least once in their lives. Bringóhintós are basically pedal coaches on four wheels, powered by four legs. You can rent them for a fair price for 30 minutes or more at both tips of the island. You probably won't lose any kilos here but hey, the running track will be there tomorrow, as well.
(rental station at Centinary Monument on google maps)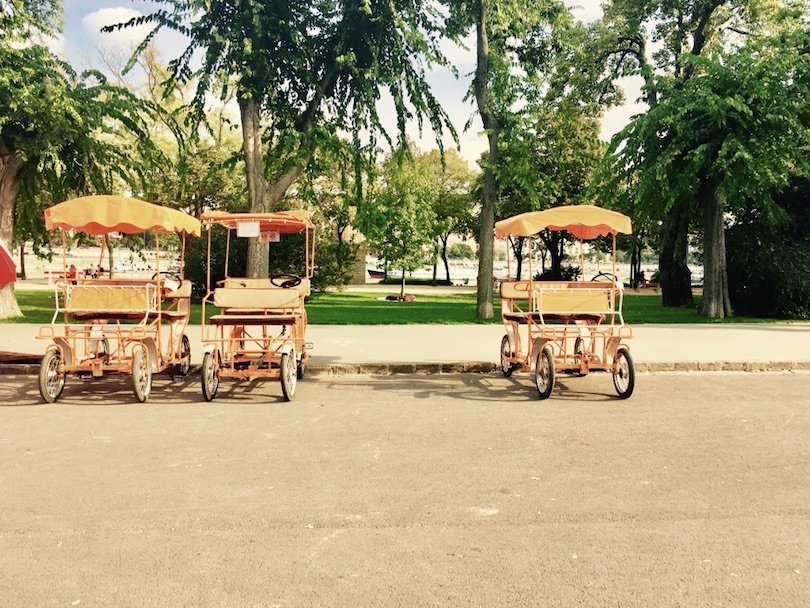 ---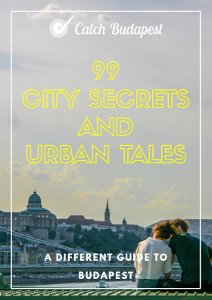 Explore the Authentic Side of Budapest!
Our guidebook will help you peel back the multiple layers of Budapest one by one. It'll help you see Budapest the way it's meant to be seen.
It's written for conscious travellers and locals. For those who are looking for more than just a glimpse at the main tourist attractions.
For those who want to not only see, but also feel the city and experience how it lives, plays, works, eats, drinks and functions.
It features countless little gems for you to discover while strolling the city streets – be it a hidden courtyard, a secret bar, a colourful garden, an offbeat flea market, or a stunning piece of street art.
---
For the POI-hunters: Top Things to See on Margaret Island
---
You won't spot the next Basilica, Parliament or Ruin Pub on Margaret Island. Still, Margitsziget offers a let's-just-say-interesting mixture of "sights" which actually make a good crash course on the history of the island. You can easily throw them into your visit, since you will most likely cross some of them during your stroll.
We have sorted the sights by their order between Margaret Bridge and Árpád Bridge. If you enter from Árpád Bridge, they will come in reverse order.
The "Singing Fountain" – The very first thing you'll probably spot when entering Margitsziget from Margaret Bridge, is the "singing fountain". It's basically unmissable. Since it's 2013-renovation it's huge and plays music in each and every of your waking hours between May and October. Whether you like it or loath it, it's an iconic picture that simply belongs to Margitsziget and has – in various forms – always been there. Well, since 1962. That's a long enough time.
(location on google maps)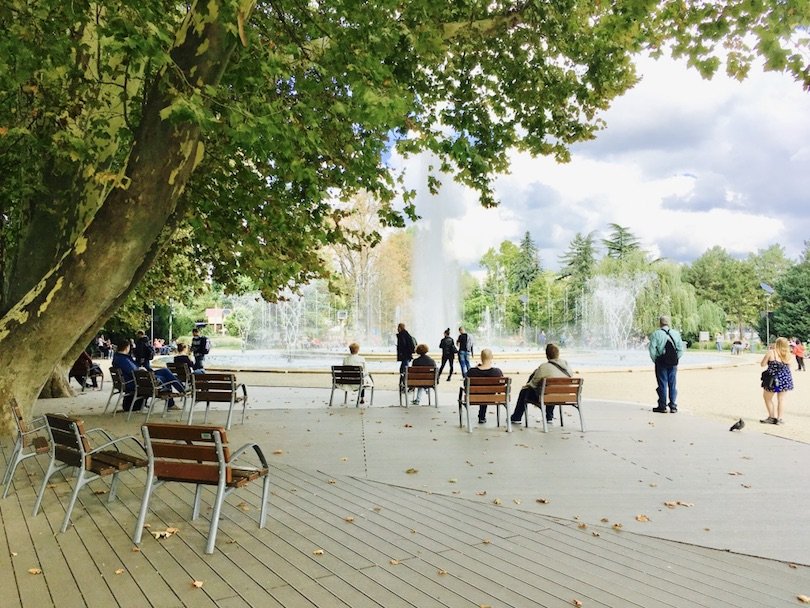 The Centinary Monument – Also very hard to miss if you enter Margitsziget from Margaret bridge, this oddly-shaped monument is another iconic piece of the island. It was erected in 1972 and symbolizes the unification of Pest, Buda and Óbuda into what we today call Budapest. It was actually built for the 100th anniversary of this happening.
(location on google maps)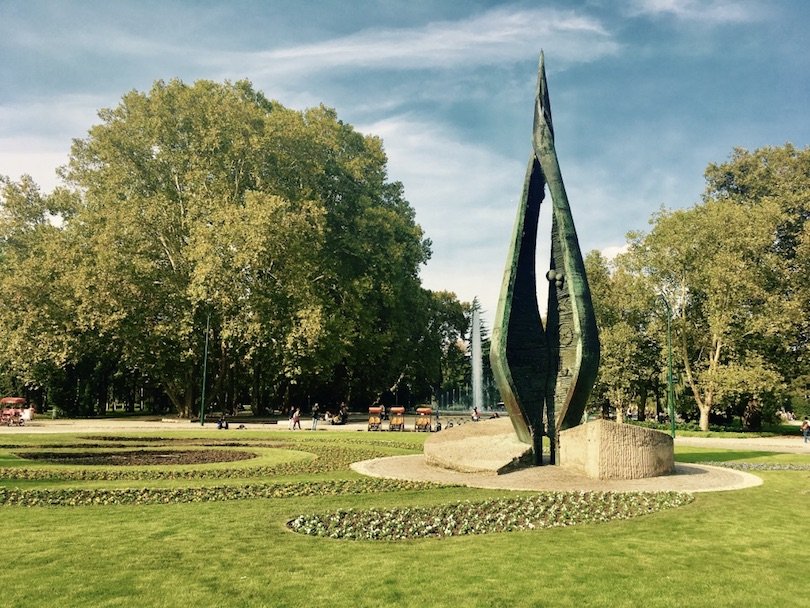 The Petting Zoo – If you move forward on the island and keep to the side that faces Pest, you will sooner or later arrive at the petting zoo. Don't expect lions and unicorns here and it's worth mentioning that this little Bamby- & rabbit-meadow had its fair share of bad times since the 1950s when it was built. But since its proper renovation in 2002 it became a decent little animal farm. It's another major hotspot for the parents of Budapest who get dragged there frequently by their offspring. There's no entry fee, so it's definitely worth checking out if you're with kids or just like to see some rabbits, horses, deers and chickens.
(location on google maps)
The Rose Garden – Right next to the petting zoo you'll find the rose garden, which is simply a beautiful lawn full of flowers in spring, summer and early autumn. It's not the best playground or picnic-place, though, so if you want to throw a frisbee or span your slackline, rather check out some other meadows. You'll find lots of grandmas and grandpas here, who enjoy the peace, the quiet and the flowers which makes it a nice spot for people watching.
(location on google maps)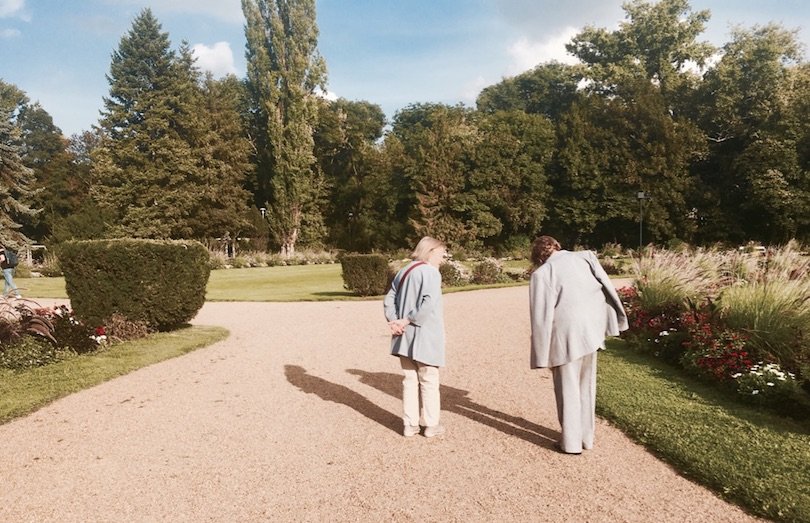 Ruins of the Nun-Monastery – If you keep sticking to the Pest-side of the island, you will get to the ruins of the nun-monastery, in which St. Margaret, the name-giver of the island, lived. Allegedly, she was a super-humble person, but more importantly, the ruins make for a nice photo-spot and hideaway.
(location on google maps)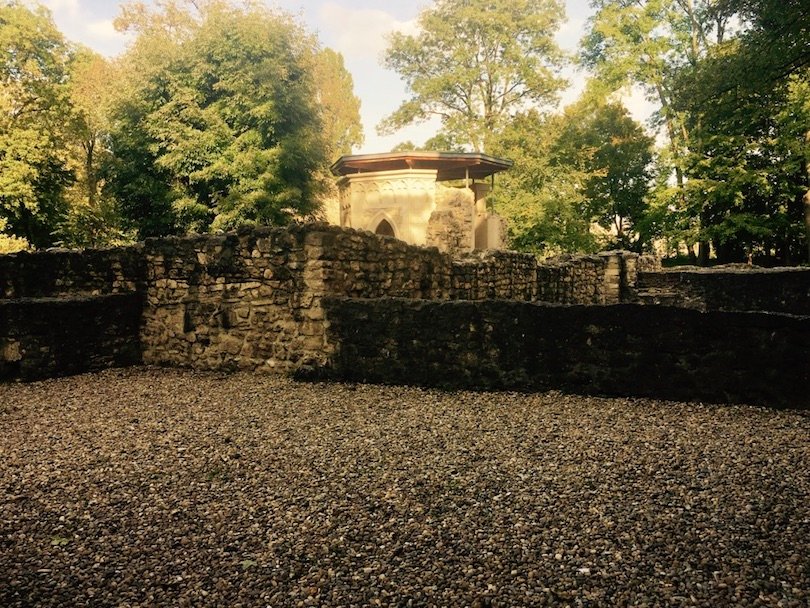 The Water Tower – If you continue your path towards Árpád Bridge you will bump into the Water Tower which you've probably already spotted from afar. Heading up its few steps is definitely worth the 600 HUF; what you'll get in return is a unique 360-degree-view on Budapest. Not just the major show though, but also the concrete blocks of Óbuda that rise behind the lush green trees of the island and provide you with a different view apart from the Parliament, the Chain Bridge and the Castle Hill. The tower itself was completed by 1911 and was initially responsible for the water supply of the whole island.
(location on google maps)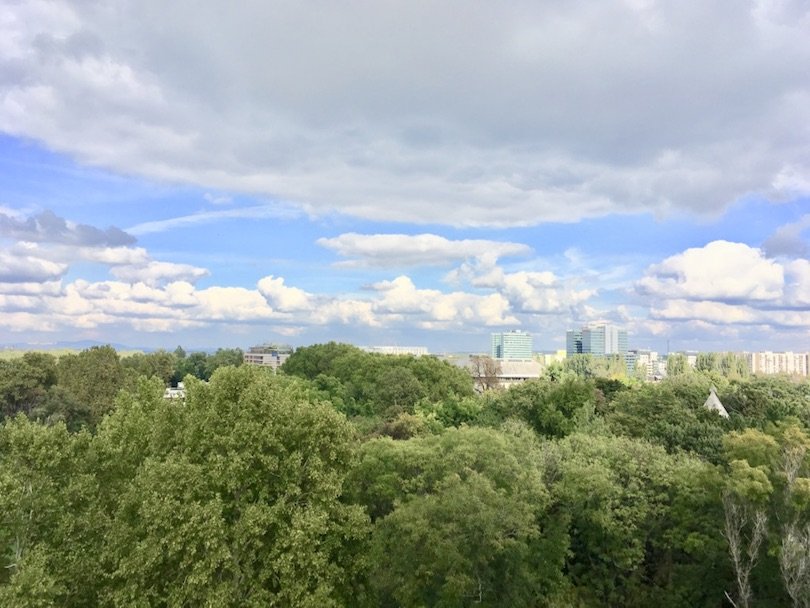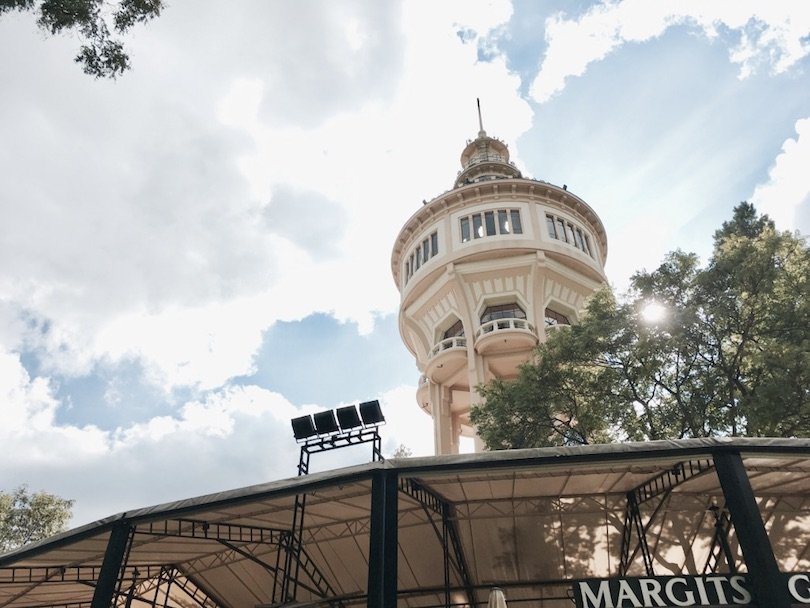 St. Michael's Chapel – Right after the Water Tower you'll find St. Michael's chapel, which has something mysterious and romantic about it, as it rises between the surrounding trees.
(location on google maps)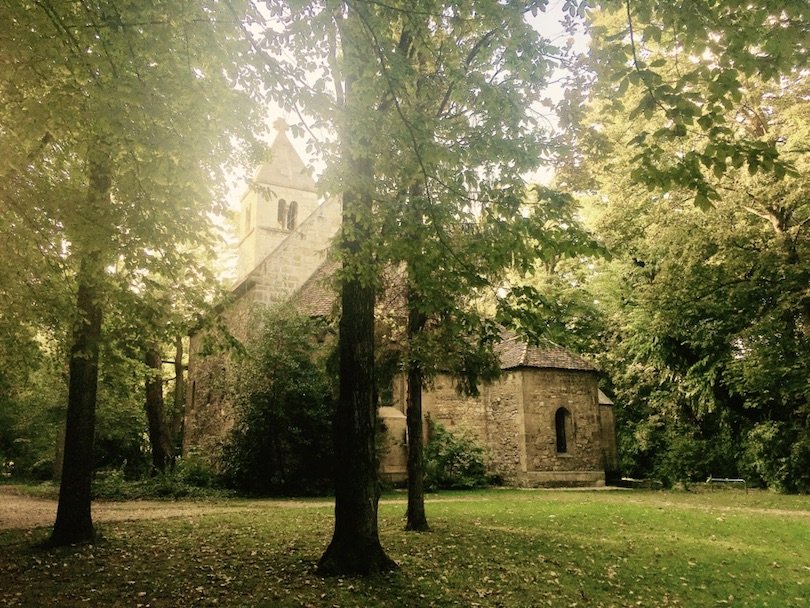 The Grand Hotel – Fans of the Grand Budapest Hotel or just the pomp of old times should definitely check out this ostentatious building. It sure has its charm and was lost by time in an era long-gone.
(location on google maps)
The Health Spa Resort – The same applies to the Health Spa Resort right next to it, although we're talking different times here. The hotel is a mixture of a weird taste and communist delicacy. If you're lucky, you'll spot old couples sitting on their hotel balconies with a coffee and / or cigarette. It's definitely a building worth seeing if you're into peculiar atmospheres like we are.
(location on google maps)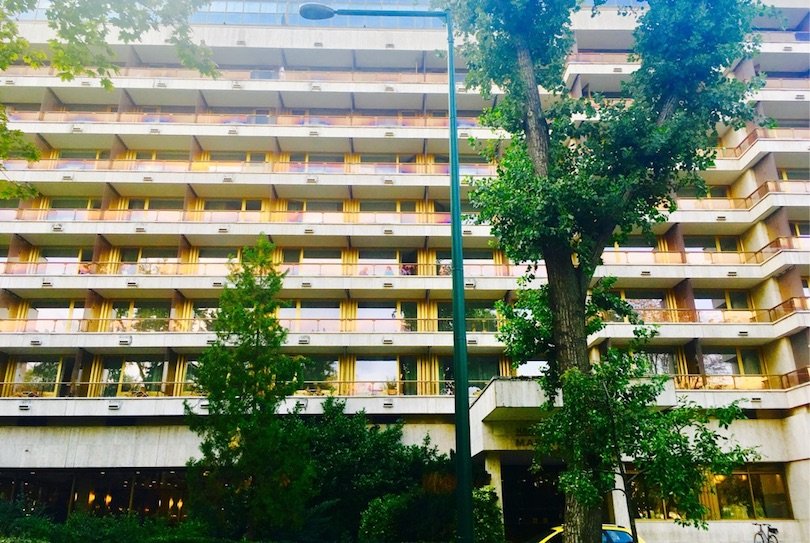 The Japanese Garden – Continuing further, you'll bump into the Japanese Garden which was established in the 60s but was nicely renovated in 2014. While having been eaten up by time and weather before it's renovation, today it's a popular dating place and, allegedly, a hotspot for marriage proposals. No cherry trees, though!
(location on google maps)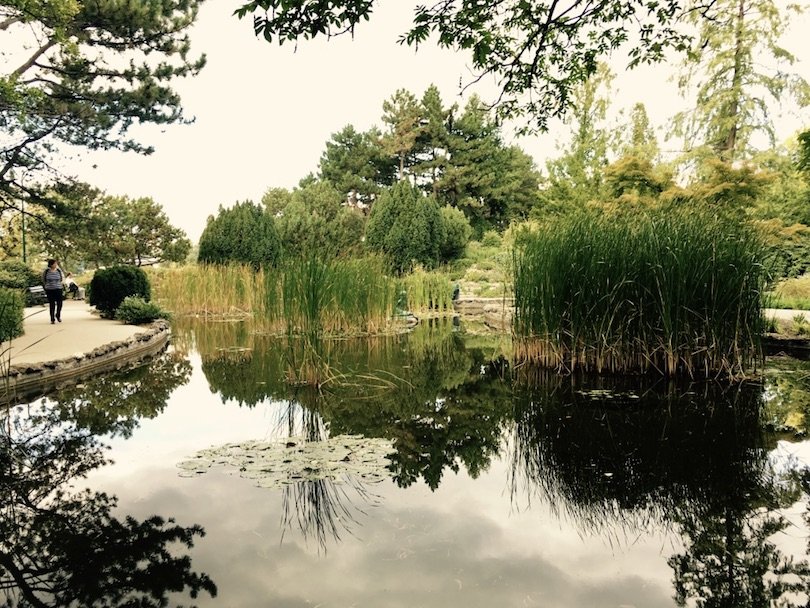 The Bodor-Well, another singing thing – Right behind the Japanese garden you will find another singing fountain, the so-called Bodor-Well which, similar to its big sister at the entrance, also plays music in every hour of the day. This well was renovated together with the Japanese Garden in 2014 and together they form a fairly romantic spot of the island which is hidden enough, since most people don't make it until here from Margaret Bridge.
(location on google maps)
The Eco-Playground – Finally, at the very northern tip of the island, you will even find an eco-playground whose main mission – apart from being a playground – is to teach children about sustainability issues in a comprehensible and fun way. All games were produced in an eco-friendly way.
(location on google maps)
Here you go; Margaret Island is full of little POIs out of which probably none will make your jaw drop, but they're fun to visit once you're there. Pick the ones that appeal to you and throw them in between two rounds of biking or lying in the grass.
For the Photographers and Lingerers: The Unique Angles of Margaret Island
---
Margaret Island provides you with plenty of unique angles on both Buda and Pest and especially on their lesser-known sides.
Here is a list of our favourite (hidden) spots:
Under Margaret Bridge, on the very southern tip of the island – Margaret Bridge is a beautiful example of 19th century bridge-building and its 2009 renovation made it super-photogenic again. Danube + Bridge + Parliament = Instaworthy.
(location on google maps)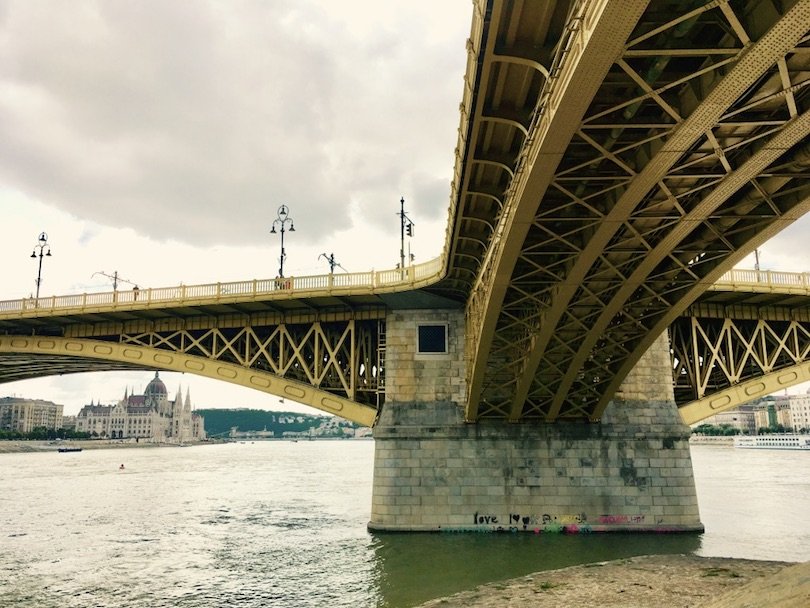 Pest side from the running track – The houses you see along the Pest-riverside of the Danube from Margitsziget are over a 100 years old and typical examples of the beautiful early 20th century architecture. Walking further towards the other end of the island, the view will get more and more industrial. The concrete blocks you see here are part of Újpest (New Pest). That's one reason we love Margaret Island – it shows you Budapest from so many angles, warts and all.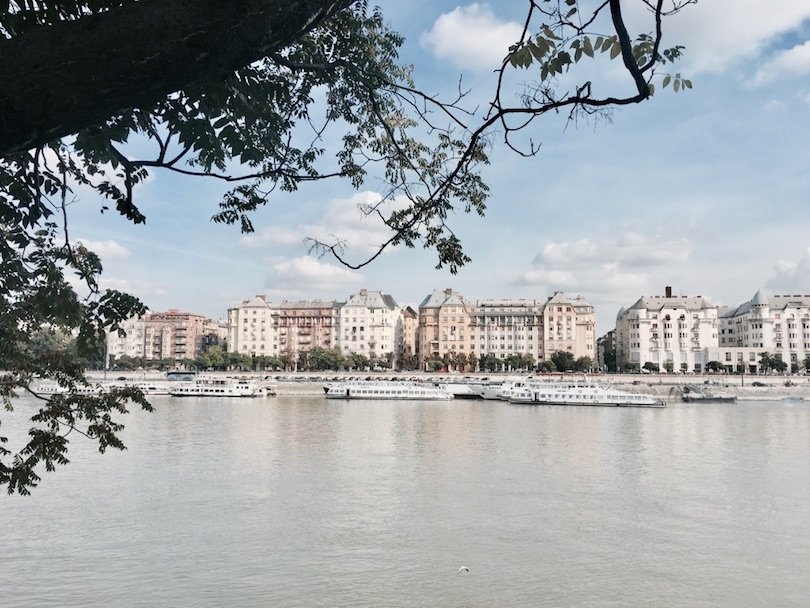 Buda side from the running track – Moving to the other side of the island, you will see the hills of Buda rising behind the concrete blocks of Óbuda (Old Buda). Óbuda , just like Újpest, is definitely no district known for its eternal beauty. Still, the concrete blocks you see here are an indisputable part of Budapest's suburban cityscape.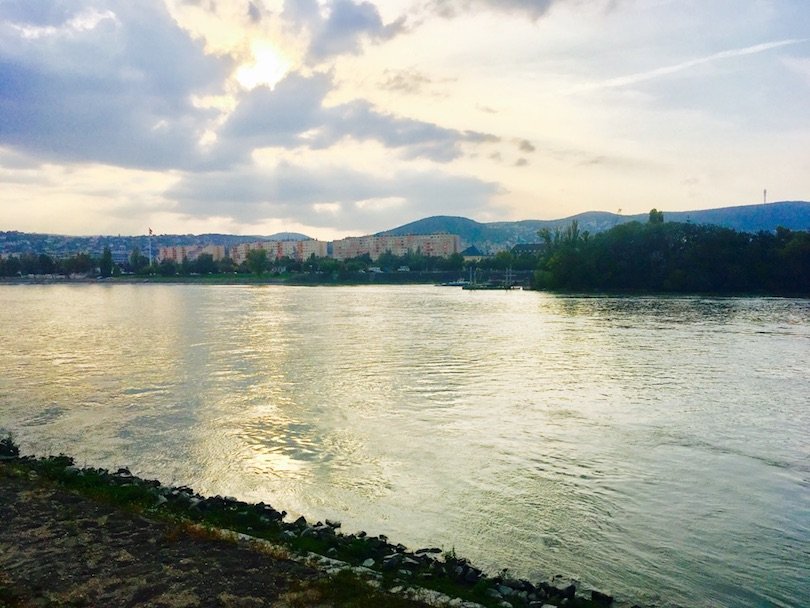 The Water Tower – The water tower is a great photo-spot for both the traditional Budapest-sights and a glimpse into the suburbs. The 600 HUF entry are well worth the view. It's actually one of our favourite hidden gems of Budapest.
(location on google maps)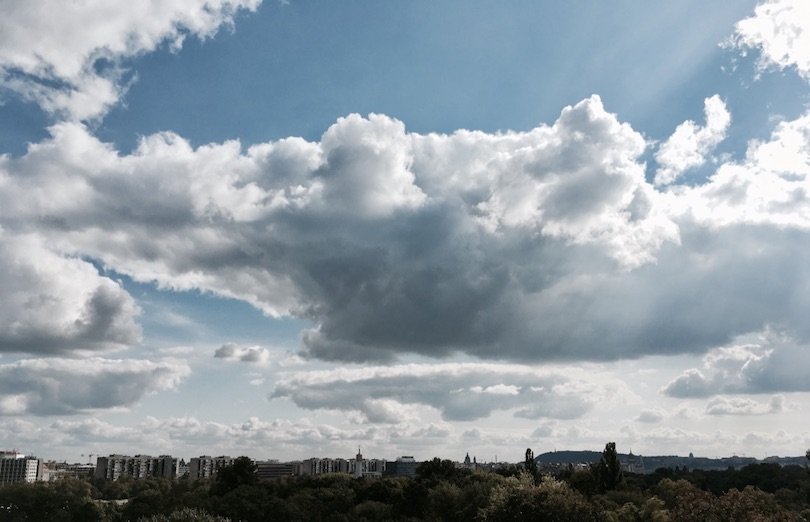 The northern tip – From the northern tip you'll get a super unique view on the Danube and Óbuda Sziget, the island on which Sziget Festival takes place every year. It's a bit tricky to reach the real tip of the island. Reaching Árpád bridge seems like a dead end but bear with us. If you're at the Pest-side of the island facing the bridge take the steps down on your right side. Walking a bit further, you'll see another set of steps. Climb these down too and walk your way to the end along the Danube. There will literally be no one around you and the northern tip has a far more deserted and industrial flair than the southern one. Experience it for yourself but be careful, since you'll be just centimeters away from the water. But the view is worth it and with the help of your imagination you'll feel as if you were right at the sea.
(location on google maps)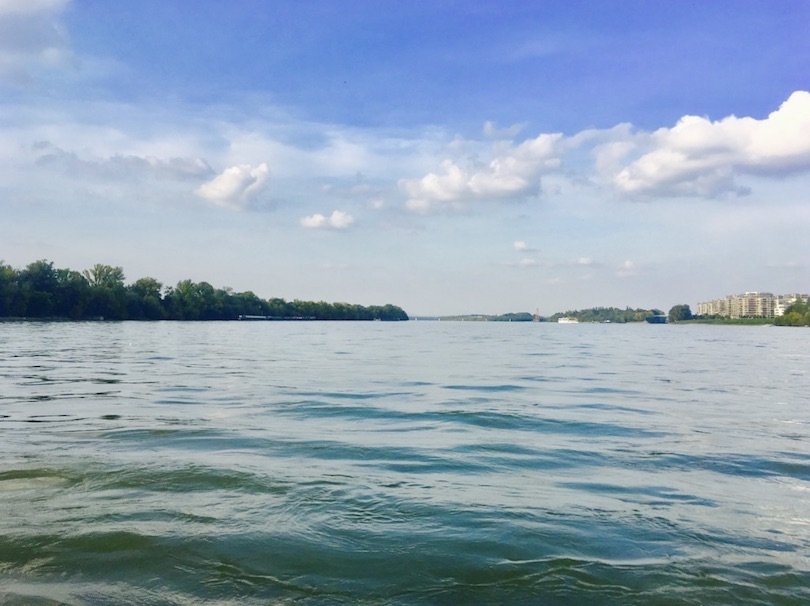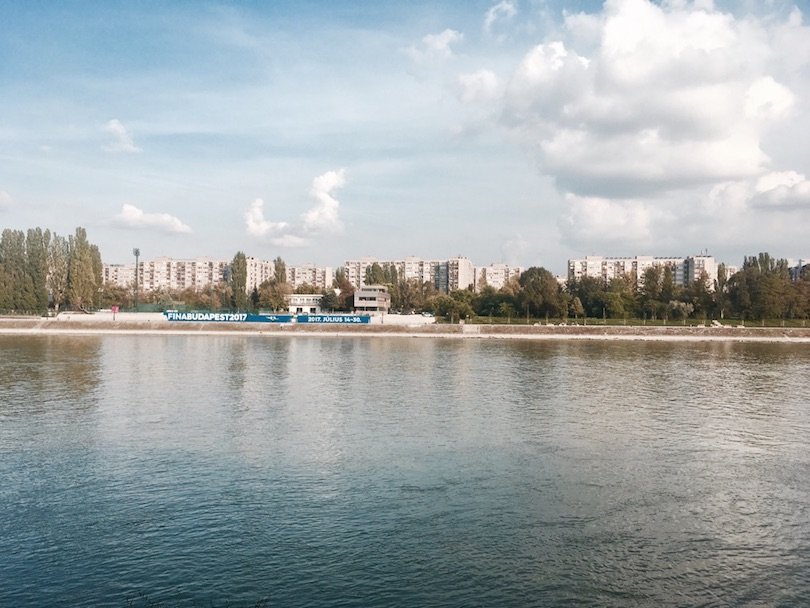 Map of all listed POIs
---
So this is it; this is Margitsziget. It's ruins, retro, recreation and it rocks. It's diverse in itself and in the views it offers. Some parts of it are touristy; others are completely abandoned. It's altering but ageless. Take your time; you can easily spend a whole day here. Or just take an hour and people-watch close to one of the bridges. We hope this post will help you to get the most out of this green lung of the city.
Did we miss something? Did you find another great photo-spot? Spotted another ruin? Discovered a new species in the petting zoo? Don't hesitate to let us know in the comments!
You liked our guide and lingered for a few hours? Don't keep it back from your friends!
You might also like:
https://www.catchbudapest.com/wp-content/uploads/margaret-island-budapest-rose-garden-1-s.jpg
1124
1500
catchbudapest
https://www.catchbudapest.com/wp-content/uploads/cbp_logo_dolt_fekete_karika_vastag-s.png
catchbudapest
2017-09-26 22:45:26
2018-07-11 18:01:16
Margaret Island - Our complete Guide to the Green Lung of Budapest