Christmas-time is awesome but present-hunting can be a total burden. Even thinking of fighting our way through Budapest's shopping malls before Christmas stresses us out beyond repair. Luckily, you don't have to do that. You can actually escape all the Christmas-gift hysteria by shopping at the numerous little and affordable designer-stores of Budapest where you don't have to fight for every piece with other last-minute shoppers. Or by choosing donations as a unique and remarkable gift and giving not only to your friends and family but also to the ones in need. Or just simply give someone a great experience instead of something tangible. Whichever you prefer, we have collected the best and most unique Budapest-related gifts and lots of corresponding little stores for you. We have also listed Budapest-based organisations that help those in need and to which you can donate to in the name of those, who already have more than enough. Happy present-hunting!
Budapest-Related Unique Gift Ideas
Made in Hungary – Our Favourite Budapest-Based Designed Products
---
My Map of Budapest – This one is perfect for all locals, new arrivals, travelers, backpackers, tourists, and lovers of Budapest. My Map of Budapest is an artful city map printed on eco-friendly & stable paper in A3 format showing many of the greatest spots, cafés, bars and hidden sights of the city and even provide you with routes for your perfect day in Budapest. The map comes in two volumes and is amazing for an alternative, smartphone-free treasure hunt and looks pretty on every wall.  You can get it in various concept stores across the city. See all the locations as well as further information about My Map of Budapest here.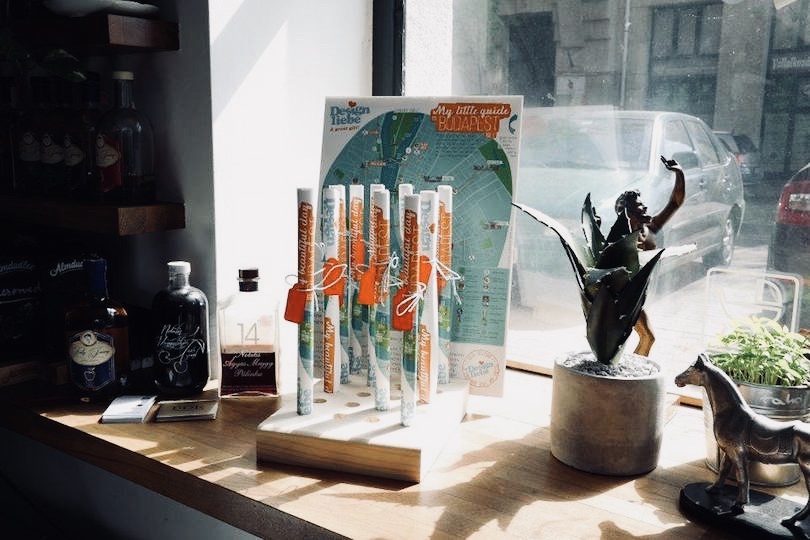 Ykra Backpacks – YKRA (pronounced eek-rah) is a small backpack brand that started out from the basement of Budapest's unique surf bar and gallery Telep, in 2011. They are strongly inspired by the vintage apparel of the 70's and combined it with fresh vibes and colourful aesthetics. It's an independent husband and wife family-business, all products are manufactured by hand, in small quantities in Hungary. Perfect for anyone who is urban, adventurous and appreciates a casual look. You can find the Ykra-backpacks e.g. in Budapest's cool Zun Store and they also ship within Hungary. See their homepage for all other information.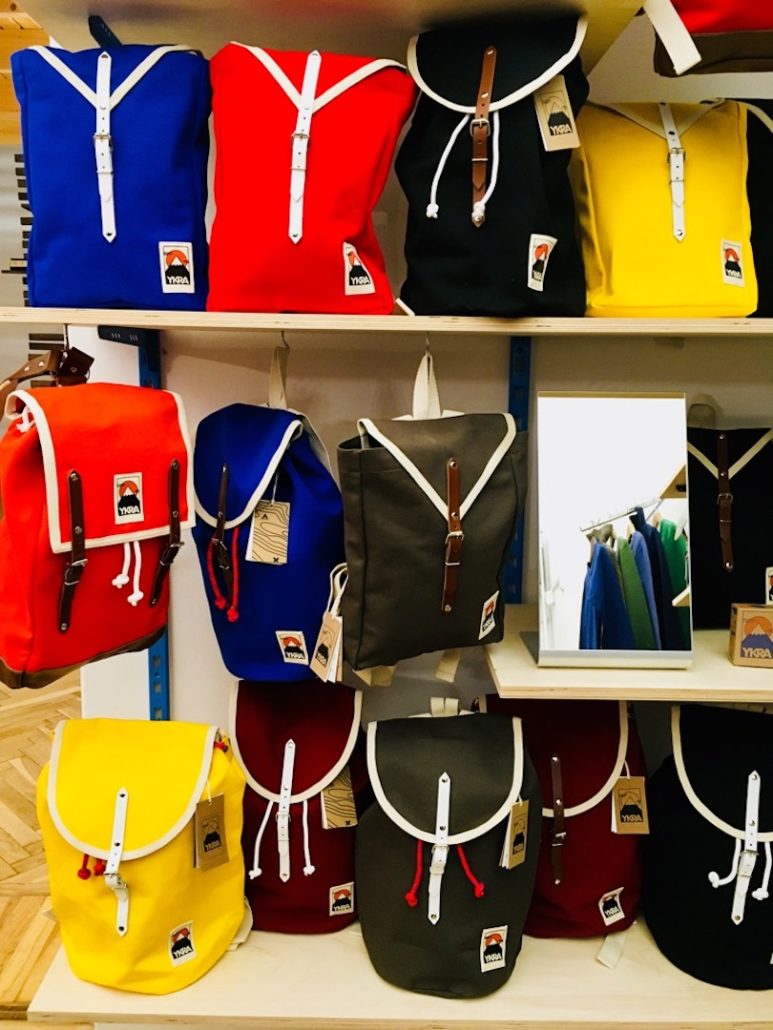 Zoe Phobic Bags – Zoe Phobic is another Budapest-based indie-fashion label run by Àgnes Szimon. They mostly produce bags and backpacks for women which are all made out of synthetic leather. The forms and colours of the bags are unique and elegant and are characterised by a kind of sublime grace. Once you've been to their store in the 5th district you will recognise the bags from afar in Budapest. Perfect for women with a sophisticated but unique style! Unfortunately, they don't do shipping this Christmas anymore but just visit Dubliners close to Váci utca and pick your favourite there. See all other information on their facebook.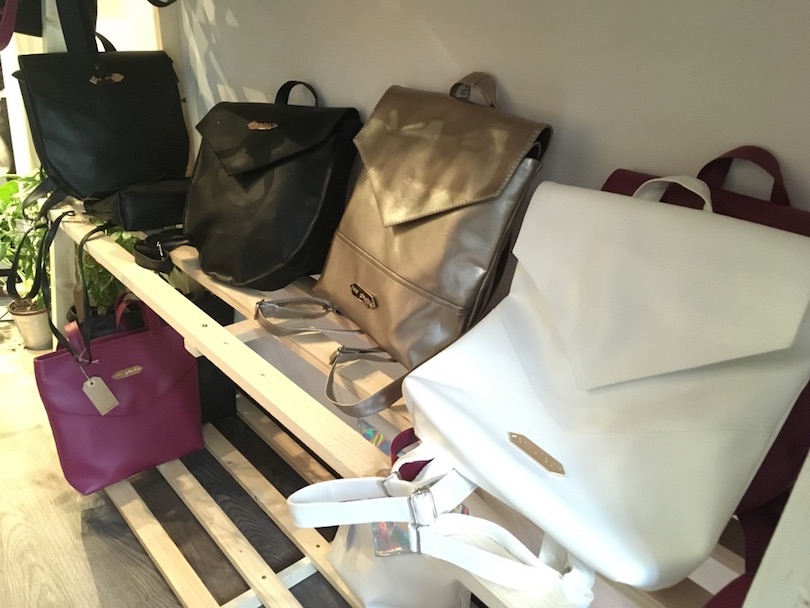 Moha- Anything of concrete! – Moha's mission is to use concrete, a material that appears rigid and unkind, for functional products which are integrated in our everyday life. They experiment with different concrete colours and surfaces and combine it with various materials such as metal or textile. They transform concrete into delicate earrings, bracelets, wine stoppers, candle holders, wall clocks, pens and much, much more. Their products are a perfect fit for unique interior- and fashion lovers. Or civil engineers! Sounds interesting? You can get lots of their products in Mono art and design store close to Astoria. Read more about it on facebook or on their webpage.
Nebouxii Socks – Do you think that socks are the most boring present on earth? We did as well, but that was before we saw these awesome socks by Nebouxii. Their specialities are funny, colourful and unusual socks made here in Hungary and their secret ingredient is just the right amount of crazy. Finally you can spice up your friends' and families' life with a colourful pattern on their feet. You can find their socks at Project Showroom, a pop-up store dedicated to Christmas in the inner city. To get a better idea about it, just have a look at their lookbook.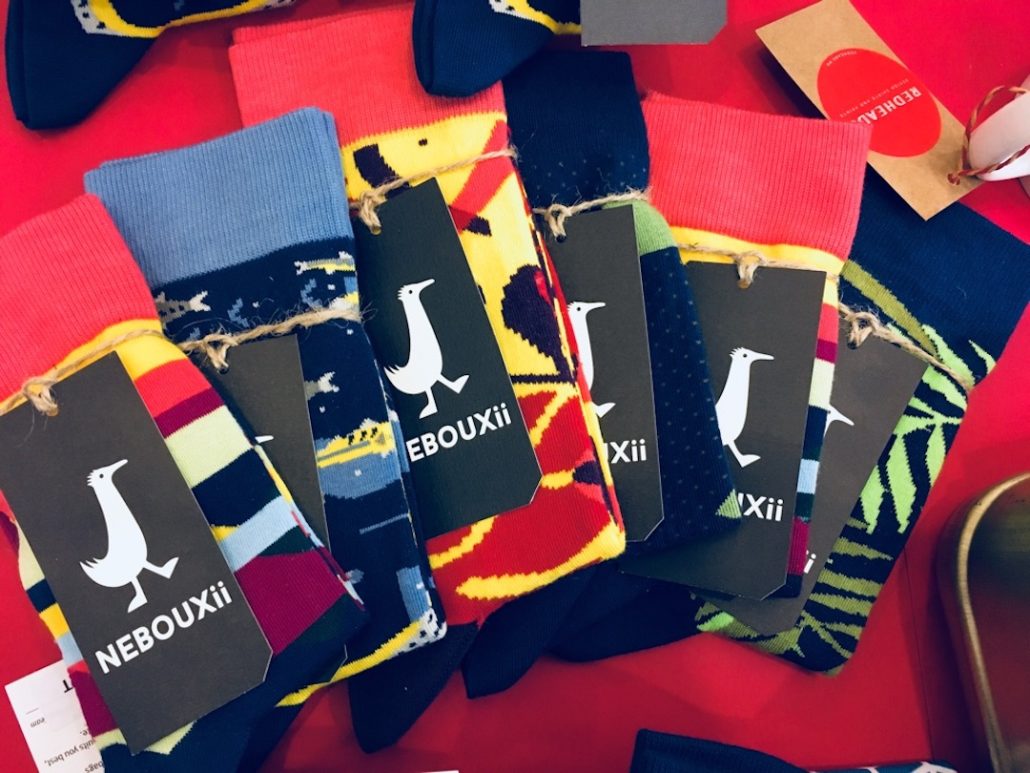 WOWA – the Wooden Wallet – Do you know that problem when you are planning to wear only your jeans and t-shirt while going out for a beer but your fat swollen wallet is not fitting in your back pocket, because it is loaded with customer loyalty cards, debit cards, business cards and other bits and pieces? WOWA solved this problem graciously in an innovative and stylish way by using wood as the main component for their small and handy wallets. Perfect for those, who use their pockets as their bags when going out. You can get these fashionable pieces e.g. at Zun Store or just place your order at their webshop.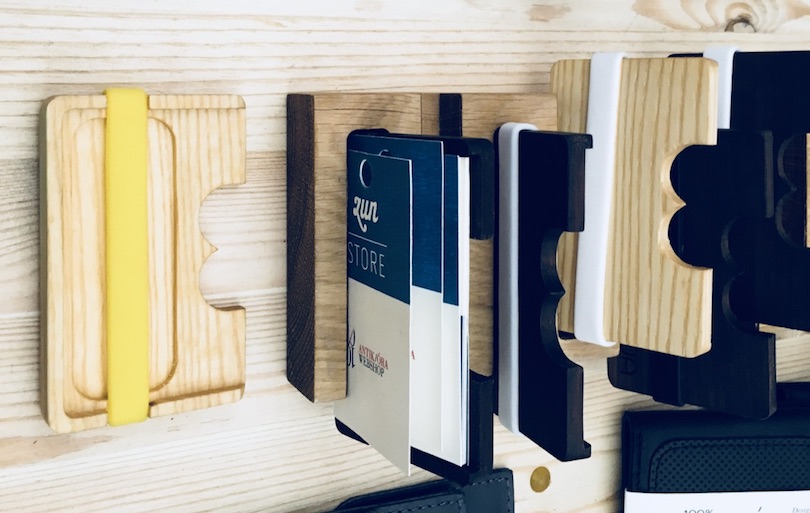 A Unique Poster – Everyone likes a great wall-deco and Budapest has so many options here that you could literally wallpaper a whole flat with different posters. Visit Antikvár for example, a second hand bookshop on Múzeum Ring Road and get old Hungarian movie-placards and advertisements as great gifts. If you're looking for something more contemporary, head to Printa and get a beautiful, silk-screen printed poster for your loved ones. Or visit Konyha, get a delicious coffee and choose one of their pictures designed in Budapest. So many options here and a perfect way to bring colour in someone's life.
Little Hungaropedias – We stumbled upon these little booklets in Mono Art & Design Store and fell in love instantly. The little Hungaropedias revolve around a different topic each and tell you all the clichés about it in a funny way, accompanied by great graphics. They have booklets about commonplaces, wine, pálinka, Lake Balaton, the baths and so many more in Hungarian and in English. Perfect for those who want to learn something about Hungary the light way. They're sold at lots of places all over Budapest; see their webpage for more info.
Plant Ethics Home Decor & Jewellery – The products of this little brand are simply adorable. The mission of Plant Ethics is to bring humans and plants closer to each other in a sustainable and artsy way. We personally adore their little succulents on the back of various toy-animals, but if you prefer something less eccentric, just have a look at their beautiful jewelry. Most plants sleep during winter time and a gift from Plant Ethics provides a great opportunity to bring the colour green back into someone's life during winter. You can find their products at Cikkcakk Studio on the ground of Paloma Courtyard.
Austeria Notebooks – Austeria is actually a Polish publisher, but they produce amazing little notebooks with retro-style Hungarian motives. We bumped into them at Massolit Jewish Bookstore & Café and fell in love with them. They're perfect for those who still celebrate the actual act of writing instead of constantly typing on phones and laptops. They're great for journaling and have just the right size for keeping them on you when going somewhere. If you have friends that like to gather their thoughts once in awhile on a piece of actual paper, this is the gift for them.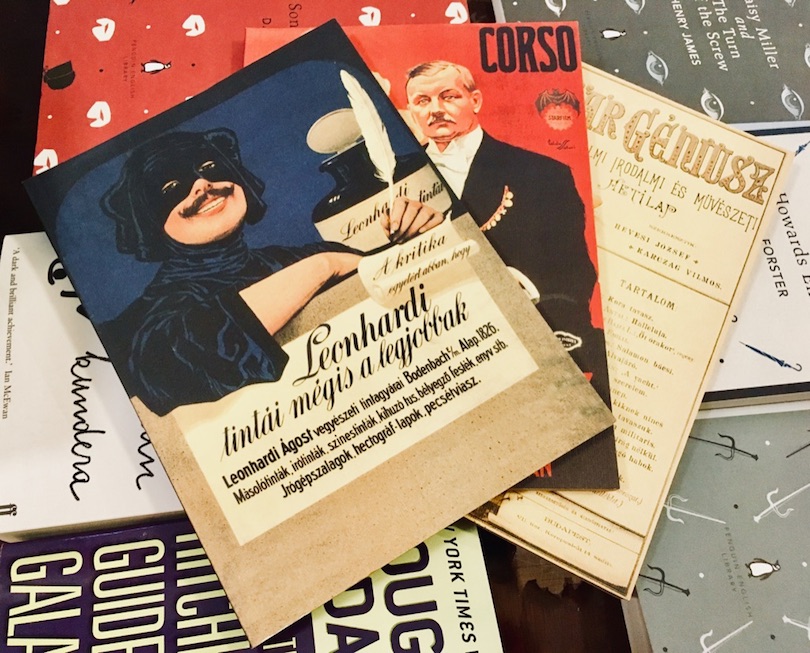 Cushions featuring Hungarian Animals – The cushions of Kamilla Uhlár are simply gorgeous. Few people only know that there are actually lots of animals native to Hungary. These include the Puli dog, the Grey kettle, the Vizsla dog and the Mangalica pigs. Kamilla Uhlár was inspired by exactly these animals when creating her unique cushion series that you can find e.g. at Magma Art Gallery for reasonable prices. A great present that instantly makes every couch cosier.
The Wallets of Krisztina Tölcsér – We usually advise everyone against buying gifts on the upper floor of the Grand Market Hall, but there are a few exceptions. If you want to surprise someone with traditional Hungarian handicrafts, visit the stall of Krisztina Tölcsér and her beautiful wallets and bags. Krisztina is originally from Transylvania and her goods are ornamented by a traditional Hungarian pattern. The pieces are really bucolic and are perfect for someone who loves traditional and unique accessories.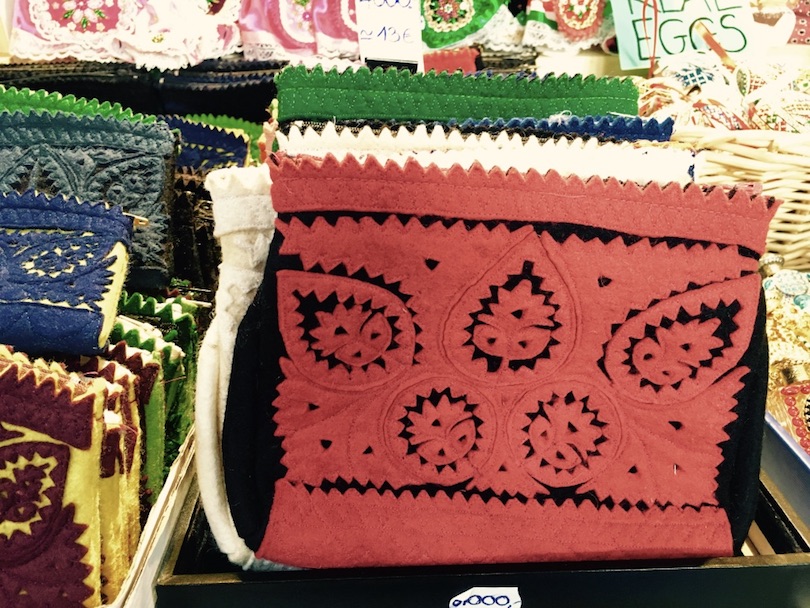 Budapest-Adventuring for Your Hungary-Based Friends, Family or Partner
---
Escape a Room Together – To give someone a voucher for an escape room is a great way to treat yourself too, at the same time. And it's a fun thing to do for a change. While being locked in a cellar and solving mystery games to get out is not everyone's idea of fun, you sure have some friends who love exactly this kind of stuff. Or go with your whole family and see how you function as a team of detectives. Besides, winter is the perfect time to be locked into a windowless room anyways. This page lists all exit room games across Budapest (around 80!); you are sure to find something.
We've tried the guys at Escape House and had a blast! It consists of four rooms; all of them are a great mixture between cute and creepy and you have 60 minutes to get out. Psst! We didn't make it. Their facilities could use some  cleaning though, but if you can get over that or consider it a part of the experience, you'll have a great time!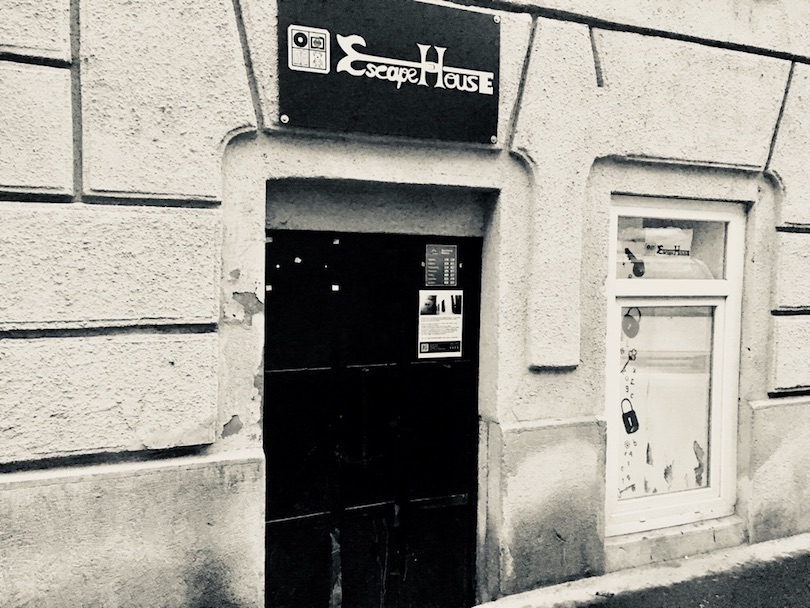 Fly like a Bird in a Wind Tunnel – There is practically no human being who has never dreamed of flying like a bird. At Skyward you have the chance to try something that comes very close to that. Fly in a wind tunnel, where you will feel like actually diving the sky and falling freely at about 200km/h. It's an unforgettable experience and perfect if the weather turned just too cold for actual sky-diving. If you're friends or beloved ones are of the adventurous type this could make a perfect gift for them!
Walking Tour – Budapest offers numerous organized walking tours that are of really high quality and revolve around various topics and tales from the capital. The tour-subjects range from  gastronomical delights to  movie walks, from the galleries and art scene to communist and ghost tours, so there is something for every taste and preference, and even those who grew up in Budapest or have lived here for years can discover something new. This is a great way to do something meaningful together.
Hosszúlépés has some great English-language tours, including one about creative spaces and venues in Budapest's old buildings. Or try Imagine Budapest – they were one of the first companies who introduced alternative-themed walking tours to Hungarians actually, but by now have lots of English-language walks, too. For example one about all the secret gardens and squares downtown. A great way to get to know the city together. A perfect and lovely gift for your partner, if you happen to live here together!
The Classics for your Friends and Family Abroad
---
If your friends and relative don't live in Budapest but you want to surprise them with something from your (temporary) home, you can always go for the classics! Some of our friends would kill for the Hungarian kolbász, the booze and the dips and there are lots of Hungarian delicacies you simply cannot go wrong with. And who doesn't like edible gifts, anyway?! Luckily, most of the iconic Hungarian food-stuff is not perishable so they are perfect if you have a long ride or flight home for Christmas. Here is some inspiration for what to export to your friends and family abroad from Hungary:
Kolbász – Kolbászes, or the "Hungarian sausages", as they are often translated, come in every possible shapes, colours and sizes. Our favourite is the mangalica-kolbász which is actually a Hungarian breed of domestic pigs. The sausages get cured which makes them practically last forever. But at least for a few weeks. A perfect gift for meat-lovers!
Where to get it: The Grand Market Hall and all the other awesome markets of Budapest.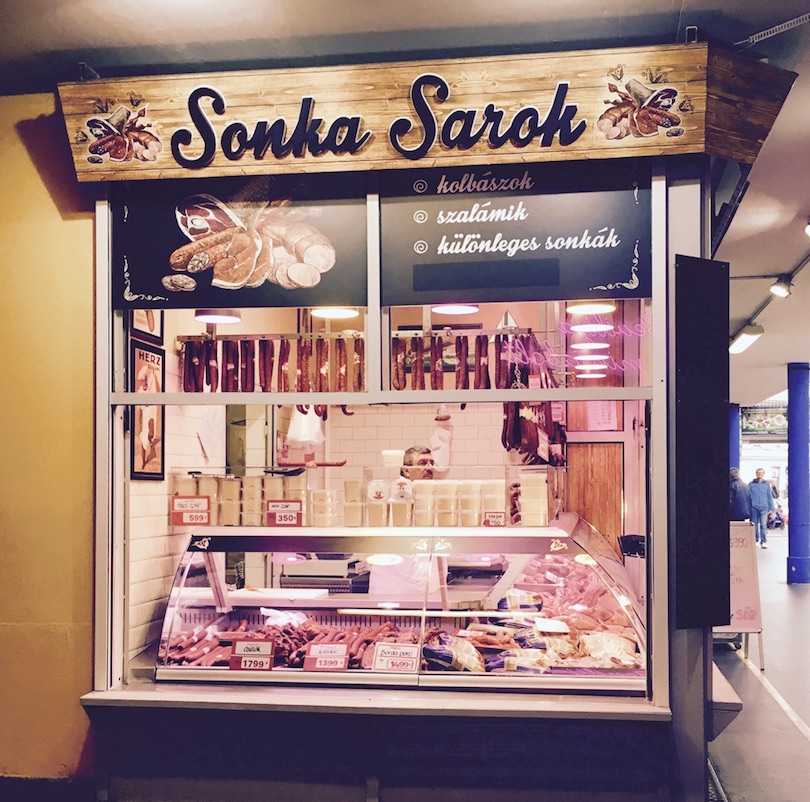 Unicum – Unicum is a Hungarian hard herb liquor that is nothing for the faint-hearted. It is mostly drunk before a meal because of its appetizing effect. Its recipe is a secret and its taste compares mostly to a more bitter Jägermeister. Put it in the refrigerator and shock yourself and your family before your Christmas meal!
Where to get it: At every food store chain (think Spar, Tesco, Manna), the Grand Market Hall and all the other awesome markets of Budapest.
Pálinka – Pálinka is probably the most famous Hungarian booze. It is actually a fruit brandy and you can make a Pálinka out of almost every fruit. The most popular ones, though, are peach, plum, cherry and pear. Note that if you give Pálinka as a gift, it makes sense to go for the more expensive brands as there are real differences between Pálinka and Pálinka – both in taste, as in headaches. We recommend e.g. Rézangyal or the famous plum-Pálinka from Szabolcs-Szatmár-Bereg county in northeastern Hungary.
Where to get it: At every food store chain (think Spar, Tesco, Manna), the Grand Market Hall and all the other awesome markets of Budapest.
A Good Wine – Hungary is a wine-country and has lots of great wines and unique grapes. Tokaji Aszú, a sweet dessert wine is probably the most famous and exclusive one, but there are many more grapes to try and take home (click here for our non-sommelier wine-guide to the must-try Hungarian wines). They will for sure enhance every Christmas-dinner!
Where to get it: At every food store chain (think Spar, Tesco, Manna), the Grand Market Hall and all the other awesome markets, as well as the many dedicated wine-stores.
Here is our article about the best casual wine bars of Budapest – most of them also sell bottles and come with a great and knowledgeable staff to pick the perfect one for your loved ones. Better than what the commercial chains can offer!
Truffle – Many people don't know that actually Hungary is one of the four biggest truffle-collecting countries in Europe (the others being France, Italy and Spain). This makes for amazing and also comparatively affordable truffle-products. Think of pestos, jams, chutneys and other delicacies. Our favourite Hungarian brand providing all kinds of truffle-delicacies is Triffla (link to triffla in Markthalle!), where we regularly treat ourselves. You can find them in the right row of the Grand Market Hall or at Csendes Csemege – a small little concept store serving all kinds of regionally and organically produced delicacies.
Where to get it: at the right row of the Grand Market Hall (if you enter the main entrance) and at Csendes Csemege concept store.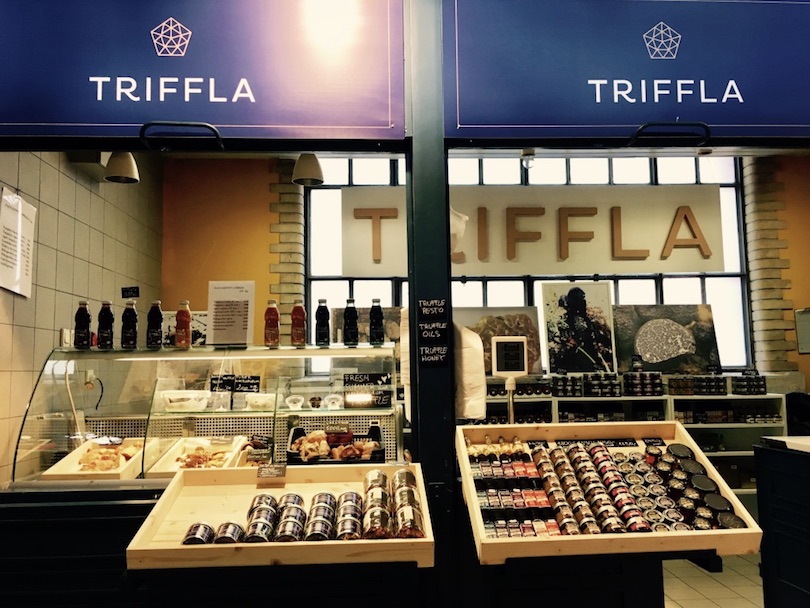 Eggplant-chutney – Eggplant Chutney is a delicious spread or dip; we simply love it. It can serve as a great appetiser with some toasted bread and veggies or as a side-dish to meat. You can find really nicely packaged eggplant-chutneys in the right row of the Grand Market Hall and can even choose between different levels of spiciness. Just ask for "padlizsánkrém"! A perfect gift for veggie-foodies!
Where to get it: At the right row of the Grand Market Hall (if you take the main entrance).
Erős Pista – This spicy paprika chutney, literally translated to "Spicy Stephen" is sure to vamp up every dish. Its packaging looks just great and hasn't really changed over the years. We use it in soups, stews and you can even spread it on bread (wafer-thin!) or prepare it as a dip. It's nomen est omen, so be careful with it. On the other hand, it is sure to last for a long time since small amounts are really sufficient, even in big portions.
Where to get it: At every food store chain (think Spar, Tesco, Manna), the Grand Market Hall and all the other awesome markets of Budapest.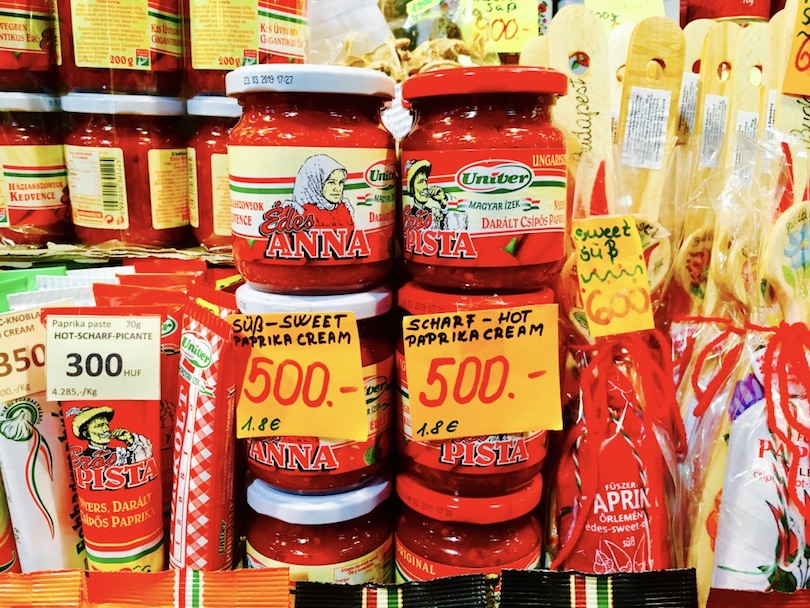 Admittedly, the classical Hungarian gifts are probably nothing for the health-conscious, but who wants to count calories and stay abstinent this time of the year anyways?! On the other hand, they're guaranteed to vamp up every Christmas dinner. Happy feasting!
Budapest's Best Little Shops to Buy Your Christmas Presents
If you'd rather pick your way through the best little shops in Budapest and find your favourite designers and products, here are some great little concept stores to go to. At these places, shopping is a treat rather than a burden and you're guaranteed to find something awesome for your loved ones.
Mono Art & Design
---
Mono Art & Design is more than a just a shop. It's a lifestyle retail, gallery and events space all at once. They are showing and selling pieces from multiple artists and designers. The selection of items is very nicely arranged and you'll find here everything ranging from fashion and accessories to home decor and even children's toys.
Adress: Kossuth Lajos utca 12.
Opening Times: Mon-Fri 11AM-8PM, Sat 10AM-8PM, Sun 11AM-6PM
Contact: facebook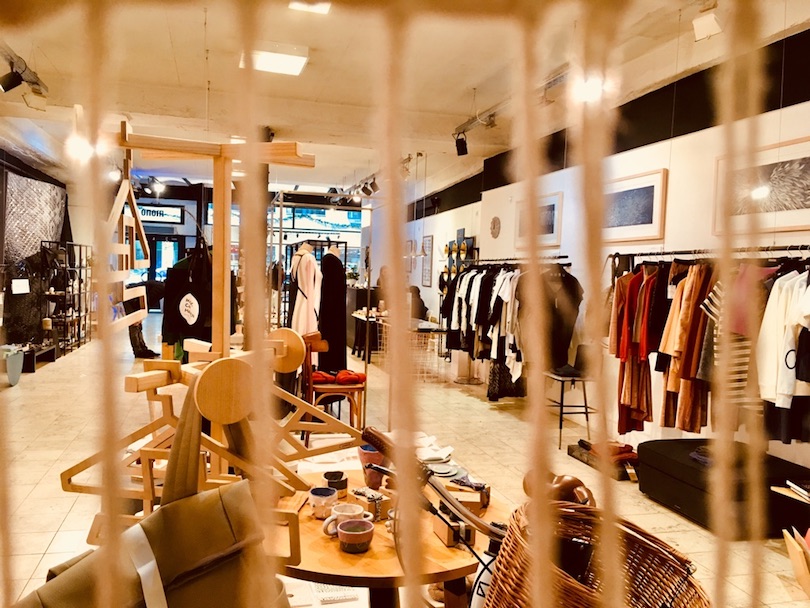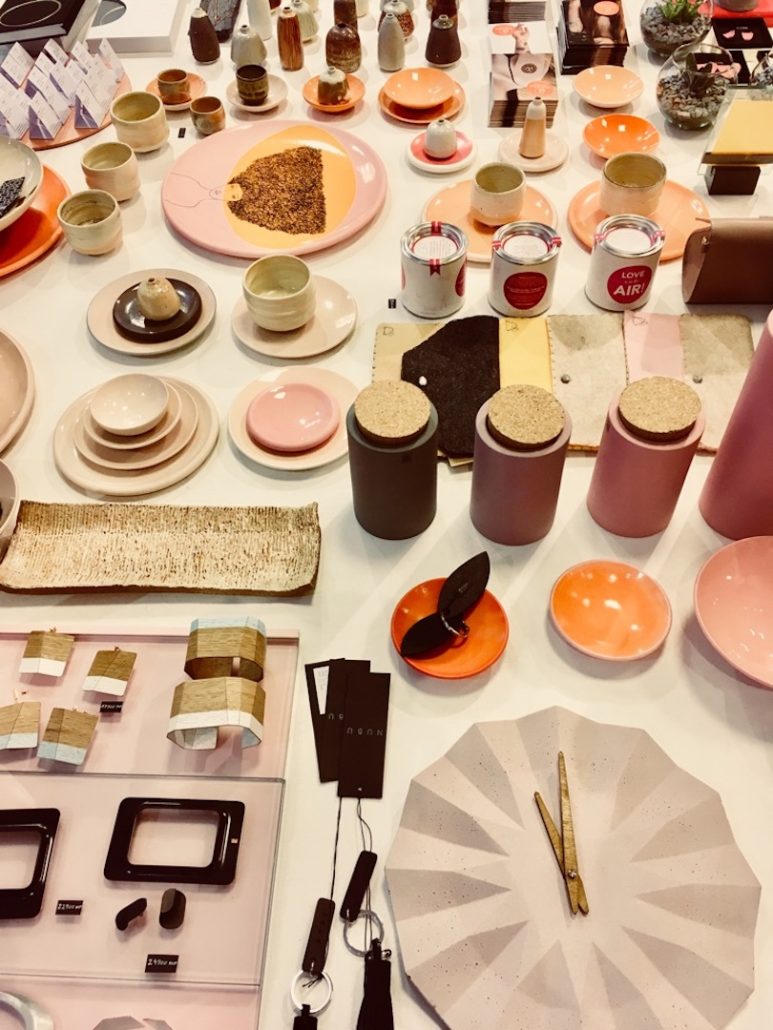 Retrock
---
Retrock is a true institution in Budapest's vintage scene, although or just because it's both designer shop and vintage shop at the same time. On the down floor you'll find the latest works of many Hungarian designers, while the upper floor is a true second-hand vintage paradise where you'll find clothing, shoes, accessories, and home items  from the 1960's – 1990's. All items and pieces seem to be unique and carefully selected and in perfect or near perfect condition. Perfect for all those stylish vintage fanatics!
Adress: Anker köz 2-4.
Opening Times: Mon-Sat 11AM-9PM, Sun 11AM-8PM
Contact: facebook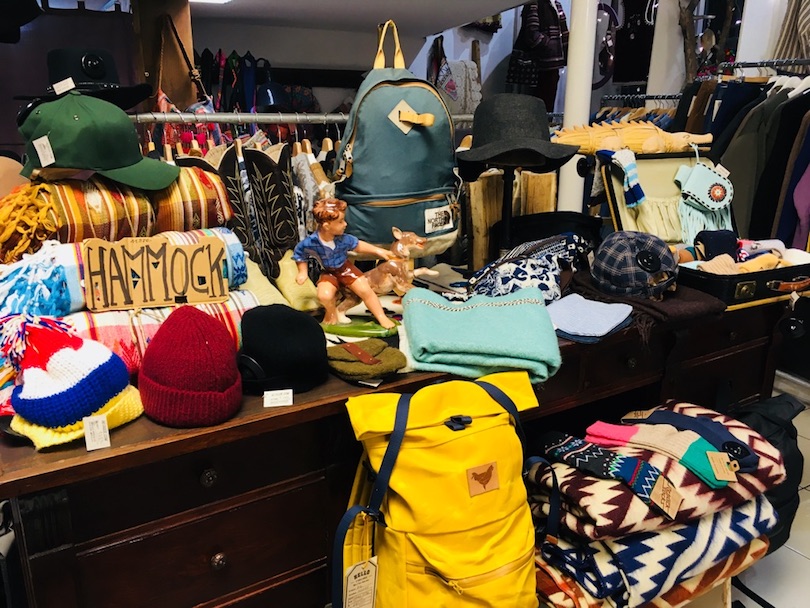 Paloma
---
Paloma is a coworking showroom-space and hosts more than 50 up-and-coming talented designers. It's located in the courtyard of the reputable Wagner house; a former palace, actually. The showrooms, which were out of use for years, have recently been beautifully renovated and are now filled with creative concepts and new content. In the ground floor and first floor of this remarkable inner courtyard you will find countless ideas for your Christmas presents – think jewellery, fashion, bags, home accessories and everything else you can think of. Our tip: Visit Cikkcakk on the ground floor for some amazing plant-based jewellery and home accessories
Adress: Kossuth Lajos utca 14-16.
Opening Times: Mon-Fr 11AM-7PM, Sat 11AM-5PM
Contact: facebook
LoveBug Vintage
---
LoveBug Vintage is an amazing little treasure box in the lesser known area of Margit körút on the Buda-side. It's actually a flat that was converted into a vintage store by Violetta Kertész, who collects amazingly unique stuff from all around the world. You'll find lots of jewelleries, fashion items and other knick-knacks here and if you're unsure of what to buy, you'll definitely receive some advice. This is the place if you want to surprise a real fashionista for Christmas!
Adress: Margit körút 62.
Opening Times: Tue-Wed 2PM-7PM, Fri 12PM-7PM, Sat 12PM-5PM
Contact: facebook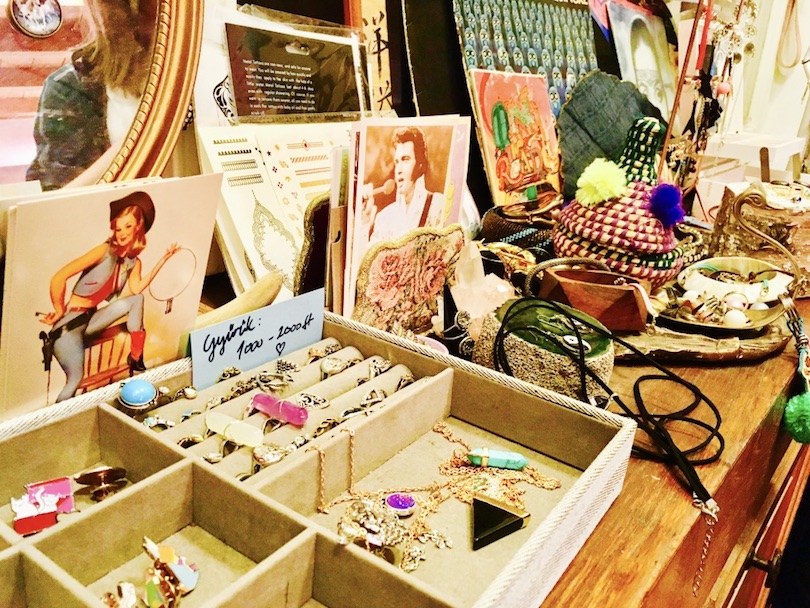 Printa
---
As the name suggests, Printa is all about printing – the artists here use the silk-screen printing technique and produce amazing posters, fashion and graphics. All products here are produced in an eco-friendly and sustainable way. Printa is perfect for both urban fashion lovers and for spicing up someone's home with a great poster.
Adress: Rumbach Sebestyén utca 10.
Opening Times: Mon-Sun 11AM-7PM
Contact: facebook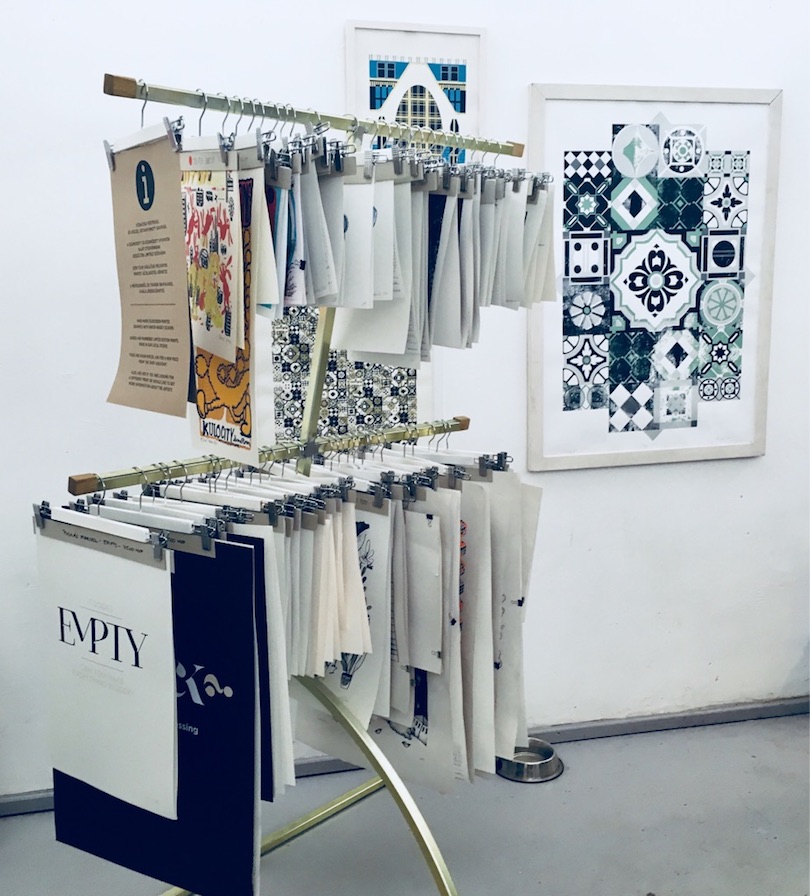 Zun Store
---
Zun Store is a really nice and clean urban designer concept store in the inner city of Budapest. They sell lots of designer watches for affordable prices and also list the amazing Ykra-backpacks and the WOWA wooden wallets. They also have fashion other fashion items, such as caps and even sun-glasses made out of cork. Everything here is produced sustainably and Zun makes a perfect little urban hipster paradise. Great place for all kinds of presents!
Adress: Wesselényi utca 19.
Opening Times: Mon-Fri 10AM-8PM, Sat-Sun 10AM-6PM
Contact: facebook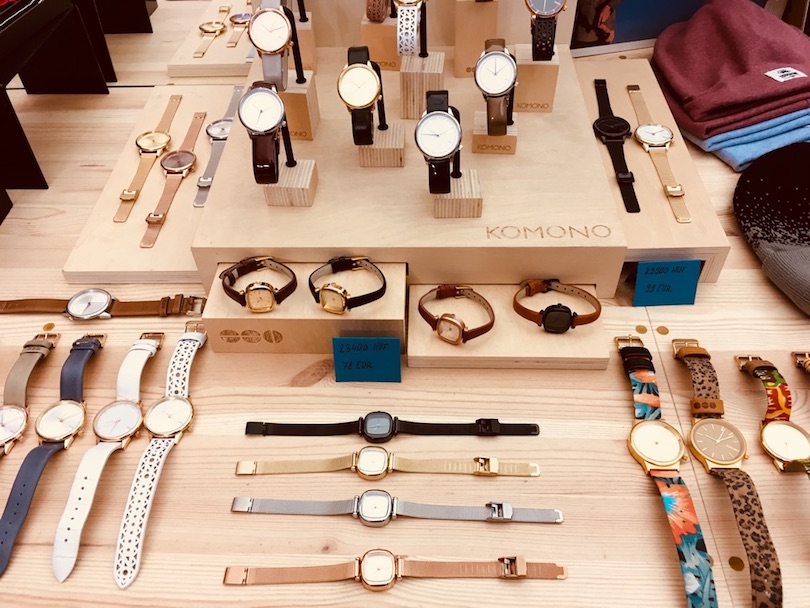 Insitu
---
Insitu is another little concept / designer store that specialises mostly in all kinds of cute knick-knacks. You'll find lots of jewellery here, as well as really nice notebooks and home accessories. Its location is awesome, too, since its right in the inner courtyard of a typical old Budapest-building. If you have no concrete idea about what to buy as a gift for someone but want to go for something fun and unique, this is the right place!
Adress: Múzeum körút 7.
Opening Times: Mon-Fri 10AM-7PM, Sat 10AM-3PM
Contact: facebook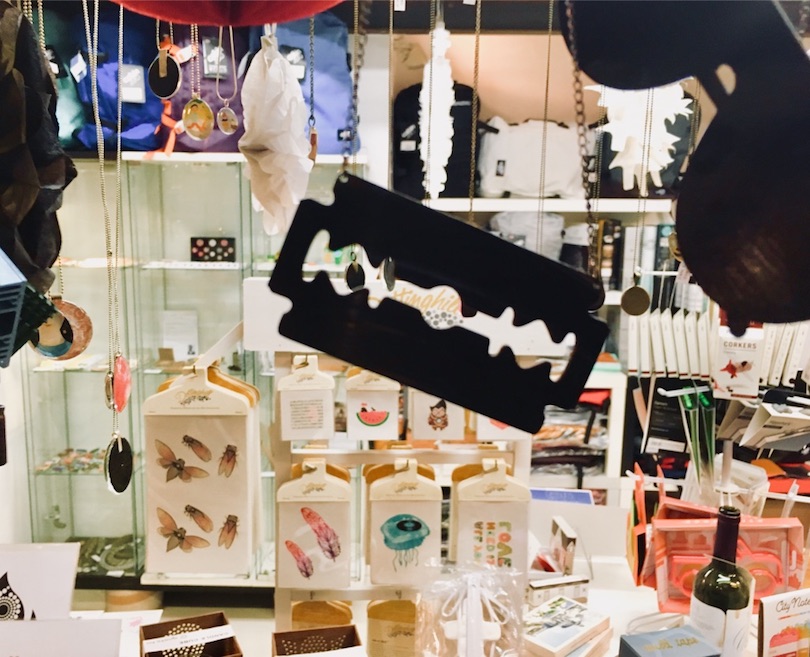 Buborék
---
Buborék literally translates to "bubble" and that's exactly what it is: A cute little bubble of awesome and affordable gift-opportunities in the middle of the city. It's a really small store but they still have a wide selection. Think jewellery, bags and lots of home decor selling a wide selection of Hungarian, as well as international designers.
Adress: Kecskeméti utca 5.
Opening Times: Mon-Fri 11AM-7PM
Contact: facebook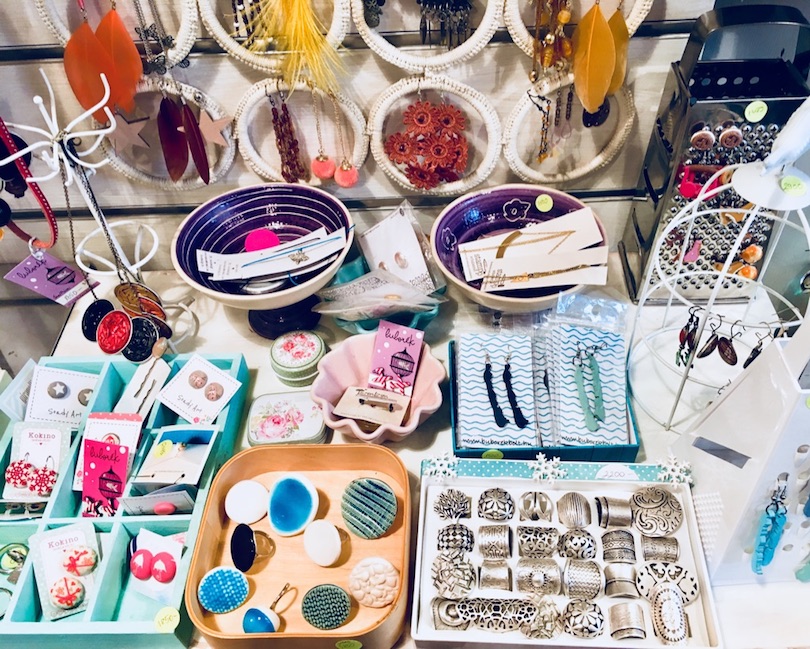 Csendes Csemege
---
Csendes Csemege is a great alternative if you want to get something organic, locally produced and edible but can't make it to a market. This little deli sells beautifully packaged chutneys, pestos, wines and spreads, all made by Hungarian farmers and producers. The staff is very helpful and knowledgeable and will sure help you to pick something delicious for your foodies. Great place!
Adress: Magyar utca 16.
Opening Times: Mon-Sun 9AM-7PM
Contact: facebook
Our tip: Once you're in Csendes Csemege, make sure to check out their Concept Store around the corner as well for even more Hungarian designer products. Think ceramics, jewelry, sculptures and even furniture! Or fuel yourself with a huge(!) latte next door at Csendes Vintage Bar. So many options on such a tiny area!
Charity – Great Organisations You can Donate to as a Gift for Someone Else
Between all these great gifts and experiences we can give to our loved ones, as well as all the glitter and glamour and bling-bling that surrounds Christmas let's not forget to think of those that are less fortunate than us and whom we see but don't really recognize every day while going to work or doing our Christmas shopping. If you have people in your surroundings that have more than they need anyways, why not surprise them by donating something in their name? This is a really nice gesture that actually doesn't add fuel to the consumption-hysteria that otherwise characterises Christmas time and it can really help a good cause worth supporting.
Here are some organizations we find more than worthy of support. There are of course a lot more out there so just take the time and look for the causes that align best with your personal values:
Kuckó
---
Kuckó is an amazing volunteer-program founded for those children in Hungary, whose parents cannot afford to keep and feed them and who therefore have to live in special homes, away from their loved ones. The biggest aim of Kuckó is to bring these children back home and provide them with proper, livable circumstances. Since this usually cannot happen from one day to the other, they meanwhile organise various events for the children and their families – their upcoming mission between January and March 2018 is to provide the kids and their parents with a framed family photo, since most of them don't have the luxury to decorate their homes with memories. Check their facebook page for all upcoming initiatives and how Kuckó is brightening up these children's lives year-round.
Donations: IBAN: HU13117100022413329000000000, BIC: OTPVHUHB; it's important to write "Kucko" in the payment-reference section!
Time frame: Year-round
Contact: Facebook
Budapest Bike Maffia
---
Budapest Bike Maffia is an amazing and environmentally conscious initiative helping the homeless, poor families and various shelters all across Budapest. They deliver tons of food, toys and other necessities on two wheels to those in need. Their vision is to achieve balance in the world by doing humanitarian work and living an empathic and conscious lifestyle. Thumbs up!
Donations: See all details here.
Time frame: Year-round
Cipősdoboz
---
Cipősdoboz literally translates to shoebox and that's what this initiative taking place every year around Christmas time is all about: You choose whether you want to donate to a girl or boy, select their age group and prepare a shoebox with little presents that are appropriate. This is a great way to donate something tangible and the photos you make of your box can serve as a really heart-warming Christmas present for someone who has less time than you. Don't fret if you feel that you don't have the time yourself to prepare a shoebox: You can also donate the equivalent amount and Liliput toy store will prepare a boy for you and organize all the shipping.
Donations: Click left on "Budapesti Gyűjtőpontok" here to see all collection points of the tangible boxes in Budapest (there are plenty!) or donate to Liliput here so that they can prepare the box for you.
Time Frame: Until December 20th for the tangible boxes and December 24th for the donations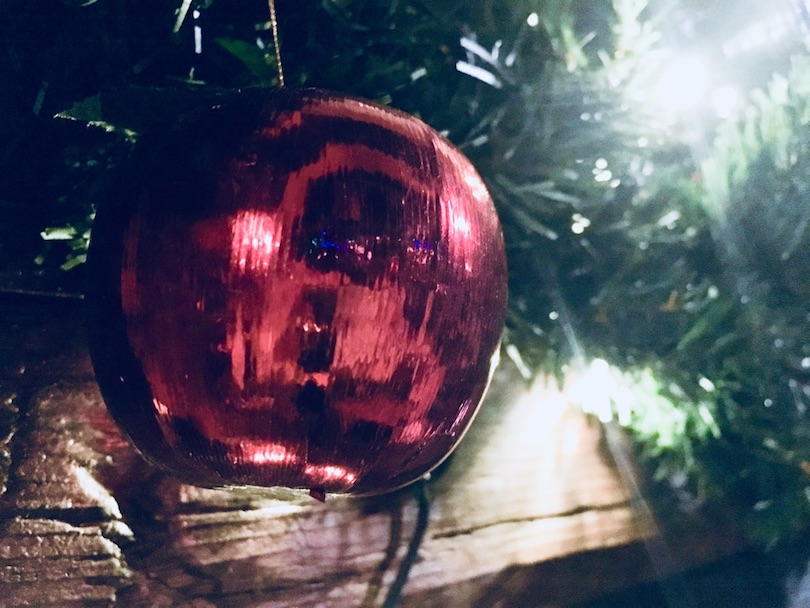 Age of Hope
---
The motto of the Age of Hope-Initiative is to provide a great Christmas for 1.000 children across Hungary. The donations will be used for providing necessities, gifts, food, and school equipment for families and their children in need. A great cause and a great donation-gift for our loved ones!
Donations: See the pinned facebook-post of their page here.
Time frame: Until December 16th for this particular initiative, but you can also donate year-round to the organization.
Mikulásgyár
---
Mikulásgyár translates to "Santa-factory" and is about tangible gifts instead of pecuniary donations. They collect non-perishable food in the first place – think of tinned food, rice, flour, honey, etc. The donations go to lots of people and families in need all across Hungary. A perfect donation-gift, if you want to help with something tangible rather than with money!
Donations: You can bring your gifts to 56-osok Square, Lurdy Ház Shopping Mall, every Toyota-shop and to most post-offices.
Time frame: Until December 22nd
Hajléktalanokért Közalapítvány – Foundation for the Homeless
---
The Hungarian Foundation for the homeless is quite self explanatory. They help the homeless on Budapest's and Hungary's streets. We hold that no person should sleep and on the cold streets of Budapest, regardless of his past mistakes, if any. If you share that opinion, you can donate to the foundation year-round or as a Christmas gift to someone else.
Donations: Bank account number 11786001-20034340; see details here
Time frame: year-round
Note that most pages listed are in Hungarian. If you need more info or are unsure about the bank accounts, contact pages, etc., let us know in the comments and we will help you!
We really hope this Budapest-themed gift-guide will prove to be helpful to you and makes your Christmas-shopping less stressful and more fun. Please let us know if we missed any great designer that you like, cool store you went to or organisation worth supporting in the comments! Merry Christmas and happy treasure-hunting!
https://www.catchbudapest.com/wp-content/uploads/Budapest-Gift20-e1512941739957.jpg
507
804
catchbudapest
https://www.catchbudapest.com/wp-content/uploads/cbp_logo_dolt_fekete_karika_vastag-s.png
catchbudapest
2017-12-11 23:30:03
2018-05-08 23:32:49
The 2017 Christmas Gift Guide: 35+ Unique Ideas for Budapest-Lovers