Budapest's Markets are a delightful spectacle and a visit at one or the other always cheers us up. A cool fact about Budapest's markets is that almost all of them take place indoors, which make them a perfect winter activity, as well. Here we have gathered our favourite markets of Budapest and their specialties for you. Spoiler: It's worth checking out those beyond the Great Market Hall, too. Happy shopping and snacking!
1. Vásárcsarnok – The Great Market Hall
---
The vásárcsarnok is literally the mother of all Budapest markets and we're sure this is not the first time you're hearing about it. It's beautiful and it's actually the first one that was built in 1897. Don't you ever mistake the Vásárcsarnok for a solely touristy place. It's actually a local favourite, too and there is just so much to tell about it that we've dedicated a whole article to just the Great Market Hall, it's best stalls and the dos and don'ts. See for yourself and indulge!
Adress: Vámház körút 1-3., 1093
Opening Hours: Mon 6AM-5PM, Tue-Fri 6AM-6PM, Sat 6AM-3PM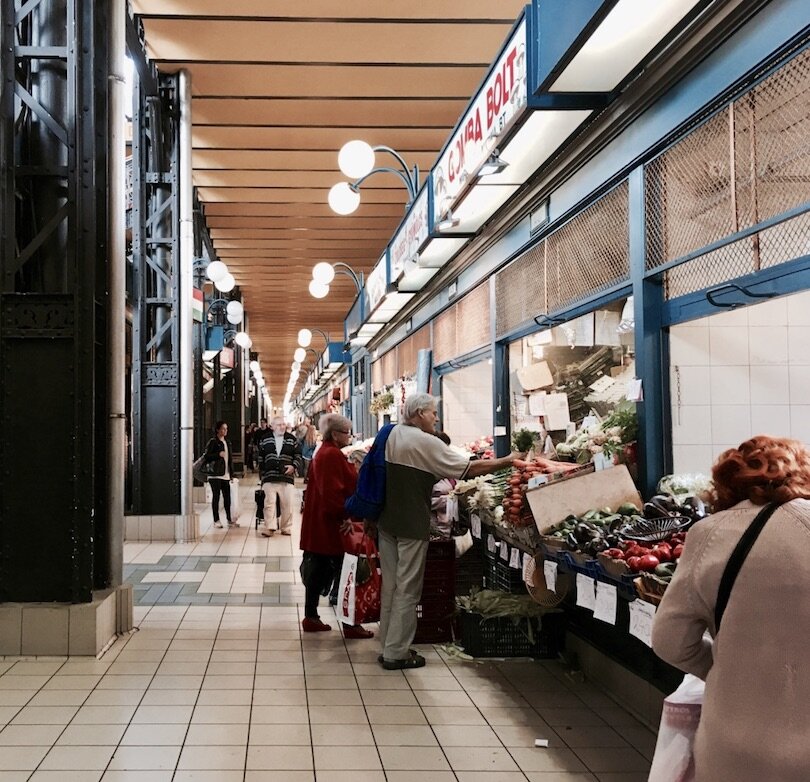 2. Fehérvári Street Market
---
Fehérvári Street Market is a lot mellower than the Vásárcsarnok and hardly any tourists make it to this part of the Buda side. It's an awesome place with almost a whole floor dedicated just to flowers. If you're looking for a market to cheer you up on a cold and grey winter day, this is the place to go. Get yourself a whole bucket of flowers and see the world through different eyes again. The rest of the market consists of various farmers who sell cheeses, spreads, as well as lots of fruits and vegetables.
Address: Kőrösy József utca 7-9., 1117
Opening Hours: Mon 6:30AM-5PM, Tue-Fri 6:30AM-6PM, Sat 6:30AM-3PM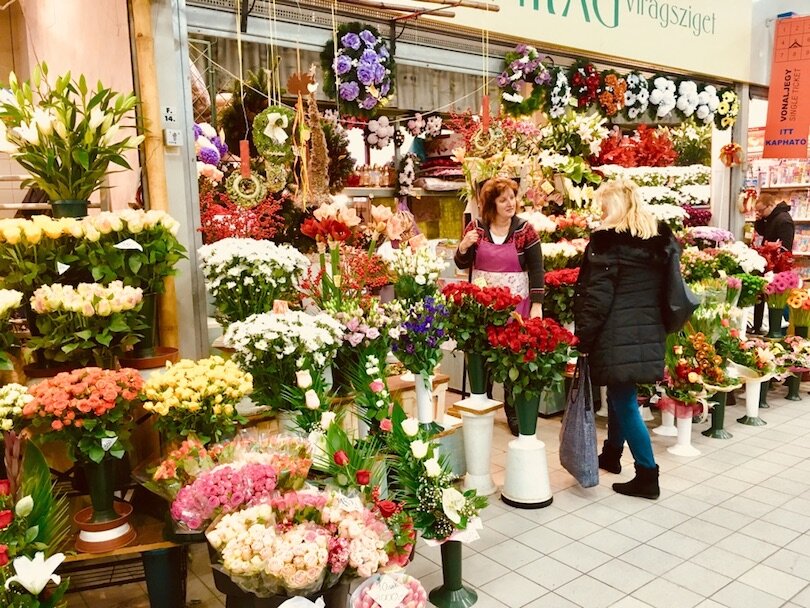 3. Fény Street Market
---
Another market in Buda not far from Széll Kálmán Square, this place doesn't see almost any foreigners either but caters mostly the local population of the surrounding residential area. Come here for a true shopping-grandmas-and-grandpas-experience, as well as for a mind-blowing Lángos at Lángos Land and the "Sonkás" and "Sonka Sarok" (two serious meat specialists – sonka meaning ham). They will provide you with kolbász (Hungarian sausage) in every shape, colour and size as well as foreign meat specialties. You'll find all of these on the upper floor; they're hard to miss. The only downside of Fény Street Market is that it mostly takes place open air, meaning that it's not our first recommendation in freezing temperatures.
Address: Lövőház utca 12., 1024
Opening Hours: Mon-Fr 6AM-6PM, Sat 6AM-2PM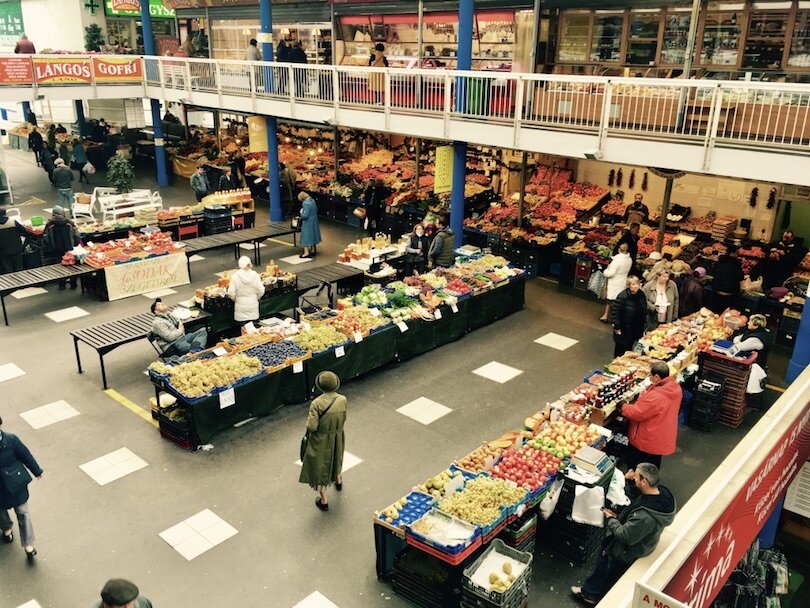 4. Hold Street Market
---
Hold Square Market is a truly hip place and differs very much from Fény- or Fehérvári Street Markets. Here, everything revolves around culinary delights and you will find amazing little eateries, which serve as the lunch-spot for many inner-city business people. Either go for the local, Hungarian specialties at Stand 25 Bisztró or Lakatos Bisztró or treat yourself to something more exotic. A Séf Riksája will serve you with Pho and Tom Kha Gai and Moszkvatér has some Russian specialties ready for you. The selection is big and tasty. Hold Square Market is definitely our culinary favourite!
Address: Hold utca 13., 1054
Opening Hours: Mon 6:30AM-5PM, Tue-Fri 6:30-6PM, 6:30-4PM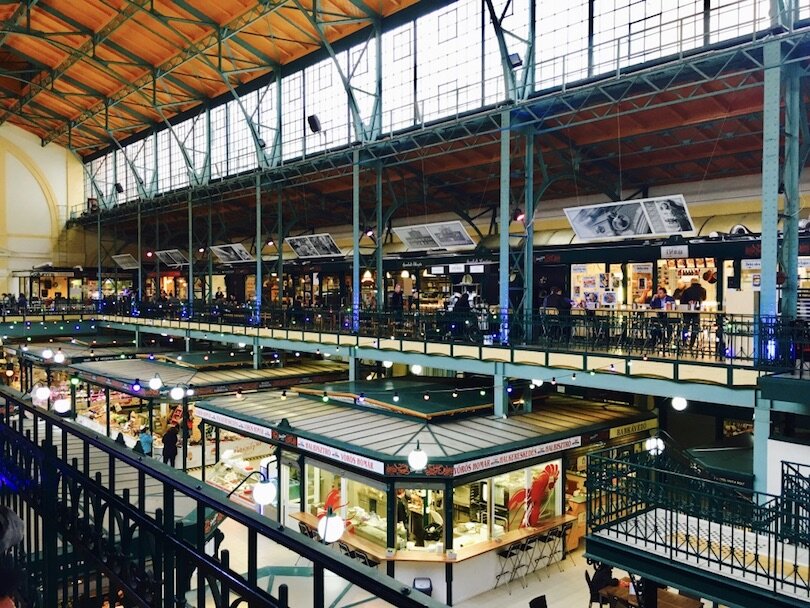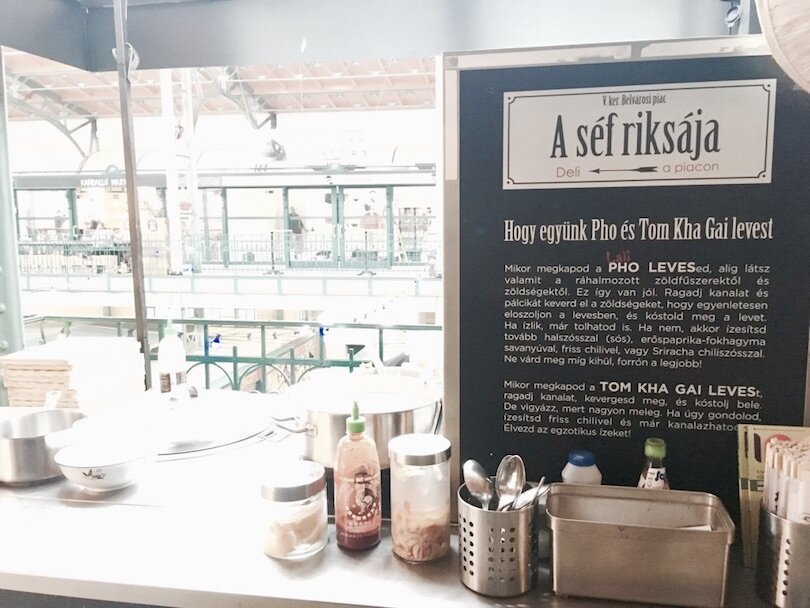 ---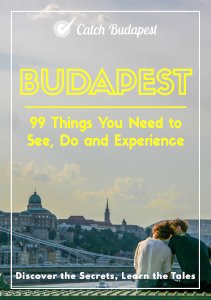 Explore the Authentic Side of Budapest!
Our guidebook will help you peel back the multiple layers of Budapest one by one. It'll help you see Budapest the way it's meant to be seen.
It's written for conscious travellers and locals. For those who are looking for more than just a glimpse at the main tourist attractions.
For those who want to not only see, but also feel the city and experience how it lives, plays, works, eats, drinks and functions.
It features countless little gems for you to discover while strolling the city streets – be it a hidden courtyard, a secret bar, a colourful garden, an offbeat flea market, or a stunning piece of street art.
---
5. Lehel Market
---
When you look at Lehel Market from the outside, you either laugh, have question marks appear in your eyes or regard it as a weirdo architectural gem. We were somewhere between all these emotions, but can tell you one thing: It's definitely worth checking out at least once. The building is supposed to resemble a ship, but what we saw is something between playground, temple, kitsch and yeah, a weirdly shaped building with a rod. Anyways, we don't wanna be superficial so let's not get too hung up on the appearance but elaborate what this market actually has to offer. There is one thing that's undoubtedly true for Lehel Square Market: It's authentic. Located in the inherently residential area of district XIII hardly any foreigners ever make it here, so spicing up your Hungarian a tad and learning some fruits, vegetables and numbers is definitely worth it beforehand. Forget the upper floor and its tacky imported stuff. Stay on the middle-ish lower ground instead and look out for the old ladies and gents selling their super organic fruits, vegetables, dairies, spices and spreads. The permanent stalls on the ground floor bring you meat in every form and colour, as well as further fruits and veggies. Lehel Market is also another place for a drop-dead Lángos: Look for the one further inside the ground floor and get lost in the super-thick cheese- and sour cream layer. Yumm!
Side note: This is the only market (besides the Szimpla-Sunday happening that is open on Sundays).
Address: Váci út 9, 1134
Opening Hours: Mon 6AM-5PM, Tue-Fri 6AM-6PM, Sat 6AM-2PM, Sun 6AM-1PM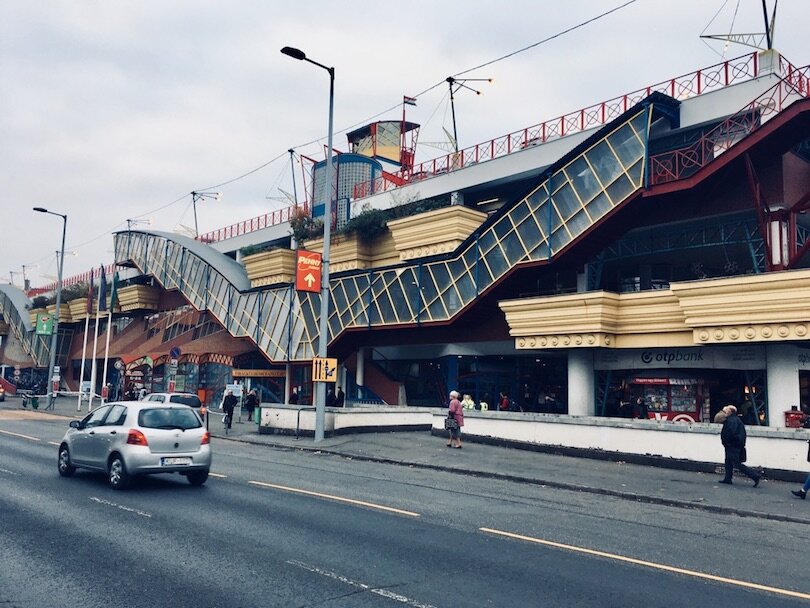 6. Hunyadi Square Market
---
Aww, such a cute little place. Hunyadi Square Market actually consists of two parts: The farmer's market on the outside at Hunyadi Square and the "regular" market on the inside. Both are definitely worth checking out. This is one of the smallest markets of Budapest which makes it also one of the most familiar and cozy ones. You'll still find everything you might possibly need and want. The farmer's market on the outside has some great syrups, flowers, spreads, fruits and vegetables and once you're there, don't forget to check out Hunyadi Square itself. It's an awesome little residential square with nice, old buildings surrounding a green park. What more could you wish for right in front of your entry door? Sigh.
Address: Hunyadi Tér 4., 1067
Opening Hours: Market Hall Mon 7AM-5PM, Tue-Fri 7AM-6PM, Sat 7AM-2PM; Farmer's Market Mon-Sat until 2PM


7. Rákóczi Square Market
---
We also call Rákóczi Square Market "Market Number Two", since it's the second market Budapest received right after the Grand Vásárcsarnok in 1897. Architecturally it greatly resembles its big brother on Fővám Tér but it's atmosphere is quite different. Just imagine the Great Market Hall without the crowds and the buzz. It's a great place, too with lots of nice stands – we particularly like the big fruit- and vegetable stand in the middle surrounded by colourful parasols. Also worth checking out is the "winery" on the left side of the entrance. Here, you get incredibly cheap "folyóbor" (flowing wine) right from the barrel. Don't expect a sommelier-experience; we're rather talking about the headache-quality here but you know, since you're already there… Anyways, if you're feeling like an old-fashioned market experience away from the crowds, this market is made for you.
Address: Rákóczi tér 7-9., 1084
Opening Hours: Mon 6AM-4PM, Tue-Fr 6AM-6PM, Sat 6AM-2PM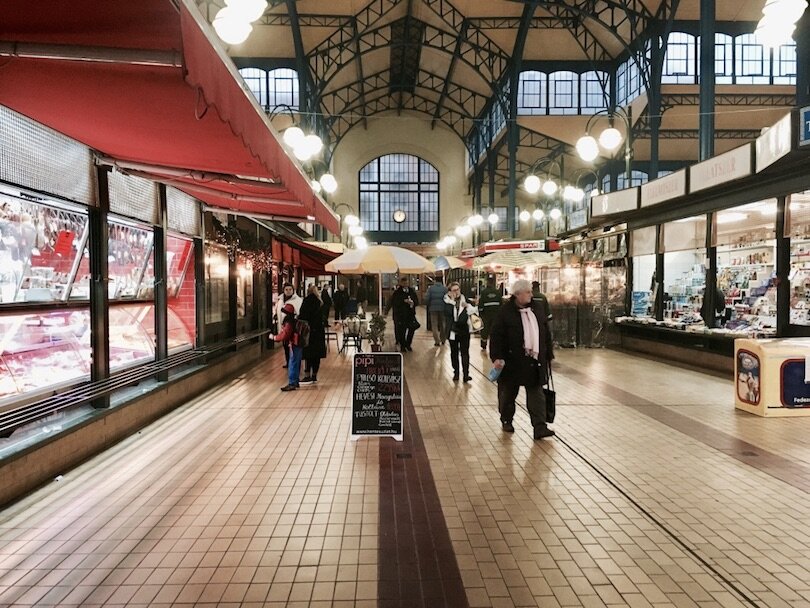 8. Szimpla Farmer's Market
---
Szimpla Farmer's Market is more than a market – it's actually a Sunday morning happening. You know, we really don't like how Szimpla became this commercial, pretentious backpacker-haven in the last few years but have to admit that this market is one of the good things that has happened to it recently. If you like Frühschoppen, this is your place to be on every single Sunday Morning. Apart from the delicious market stalls, some bars of the Szimpla-complex are open, so you can have a coffee or even a hair of the dog (i.e. beer). They also cook some tasty donation-based food in huge kettles and there is even a live band. This is just the perfect place to be with a good Sunday-morning hangover.
Address: Kazinczy utca 14., 1075
Opening Hours: Sun 9AM-2PM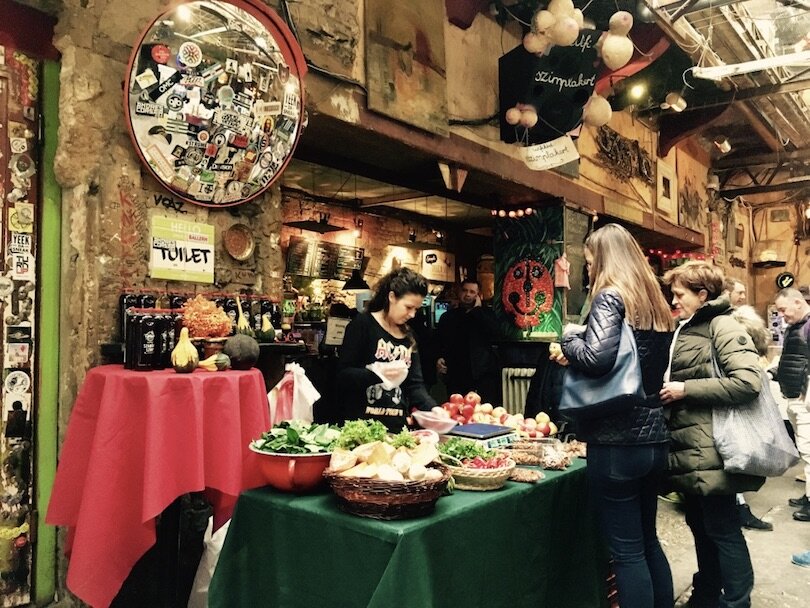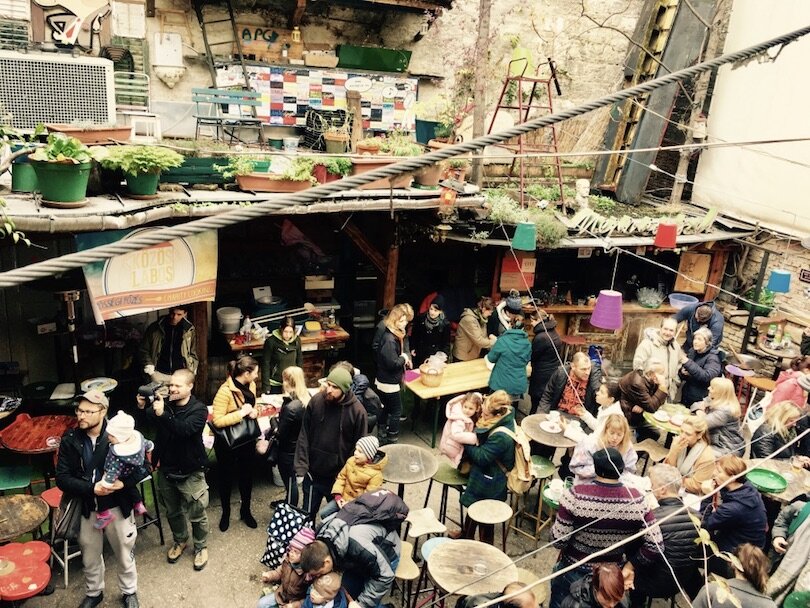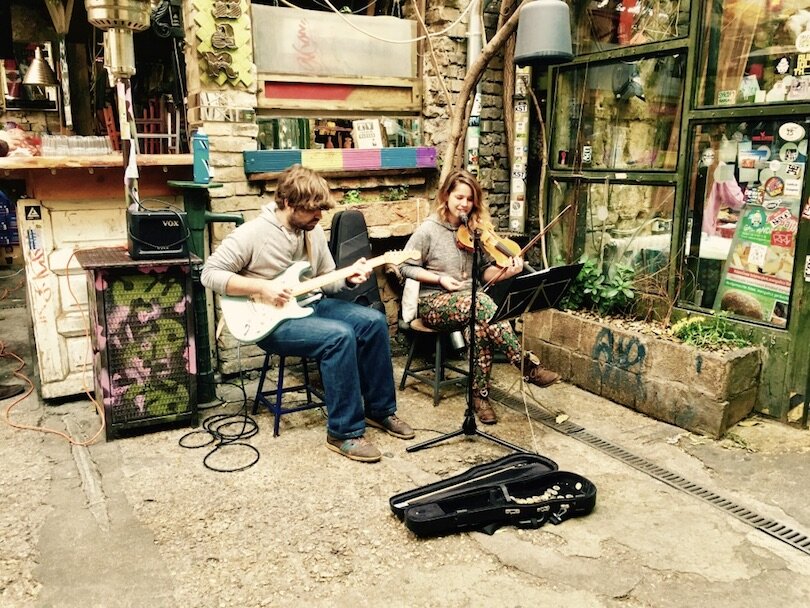 It's your turn now: Which one is your favourite Budapest market, your favourite Lángos and your favourite stall? Did we miss a really cool one? What's the weirdest, tastiest, coolest thing you spotted on Budapest's markets? Let us know in the comments!
https://www.catchbudapest.com/wp-content/uploads/Budapest-Market14-s.jpg
608
810
catchbudapest
https://www.catchbudapest.com/wp-content/uploads/cbp_logo_dolt_fekete_karika_vastag-s.png
catchbudapest
2017-11-15 11:53:23
2018-10-10 14:55:16
8 Amazing Markets in Budapest - The Cutest, Hippest, Weirdest and Liveliest Places to Hunt for your Fresh Goods