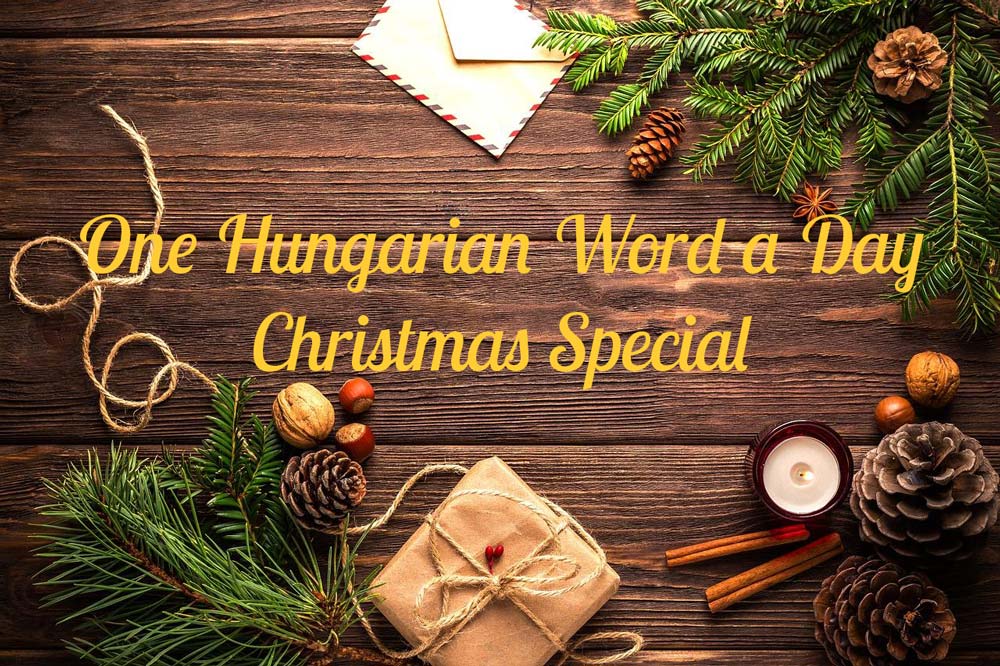 Boldog Karácsonyt!
Today's word of the day is a bit different from the others – we're doing a Christmas special where we'll teach you every Christmas-related term imaginable.
If you want to send a card or otherwise give your festive wishes to your Hungarian partner, in-laws, family or friends – this lesson is for you.
Meaning:
Merry Christmas!
Pronunciation:
Boldog Karácsonyt!
Example sentences:
Boldog, békés karácsonyt kívánok neked és az egész családodnak.
Happy, peaceful Christmas(acc.) wish-I for-you and the whole family-yours.
I wish you and your family a happy and peaceful Christmas. (A typical greeting that would go on a Hungarian Christmas card)
Áldott, szeretetben gazdag ünnepeket kívánok.
Blessed, love-in rich holidays wish-I.
I wish you blessed holidays rich in love. (Another greeting you can put on your Christmas card)
Kellemes karácsonyi ünnepeket és boldog új évet kívánok.
Pleasant Christmas-y holidays(acc.) and happy new year(acc.) wish-I.
I wish you a pleasant Christmas and a happy New Year. (and another one.)
Note: As opposed to most common languages, holidays (even the holiest ones!) are lowercased in Hungarian.
Related terms:
ajándék – present, gift
békés / béke – peaceful / peace
boldog – happy
BUÉK – that's what you say to wish someone a happy New Year. It's the acronym of "Boldog Új Évet Kívánok" (Happy New Year(acc.) Wish-I)
csillagszóró – sparkler (children love to lit them under the tree during the Christmas days)
gyertya – candle
Jézuska – Baby Jesus (in Hungary, it differs from family to family who brings the presents. One option is "Jézuska" aka Baby Jesus)
karácsony – Christmas
karácsonyfa – Christmas tree
karácsonyfadísz – Christmas tree decorations
kellemes – pleasant
Mikulás – St Nicholas (he brings little gifts on Dec 6
th
, on St Nicholas' day)
szaloncukor – the Hungarian Christmas candy. It's usually a piece of jelly (but can be coconut flakes, as well) coated by dark chocolate and wrapped into a colourful piece of paper. Next to eating it, it is a typical and beloved Christmas tree ornament because it's so colourful.
You can get the idea from these images.
szilveszter – New Year's Eve
Télapó – "Winter Father" – in some families, he is the one who brings the gifts. He is similar to "Mikulás", but doesn't have the religious connotation
tűzijáték – fireworks
újév – New Year (the first day of the new year)
újévi fogadalom – New Year's resolution
ünnep – festivity
Did you like today's word? Do you have a favorite memory hook for it or do you get it into your brain in a completely different way? Did we miss something in the explanation? 
Share your thoughts, word visualizations or learning tips below in the comments and remember, the more you use a new word, the easier it will stick in your memory!
Wanna learn more?
https://www.catchbudapest.com/wp-content/uploads/christmas-5-s.jpg
666
1000
catchbudapest
https://www.catchbudapest.com/wp-content/uploads/cbp_logo_dolt_fekete_karika_vastag-s.png
catchbudapest
2018-12-11 05:00:32
2019-12-30 20:50:32
Boldog Karácsonyt! – Christmas Special