Most people we know – including ourselves – just dread city-winters. They're cold, they're wet, they're grey and they just drag our moods down for days or even weeks. We'd love to say that this isn't true for Budapest, that the city turns into a total winter fairytale with coziness all around but reality would strike soon, so let's face the facts.
Still, this doesn't mean that there isn't a lot, and we mean a lot to do in the city during winter time. There's actually a myriad of opportunities waiting for you to make the best out of the season, so prepare to get cozy and enjoy our following recommendations.
Happy winter!
1. Indulge in Budapest's Market Halls
---
Budapest's markets take place indoor, which makes them a perfect cold-weather getaway. There are numerous of them to explore scattered all over the city and each of them has their unique traits: The Grand Market Hall is the breathtaking one (see our complete guide), while the one at Lehel tér is simply peculiar. Fehérvári Street Market is full of flowers, while Hold Street Market has the best eateries. We could go on about Budapest's Market Halls forever, so we've rather dedicated a whole article to them. Happy feasting!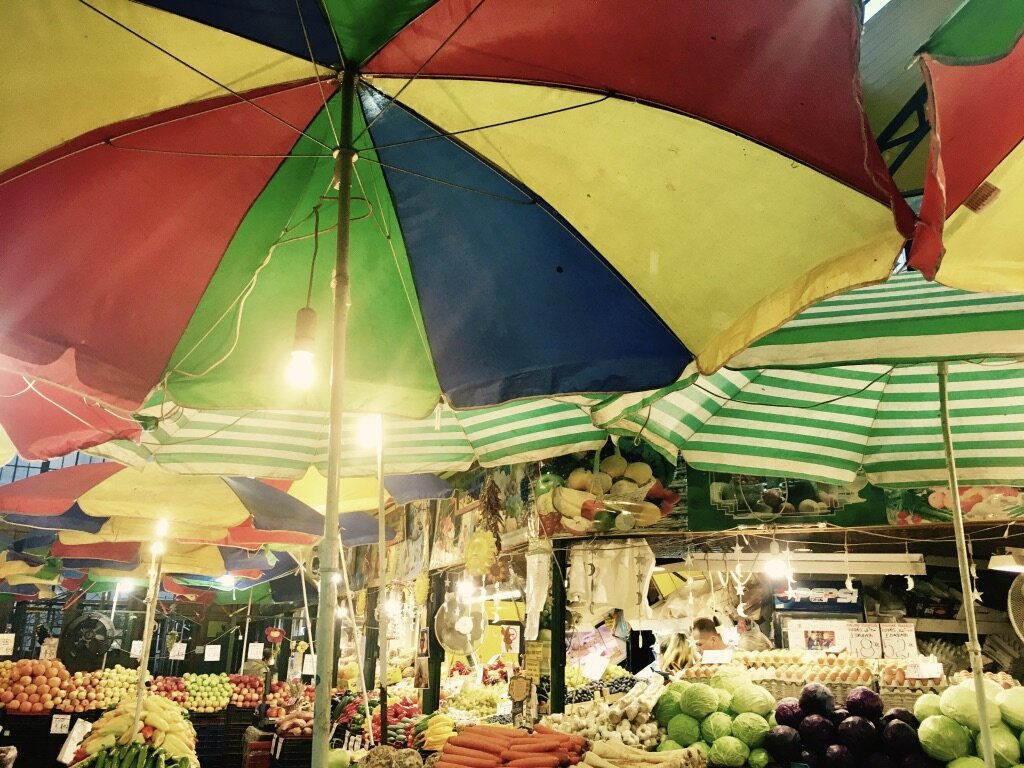 2. Escape a Room
---
And by that, we don't just mean your own one. Budapest is the world-capital of escape room games and while being locked in a cellar and solving mystery games to get out is not everyone's idea of fun, just give it a shot at least once! It's a great way to spend an exciting time with friends and winter is the perfect opportunity to be locked into a windowless room anyways.
We've tried the guys at Escape House and had a blast! It consists of four rooms; all of them are a great mixture between cute and creepy and you have 60 minutes to get out. Psst! We didn't make it. Their facilities could use some  cleaning though, but if you can get over that or consider it a part of the experience, you'll have a great time!
This page lists all exit room games across Budapest; there are around 80(!) scattered all over town. We're happily embracing every further suggestion!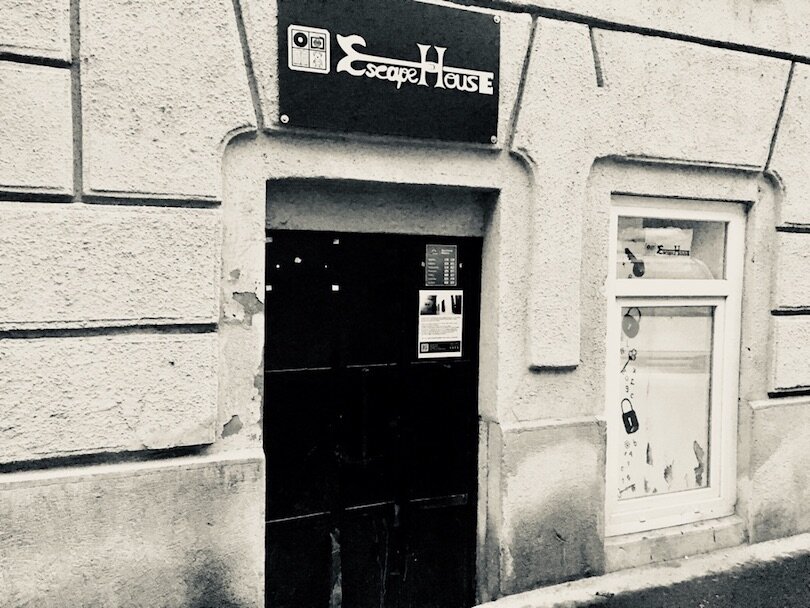 3. Fly like a Bird in a Wind Tunnel
---
And no, we don't mean walking across Liberty Bridge on a stormy day. At Skyward you have the chance to try wind tunnel flying, where you will feel like actually diving the sky and falling freely at about 200km/h. It's an unforgettable experience and perfect if the weather turned just too cold for actual sky-diving. If you're the adventurous type and feel that this winter is the chance to try something new, this is the place!
4. Take a Walk
---
Although Budapest can get ugly, cold and muddy in winter, nice snowy and / or sunny days do exist and are perfect for a winter-walk.You can either pick your own route and just stroll the blocks, join one of the numerous organized walking tours that are of really high quality and revolve around various topics and tales from the capital. Or check out one of the free self guided walking tours you can find on the web. Izi.travel app for example offers free audio guides for cities all over the world, and they have pretty interesting ones for Budapest, as well. All you need is a smartphone and your headphones.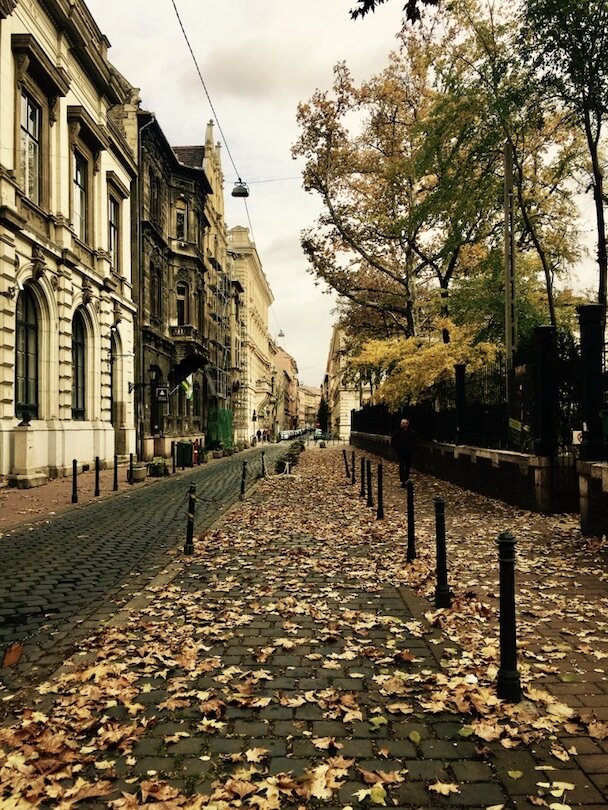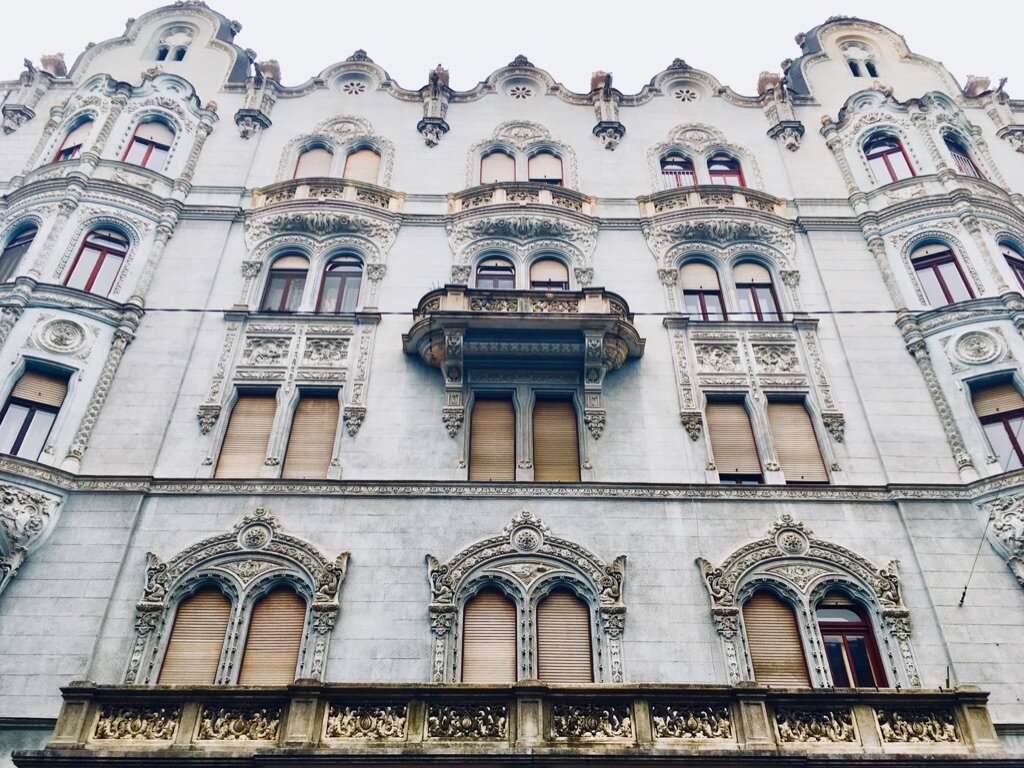 5. Go Vintage-Hunting
---
Bring some colour into your winter with shopping at one or more of the cool vintage-shops. If you're a fan of the old and shiny, there's a whole world of treasures for you to explore in Budapest. Check out Lovebug Vintage for an amazing little flat turned into a treasure box, or head to Anker köz for Retrock – a whole vintage-heaven spread over two floors. Other great options are Szputnyik (2 locations) or Humana (a real bargain!).
6. Ice Skate
---
If you're feeling more active and are up to a fun winter-sport, head to one of the numerous ice rinks of Budapest. There's a super-wide selection to choose from. We're sure most of you have already heard of the famous ice rink in Városliget, but why not head to Csepel or Kőbánya for a change and ice-skate for half the price in a more low-key, local spot? Whatever your preferences are, We Love Budapest has covered the best ice-skating rinks for you. There's definitely one for every taste.
7. Visit some Museums and Exhibitions
---
Budapest has a myriad of all kinds of museums and cold, muddy winter-days are probably the best time to explore them. You can go for the classics, like the National Gallery, the National Museum or the National History Museum or – if you're not in the deep cultural-zen, visit some other gems, like the Unicum– or the Pinball museum. Or see the Invisible Exhibition and experience life as a blind person for an hour. You can also head to the Buda Castle and visit the Hospital in the Rock – a hospital that operated secretly during WWII. A super-interesting place! Or go and see Terror Háza and how it displays the sad parallels between the nazi- and communist eras. Another hot tip of ours is Mai Manó House of Photography. It's a beautiful building bought by Manó Mai, a royal court photographer or the 19th century, which he used as his photo studio. Today it shows frequent photo-exhibitions of super-high quality.
See, whatever your preferences are – classical art, alcohol, photography or history, there's definitely no lack of choice in the capital. Here is another great list of unusual museums and exhibitions in Budapest provided by Budapest Local.
8. Relax in a cozy coffee shop
---
Some of our favourite cafés in the whole entire world are located in Budapest. Their creative interior is often unbeatable and winter is the perfect time to sink deep into a retro sofa and enjoy a cup of tea or coffee. Our favourites include Konyha with its huge street-view windows and Csendes for its eccentric decoration, but there are so many more, that we dedicated a whole blogpost to them. 
Read here about 8 Heavenly Cozy Cafés in Budapest for Rainy Days.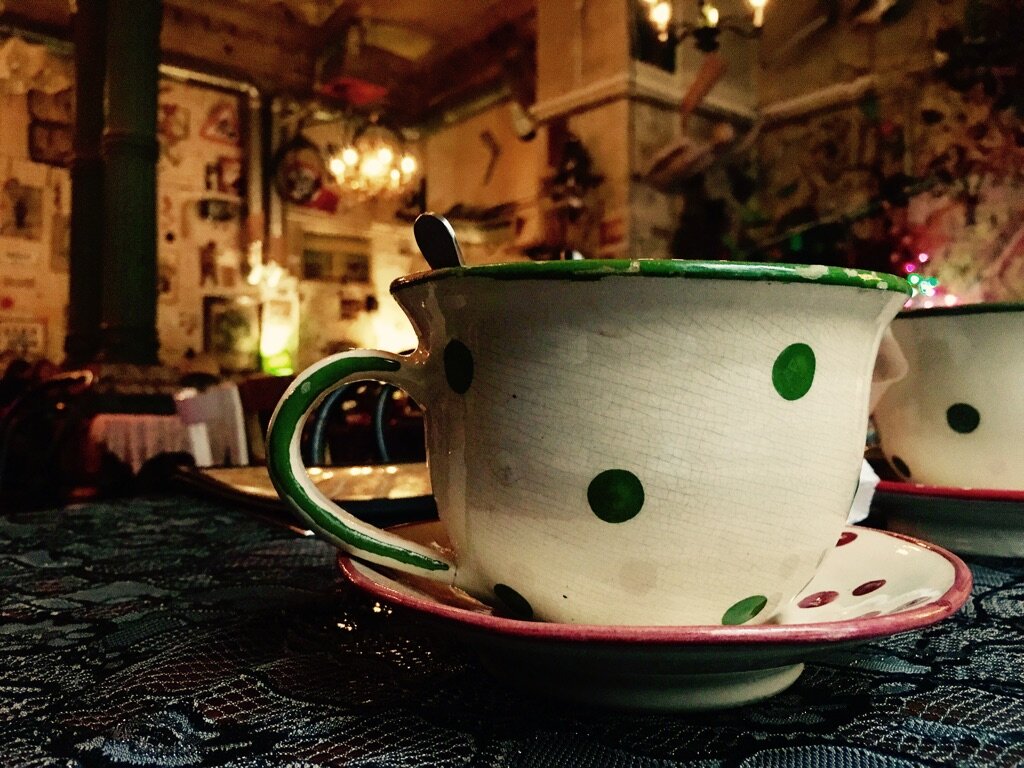 ---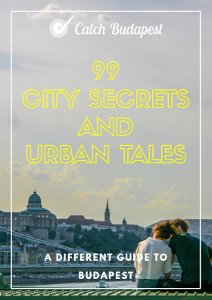 Explore the Authentic Side of Budapest!
Our guidebook will help you peel back the multiple layers of Budapest one by one. It'll help you see Budapest the way it's meant to be seen.
It's written for conscious travellers and locals. For those who are looking for more than just a glimpse at the main tourist attractions.
For those who want to not only see, but also feel the city and experience how it lives, plays, works, eats, drinks and functions.
It features countless little gems for you to discover while strolling the city streets – be it a hidden courtyard, a secret bar, a colourful garden, an offbeat flea market, or a stunning piece of street art.
---
9. Kick back in the Spas
---
Obviously, no Budapest winter-bucket-list is complete without mentioning the famous spas of the city. And for good reason – soaking in a hot tub in-between picturesque surroundings while the temperature sinks below zero is simply priceless. Although Széchenyi is indeed a tourist hotspot, it's a legit one. It's plain beautiful and we love going there regardless. It's way less crowded during winter time and if you go in the evening, you can have the hot outdoor-pool almost for yourself. But there are numerous other options. Lukács bath is an another very pretty bath, or head to Véli Bej for a more tranquil, laid-back option.
10. Go inside the usual Sights
---
If you haven't done it yet, now is the time to explore the insides of of the top Budapest sights. Sure, everyone has seen the Parliament*, the Basilica or the Synagogue, but have you done the tour of it? Being a tourist in the city you live in can be an amazing and eye-opening experience so use those winter-months to gain a different perspective on what you think you know already.
*Note that for the Parliament it is worthwile to book your tickets 1-2 days in advance in your desired language.
11. Visit some Souvenir Shops
---
Stop rolling your eyes and hear us out. We actually dislike and never visit souvenir shops, no matter where we are in the world. Still, lately we figured that they actually do tell a tale of a place (in a cheesy way, admittedly). Last time when strolling around in the Basilica area we stumbled upon Memories of Hungary, one of the better-kept souvenir-shops of the city and decided to pop in, just for fun's sake. Once we made our way through all the kitsch and arrived in the football-corner, we found ourselves reading the Wikipedia-article of Ferenc Puskás, Hungary's übermensch of football and an iconic person of the country's recent sports history. And that was interesting! Afterwards we asked ourselves what Klimt had to do with Budapest (not so much) and googled our way through the various items. Yes, most of the souvenirs sold are crap but when asking yourself why this stuff is actually there, you start scratching below your superficial knowledge of culture and history and learn something in a fun way.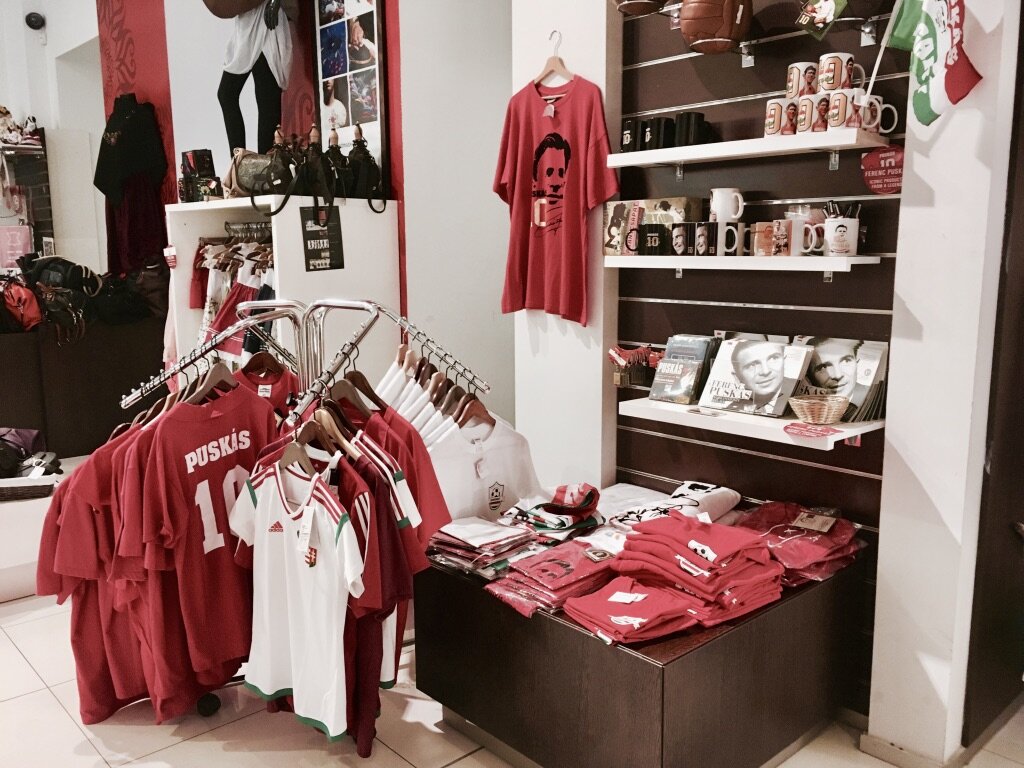 12. Go to the Movies
---
Budapest has just too many options when it comes to spending a great movie day or night in town. First of all, almost every single shopping mall has a full-on 3D, HD Cineplexx included on its top-floor. That leaves you with approximately 47 cinemas already, scattered all over the city. Admittedly, for block busters, like the newest Marvel-adaptation, this is what we prefer. Sometimes you just need a killer screen and sound with an oversized bunch of popcorn and you're good. Most times though, we prefer Budapest's extensive Art-cinema network – way smaller cinemas, no blockbusters but lots of highly relevant foreign and Hungarian, contemporary and classic movies in enchanting surroundings. Toldi Cinema is our favourite with a cool café and bar area, where you can relax before and after the movie.
Note that blockbusters are almost always shown in English, while children's movies are usually translated to Hungarian. In the art-cinemas, everything is shown in the original language with Hungarian subtitles.
13. Go Sledding
---
Although we don't have the Alps (in fact, we don't even have a single proper mountain in the country), Budapest is still good for some fun winter adventures. Once it snowed, head straight to the Buda Hills and slide down Normafa, Gellért Hill's Millenáris Park or Hármashatár Hill. See, you don't have to leave the country to enjoy the snow, after all! Here is an article in Hungarian that summarises the best sledding spots in the city.
14. See a Play at one of the Theatres
---
Many of the plays all over Budapest's numerous theatres have English surtitles. Check out the winter program of Àtrium or see an operetta at the Operetta-Theatre. For more alternative plays, check out the little RS9-theatre right behind the Synagogue or the English-friendly plays at Trafó. Or just pick a theatre, where language doesn't matter and see a dance at the National Dance Theatre. 
15. Visit the Christmas Markets
---
Although usually Vienna wins the price for being the Christmas Market-capital of Europe, Budapest has some great options, too. Plus: Budapest's markets are waaay less crowded and touristy (trust us: you haven't been to Vienna yet if you think Vörösmarty Square Market is crowded). Head to the Buda Castle, the Basilica or Vörösmarty Square for the classical options or enjoy Gozsdu Udvar's market for a more youthful version. The Christmas Markets start with December and last during Christmas Eve.
16. Try something new at a Workshop
---
Workshops are a great and engaging way to try yourself at a new skill. The time before Christmas lends itself especially well for that, since who knows what kind of creative presents are about to emerge from a day workshopping. You can book an afternoon of weaving via phone or email at Budapest's Weavery and create handmade scarfs or blankets for you or your friends and family. Or try yourself with wood and furniture at Technika's Open Studio and surprise yourself with a new piece for your flat. You thought you'd make a terrible artist? Think twice! Alkotás utca has some painting workshops that will awaken your inner Monet. If you'd rather like something edible, join one of the awesome cooking classes of Chefparádé. You have a myriad of choices between Hungarian and international dishes and their classes are great fun.
17. Explore a new Gym
---
While going for a run in freezing temperatures is a hardcore undertaking, staying fit during winter is not impossible – especially with the myriad of gyms Budapest has to offer. The selection ranges from small basement fitness rooms to luxurious centres that include spas and saunas. We love Budapest tested 15 gyms for you, so the only things that's missing now is your will to go. Try it out, even if it's just for the sauna afterwards.
18. … or try some other cool Indoor Sport
---
If you're really not the gym-type, there's plenty of other cool indoor sports you can try for cheap in Budapest. Consider squash, as an example: We love squashing at Aktív Squash near Stadionok. It's super cheap, especially with a student pass and they have really convenient opening hours. And it's a fun power-sport, that's easy to play reasonably well. Or go bouldering to Spider Club in Òbuda or just swim a few laps at the Hajós Alfréd Bath on Margaret Island. You have to seriously hate body movement if none of these get you excited. But that's okay; in that case…
19. Eat some heavy Hungarian food
---
The Hungarian kitchen is definitely no lighty-lighty summer food but can heavily lie in your stomach for hours. This will come in perfectly handy in winter, when you need a whole bunch of energy to keep you warm. Either cook your own way through Hungary's amazing kitchen with the help of these food blogs or treat yourself and eat out. Avoid the tourist traps, though. For a good, cheap local Goulash soup head to Fecske Presszó, or go to Kispiac for world-class Hungarian dishes in a casual atmosphere. Another great option for traditional Hungarian kitchen is Hold Street Market. Head to the upper floor and enjoy this hearty food in a cool market setting. Here is a good list of Hungarian winter-foods to try.
Top tip: If you want a truly traditional "Kisvendéglő" (little tavern) and love the checked pattern on your grandma's tablecloth as much as we do, head to Bercsényi Kisvendéglő. At this little place time, space and atmosphere stand still since probably 1962. And if you're a daredevil, super-duper hungry and don't mind your cholesterol-level, eat a Borzaska and accompany it with a good old Soproni beer. If you don't mind a short ride to the outskirts, Fenyőgyöngye Restaurant is a similar (though much bigger) place right at the foot of the Buda Hills, so it's perfectly combinable with a hike. Bon appétit!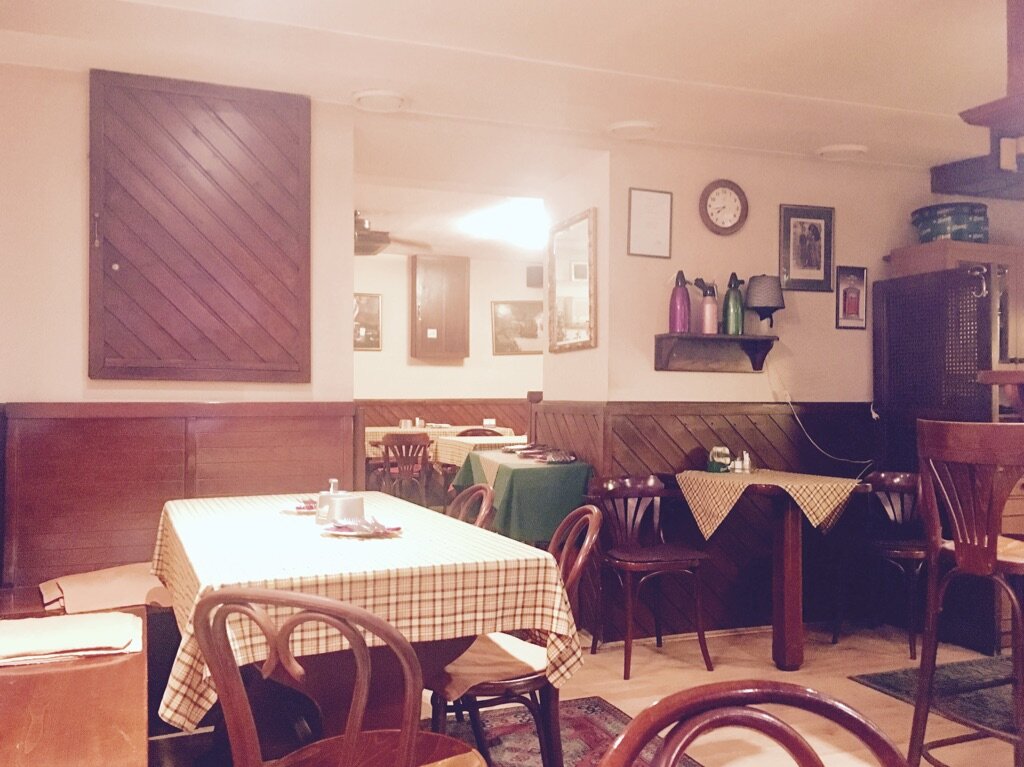 20. Eat Cake till you drop
---
Once you're done with the main dish, bring your sweet tooth on and gain some weight to survive those cold days. Budapest is literally a cake-capital and there are so many great options to take a bite. You can either go for the classics or visit the more alternative, new-wave places. If none of these serves your needs, you probably shouldn't be eating cake ever.
21. Drink Pálinka and Red Wine
---
There is no better time for trying a heart-warming (burning) Pálinka than a cold winter-day. It will heat you up instantly. Or go for a cozy red wine in one of the numerous wine-bars. We're by no means suggesting to cure your winter-blues with alcohol, but an occasional sip might help. Just saying. Our favourite wine-bars include Doblo and Cintányéros; both do serve a carefully selected choice of Pálinka, as well.
See a complete list of our favourite casual wine in Budapest bars here.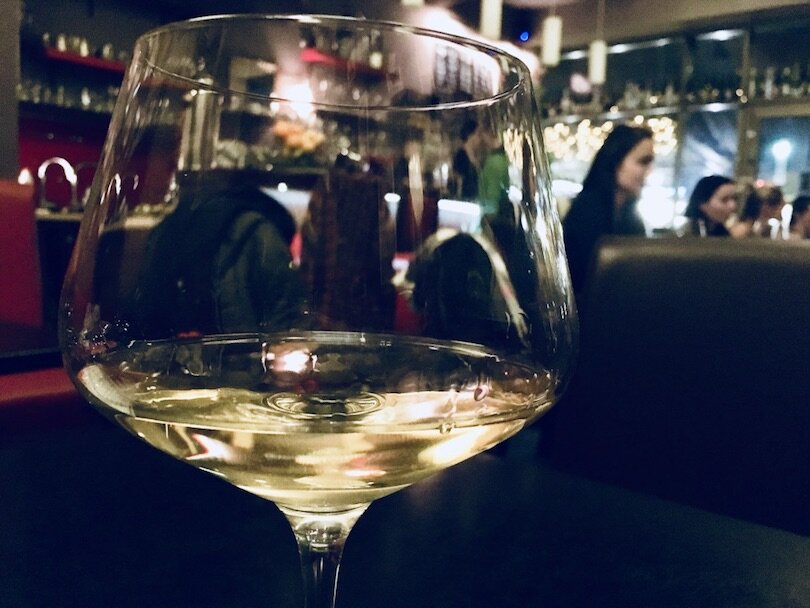 22. … or sip some Mulled Wine
---
If you want to warm up even more, go for the hot version of red wine. You can either visit one of the numerous Christmas Markets or – if you're like us and are done with Christmas before the season has even begun, enjoy this heartwarming drink in one of the bars and pubs all over town – most of them serve it as soon as the weather turns colder.
23. Play Board Games at one of the Board Game Cafés
---
Don't know about you but we love playing board games. Since the good ones can get quite expensive, having a fun afternoon or evening at one of the board game cafés of Budapest is a great alternative!
We loved Társa's Játék Bár. The atmosphere is great and casual and they have a whole bunch of games to choose from; you'll sure find something addictive! The staff is super helpful and speaks perfect English, so don't worry and just ask them for help if you feel overwhelmed or need the rules explained. Oh, and they serve drinks and snacks! You're guaranteed to forget the weather outside here really quickly.
The same goes for Game Up Pub – an amazing place with great vibes, lots of games, drinks and even popcorn! Also here, the staff is super eager to give you recommendations and will explain you everything.
Be sure to make a reservation at both places, especially on weekends, since they can get really packed!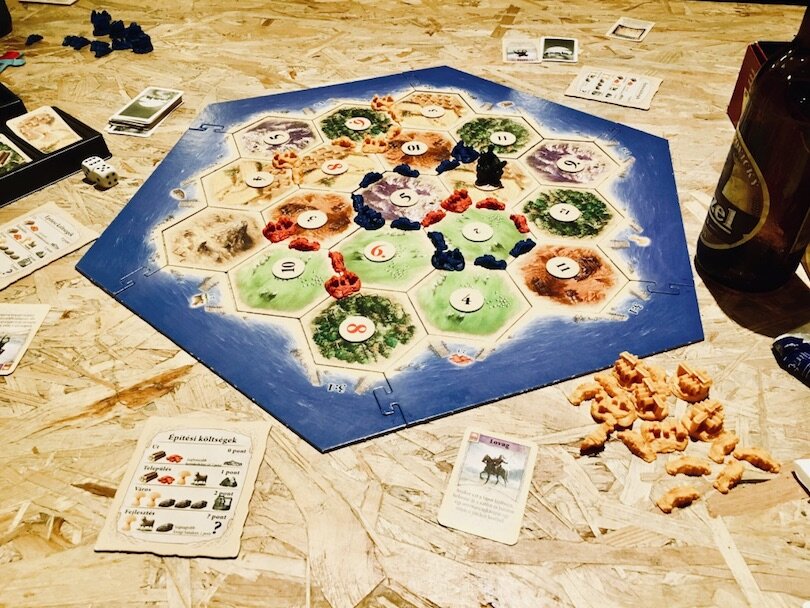 24. Learn Hungarian
---
Turn an uninviting winter day into an opportunity and soak up some Hungarian! You don't have to sit all by yourself to do this though. Learning a language is all about communication and there are numerous opportunities out there to practice Hungarian actively. Go to one of the many language meetups in Budapest or indulge in our language-section and become street smart during those winter days.
25. Visit one of the beautiful Libraries
---
Budapest gives you amazing opportunities to indulge in a good book. Many of the city's libraries are simply breathtaking and make you stay for hours or even a whole day. If you have to study for your winter exams, consider doing that in a library instead getting cabin fever in your own room. And if you don't – lucky you! Bring your favourite book or browse through the inventory of the libraries themselves and forget the world for a few hours. Our two hot tips are Szabó Ervin library close to Kálvin Square. It is situated in an old palace and you will feel like right in the middle of Hogwarts. Just register right at the entrance. And did you know that you can actually visit the beautiful library of the Parliament and look right onto the Danube while reading? You'll have to register in advance for that and go through a security check upon entry but be sure that it's worth it!
26. See a Concert
---
Ahh, so many venues, so many choices. Budapest has some great locations that host live music regularly. Our favourites include Dürer Kert for lots of foreign gigs, Jedermann, Mazel Tov and Doblo Wine Bar and Mika Tivadar for jazz and Auróra for aspiring Hungarian artists. Phenomenon Magazin is a great resource for upcoming gigs all over the city.
27. Visit a Cemetery
---
Admittedly this is not the cosiest activity one can imagine on a cold winter day, but hear us out. Budapest has a wide range of really beautiful cemeteries and winter gives these enigmatic places a special atmosphere. Kerepesi Street Cemetery buries many of the greatest Hungarians who received some impressive tombstones – it's more like an open-air museum that gives a great insight into Hungary's past and history. The Jewish Cemetery of Kozma Street enchants with its little paths in-between the graveyards. The Jewish Cemetery at Salgótarjáni Street is the oldest Jewish Cemetery of Pest and provides another super peculiar atmosphere.
28. Go Caving
---
An interesting fact about the Buda side is that it hides a super-extensive cave network. And the best thing about that is that lots of parts are open to the adventurous visitor. Go to the Pálvölgyi Cave in district II and admire its stalagmites. Or go for adventure caving and shoot some adrenaline through your veins that'll help you to survive those winter blues.
29. Enjoy an Indoor Terrace
---
We don't know about you, but our eyes definitely start watering when we see all those beautiful terraces shutting down for winter time. Luckily, there are still some places, where you can sit outside and defy the cold and sip your drinkables in a winterized, cozy setting. Our favourite is actually Ellátó Kert in the heart of district VII, where Mexican Food meets ruin pub and coolness. Fröccsterasz is a bit more fancy but definitely worth trying with its great terrace in the heart of Deák Square. For a Buda-option head to Majorka – a cute little winter terrace next to Városmajor.
29 + 1. Take a Day Trip to another Country
---
One awesome thing about Budapest is its location in the heart of Europe. If you're craving diversity you can leave the country in just 1,5 hours by train, car or bus – whichever you prefer. So whenever you feel that Budapest sucks, visit the Christmas Markets of Vienna or go for a feast to Bratislava (both 3 hours away). Book your train tickets here or take the cheaper bus option (our tip: ALWAYS book via the Hungarian site of Flixbus and save a considerable amount of bucks!) and kick back for a day in another country.
If you need more information on these cities, visit this great Vienna-blog and see this 2-day itinerary for Bratislava.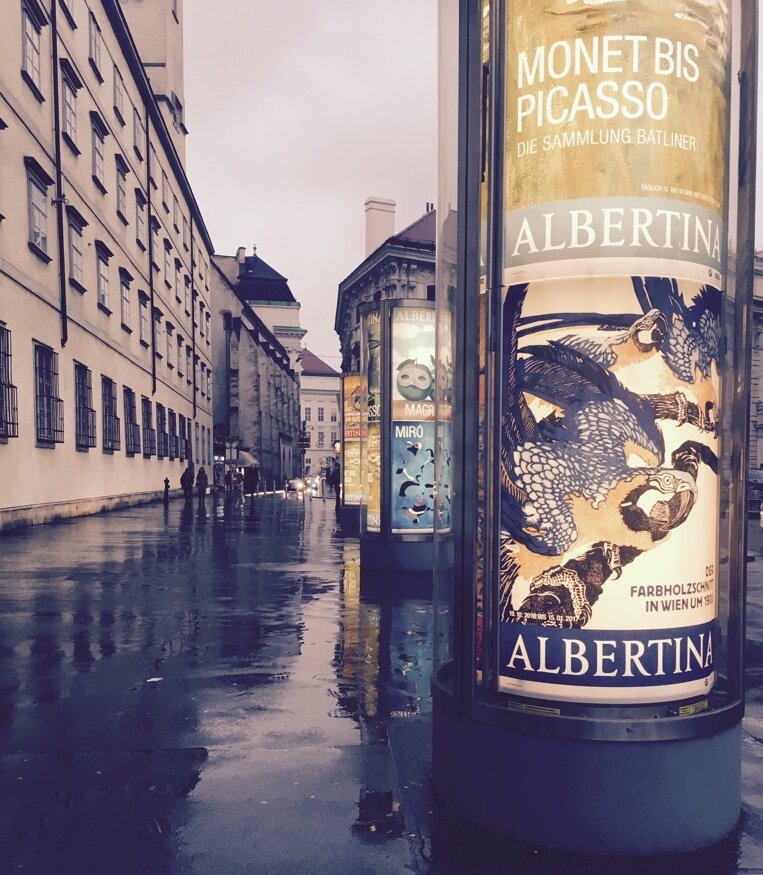 29 + 2. Fly away for cheap
---
If none of that helped, you still dread the Budapest winter and one day away is simply not enough, fly away! Being the home country of Wizzair and hosting Ryanair, flying out of Budapest to a warmer destination (like Israel, Turkey or Andalusia) is incredibly cheap, especially during winter time. Get flight tickets for as little as 6.000 HUF and escape this unfriendly season as a whole, if you can. Merry Sunny Christmas!
We really hope you liked our tips and that they will bring some genuine joy into your winter this season! Our mission is to help you catch Budapest and keep it in your heart forever, but just so you know: We thrive on your feedback and reinforcement. Please let us know in the comments what we have missed, what else you did or plan on doing this winter that was cool and how we could make this article more complete for everyone.
https://www.catchbudapest.com/wp-content/uploads/Budapest-walk3.jpg
768
1024
catchbudapest
https://www.catchbudapest.com/wp-content/uploads/cbp_logo_dolt_fekete_karika_vastag-s.png
catchbudapest
2019-12-22 10:16:47
2020-06-20 11:23:07
29 + 2 Cool Things to do in Budapest in Winter 2019/2020