This is an excerpt from our extensive Budapest guide book in which we show you the city from its most authentic and honest side through 99 chapters and more than 200 places to discover.
Today, ruin pubs are to Budapest what the Eiffel tower is to Paris, what taperías are to Spain, what Freddy Mercury was to Queen… Many don't come to Budapest anymore to see the Parliament or the Buda Castle in the first place. They come for a weekend to celebrate and to indulge in Budapest's famous ruin bar scene, yes, to "party among ruins", as many of Budapest's (in-)famous pub crawls suggest. And yes, ruin bars can be a damn cool thing. They are beacons of creativity and upcycling. They are inspiring and peculiar, just as their regular folks. The good ones, that is. The thing is, that in recent years the term "ruin pub" got severely abused by lots of pretentious places that opened up simply to call themselves "ruin pubs". They appeared en masse out of the ground only to surf on the tourist-wave that's getting bigger and bigger with each and every year. But just as Rome or Budapest, a good ruin pub isn't built in a day, either. It's a thing of slow evolution and the result of the ongoing creativity and artistic spirit of many people.
The Thing with Szimpla Kert…
---
And then there's the thing with Szimpla Kert: Everyone's heard of it and for many it's the biggest attraction of the whole entire city. It's the great-grandfather of all ruin pubs. It's the thing. The original. Where all of it started. And yes, by all means, everyone should go and see Szimpla once. It's a unique place to the world. The interior is wicked. You'll literally go nuts the first time you enter. It's somewhat like the crossbreed of every single flea market of the world. But keep in mind that (at least in our opinion) it's neither a "local", nor a particularly laid-back, let alone authentic place anymore, since the the party-crowd missed a few notes throughout the years:
An authentic ruin pub doesn't have to be guarded by three security officers that check everyone's bags.
An authentic ruin pub doesn't have a souvenir shop on its ground floor.

You don't usually find people in slim fit Hugo Boss suits sipping cocktails in an authentic ruin pub.

An authentic ruin pub doesn't shamelessly charge three times of the price of a regular pub.
An authentic ruin pub doesn't have a two-hour waiting line in front of its doors on weekends, since…

An authentic ruin pub keeps a low profile and doesn't cater to all the masses.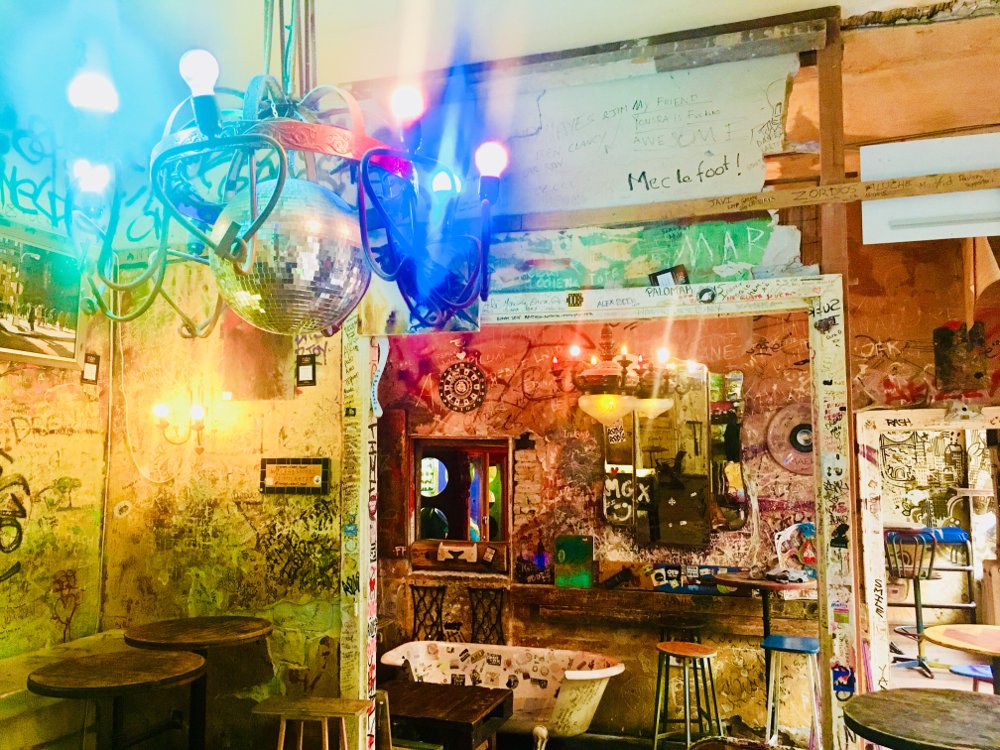 ---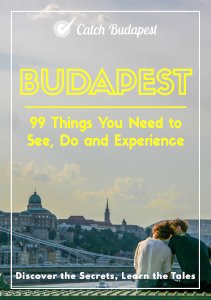 Explore the Authentic Side of Budapest!
Our guidebook will help you peel back the multiple layers of Budapest one by one. It'll help you see Budapest the way it's meant to be seen.
It's written for conscious travellers and locals. For those who are looking for more than just a glimpse at the main tourist attractions.
For those who want to not only see, but also feel the city and experience how it lives, plays, works, eats, drinks and functions.
It features countless little gems for you to discover while strolling the city streets – be it a hidden courtyard, a secret bar, a colourful garden, an offbeat flea market, or a stunning piece of street art.
---
So where Are the Authentic Budapest Ruin Pubs, then?
---
"But where ARE they then?!", we hear you crying. Where are all those cool ruin pubs everyone is talking about? The authentic, hyperlocal, secret, hidden gems of the city? Well, we hate to break it to you but they are nearing extinction. Many locals got tired of the term and rather go for bars with a less spectacular interior but fewer drunk stag- and hen parties in return. But there's some amazing ones left. Laid-back, authentic and wonderful for any night out. Just as you'll like them. And we don't want to keep them from you, so here are our favourites, for you to enjoy:
Concealed by the street and its buildings; tucked away and hidden; only the vigilant ever make it here. Actually, the *real* first ruin pub of the city, existing since 2001 (Szimpla opened its doors in 2002).
Csengery utca 65b, 1067
Away from the centre near the city park, this is the place for the best concerts, parties, table soccer and a generally very laid-back crowd. Just the right amount of far away from the party-district.
Ajtósi Dürer sor 19-21, 1146
An old glass factory in the heart of very industrial district IX where the crowds stay late, craft beer is flowing from 20 taps and the atmosphere kicks ass. Well-worth the short way out of downtown.
Budapest, Tűzoltó u. 22, 1094

Notoriously forbidding stag- and hen parties, this wonderful garden managed to stay a warm-weather favourite among locals and tourists alike.
Kazinczy utca 37, 1075
A Last Note on the History of Budapest's Ruin Pubs
---
Although today ruin pubs are the greatest fun and the biggest Budapest-highlight for many, their roots are actually a rather tragic story. The Jewish quarter, where most well-known of them are located, is also, where Budapest's Grand Ghetto was established in 1944. Tens of thousands of Jews got ghettoised here, while the non-Jewish population had to leave from the district. After the extermination of the ghettoised Jews the area and its buildings became run-down and abandoned for decades. It's hard to imagine, but Budapest's main party district was quite a no-no area just a few years back. The buildings remained empty and crumbling until the early 2000s, when artists and mavericks started flocking the area, creating creative spaces in these buildings. These paved the road to Budapest's "ruin pub culture" as we know it today.
And now its your turn: What are your thoughts on Budapest's ruin pub culture? Is it a ruined pub culture or the sheer highlight of any night in Budapest? Do you prefer ruin pubs or do you rather go for traditional bars? What are your thoughts on Szimpla Kert? Like it or loath it? Let us know in the comments, as we're really excited to hear your opinion, whether you agree with us or not.
You might also like:
https://www.catchbudapest.com/wp-content/uploads/Budapest-Ruin-Pups-Szimpla4.jpg
600
800
catchbudapest
https://www.catchbudapest.com/wp-content/uploads/cbp_logo_dolt_fekete_karika_vastag-s.png
catchbudapest
2018-04-17 05:00:41
2018-10-10 14:53:04
Budapest's Ruin Pubs: The Controversial Truth Nobody Told You (Including 4 Authentic Ones You Shouldn't Miss!)