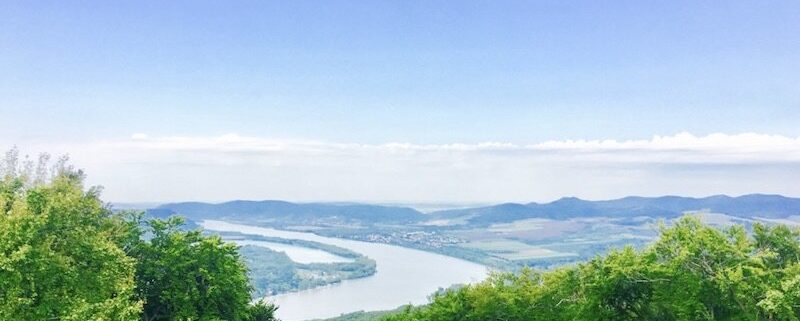 There is more to the Danube Bend than just the Visegrád Castle. And while most people only see the area in a short day trip from Budapest, the Danube Bend Area is actually a perfect getaway for the whole weekend, as there is so much to see and do. 
The trick is to make your way to the other side of the bend, where a whole little bucolic paradise awaits you with scenic cycling and hiking trails that'll easily keep you busy for a few days. And although Budapest is a great city year-round, who doesn't long for a few days away from the buzz every now and then? We know we do! If you feel the same and want to recharge those batteries after a long week, month or year, this little riverside area just 70km north of Budapest is a picture-perfect location for that.
We're big explorers of the Magyar countryside ourselves and want to provide you with every possible info and recommendations we gathered during our stays in this part of the country. So buckle up and get ready for a seriously awesome weekend experience away from Budapest!
Quick Info for a Weekend at the Danube Bend
---
Suggested base: Zebegény
Distance from Budapest: 70km
Suggested length of stay: 2-4 days
Car needed? No. Easily accessible by train and / or bicycle. You can also rent bicycles there.
Go there if you like: beautiful landscapes, nature, hiking, cycling, bucolic Hungary
The Danube Bend – What is it About?
---
The Danube Bend, or as we call it in magyar, the "Dunakanyar", is a big curve in the Danube with amazing things to see and do to fill a whole weekend or more. It has an insta-worthy landscape, great hiking and cycling-opportunities, some nice old-school village-pubs, good food and a super laid-back atmosphere. All of these make it a perfect escape from crowded Budapest once in a while. You can kick back for quite a few days or even a week here. But to get an overview of the area and include plenty of downtime, we suggest a prolonged weekend of three to four days. So allow yourself a Monday or a Friday off and get going!
There are multiple nice villages scattered across the Danube Bend and all of them have their special flair and advantages. Still, if we had to pick one (and we had to!) we'd definitely go for Zebegény for multiple reasons: The village is simply beautiful, provides the perfect place and base to explore the area, has multiple opportunities for eating, drinking and sleeping and is also directly connected to all the hiking and cycling routes of the area. Zebegény is also the village we stay at every time we visit the Danube Bend, so everything we write here is our first-hand experience.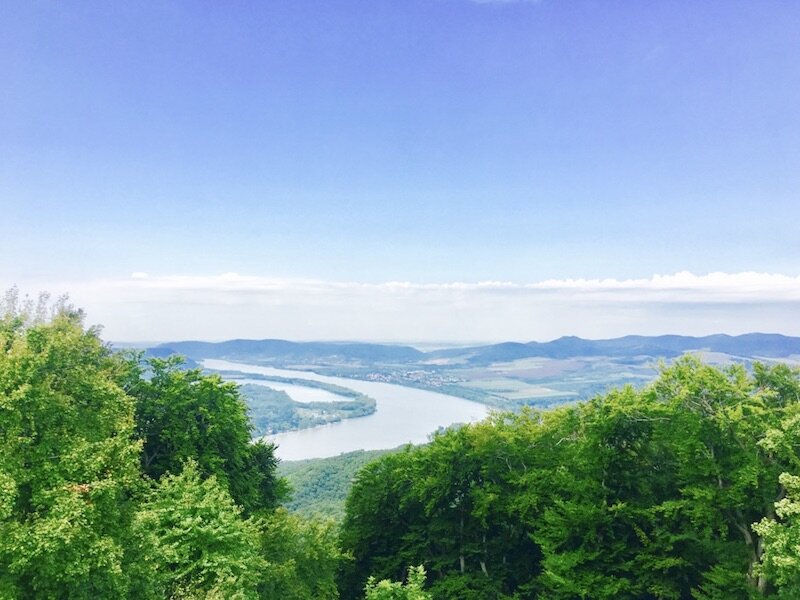 Getting to the Danube Bend (Zebegény)
---
There are multiple opportunities to get to the Danube Bend and Zebegény from Budapest. Here are our easiest, sportiest and best options for you:
Getting to the Danube Bend by Train
Trains run every 30 minutes from Nyugati Railway Station and take less than an hour to get to Zebegény, the "hotspot" of and our suggested base for the region. All of them allow you to take your bicycle. You can check the timetable of the trains on the webpage of MÁV (the Hungarian railway network).
Getting to the Danube Bend by Bike
The super-active ones can also cycle the approx. 70km directly from Budapest, but expect this to take half to one day, depending on your speed, stamina and number of stops along the way. The route is really nice though and allows for multiple stops along the way (think Szentendre or Visegrád).
Our Recommendation: Getting to the Danube Bend by Train and Bike
Our favourite option is to split the route between train-riding and cycling. Take the train train from Nyugati Railway Station to Vác (they run every 20 mins) to avoid the struggle of cycling out of Budapest. After that, enjoy the amazing Danube-scenery and the good-quality and beautiful bike-track as you cycle along the Danube between Vác and Zebegény. That makes a super laid-back ride of 27km. You'll need approximately 2 hours for that (depending on your speed and stamina of course), even if you include photo- and foodie-stops along the way.
---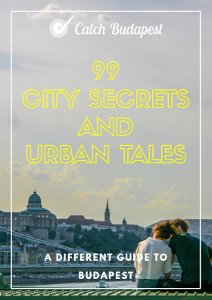 Explore the Authentic Side of Budapest!
Our guidebook will help you peel back the multiple layers of Budapest one by one. It'll help you see Budapest the way it's meant to be seen.
It's written for conscious travellers and locals. For those who are looking for more than just a glimpse at the main tourist attractions.
For those who want to not only see, but also feel the city and experience how it lives, plays, works, eats, drinks and functions.
It features countless little gems for you to discover while strolling the city streets – be it a hidden courtyard, a secret bar, a colourful garden, an offbeat flea market, or a stunning piece of street art.
---
Things to Do: The Best Activities in the Danube Bend Area
---
Hiking at the Danube Bend
The Danube bend has a plethora of wonderful hiking trails and the guesthouses will be more than happy to give you recommendations. Here are our two suggestions for you that we did ourselves and which we can recommend wholeheartedly. Note that hiking trails in Hungary are always marked with various signs and colours on the trees, so when we're talking about "blue" or "yellow" route, it means that that these are the marks you should be looking out for. If you scroll down the pictures on this page, you will get a pretty good idea about what we mean.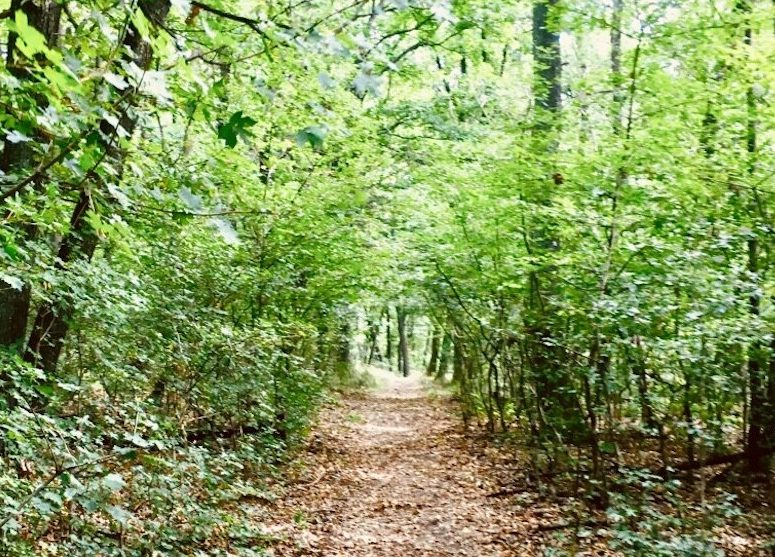 Suggested Hiking Route #1: From Zebegény to the Julianus Viewpoint
Length: 12km
Elevation: 600m
Take the blue route from Zebegény to the Julianus-viewpoint at 582m. It's a quite steep but completely doable hike starting from the Trianon-monument in Zebegény. The view from the look-out will compensate you for every drop of sweat. Once you've reached the look-out you have two options: You either keep following the blue route down to Nagymaros for another 15mins – a beautiful little village on the other side of the hill – or follow the yellow plus signs back to Zebegény. The advantage of the latter is – again – the view. You will have the hills on one and the Danube on the other side. It's up to you, your mood and your plans for the day which route to take back. If you decide to skip Nagymaros, make sure to make up for it on another day.
Suggested Hiking Route #2: From Visegrád up to Visegrád Castle
Length: 5km
Elevation: 300m
Although Visegrád Castle is definitely no hidden gem anymore, most tourists arrive here with buses from the capital, snap their photos and leave after an hour. Only few know that hiking up to the castle from the city of Visegrád is a so much nicer (and sportier) option and our absolute recommendation for your visit. For this, you can cycle from Zebegény to Nagymaros and then take the ferry which runs every hour between Nagymaros and Visegrád (the ferries starting from Nagymaros are on the right side). The ride takes no more than 10min. From there, just follow the blue route from the ferry up to the castle. This is an approx. 50min steep hike. You will sweat but you will love it and the castle itself is a nice and fun POI.
Cycling at the Danube Bend
If you look at the map, the whole route from Vác just north of Budapest to Párkány (Sturovo) in Slovakia is one long, scenic cycling trail from which you can pick basically any part for a nice day- or half-day trip.
Here are our four tried and tested suggestions of great cycling routes in the Danube Bend area:
Suggested Cycling Route #1: From Vác to Zebegény
Length: 27km
Difficulty: Plain & Easy
This is the route we suggest to pick for your arrival to Zebegény. It's 27km long and runs through little villages such as Verőce and Nagymaros, until you arrive at your final destination. The whole route is very scenic and beautiful and provides for multiple bicycle-friendly stops along the way, where you can freshen up and strengthen yourself with lemonade, beer and good food.
Suggested Cycling Route #2: From Zebegény to Nagymaros
Length: 10km
Difficulty: Plain & Easy
Although the route between Zebegény and Nagymaros is a mere 10km long, if we had to choose only one route to cycle, this would definitely be it. This is the Danube Bend itself impersonating all the beauty and awesomeness there is to find in the area. The Danube is super wide here and just stunning – you'll almost feel as is you were right at the sea. You can do this route in only 30-60min so it's perfect if you're not a big cyclist otherwise. If you don't feel like cycling back to Zebegény, you can simply take the train.
Suggested Cycling Route #3 – From Zebegény to Esztergom via Sturovo (Párkány) in Slovakia
Length: 20km
Difficulty: Medium
This one is a bit tricky, since the official cycling route ends right at the Slovakian border at Szob in Hungary. But since you're adventurous, you can cross the green border via the railroad bridge in Szob (totally legal, but use your smartphone-maps to easily find the bridge, because there are no street signs leading you).
Then follow the gravel road for about 2km to Chl'aba in Slovakia, where you can just keep cycling through the little bucolic villages of Southern Slovakia until Sturovo (Párkány). There are hardly any cars and it's super interesting to see the Slovakian countryside. Once in Sturovo, make sure to cross the famous border-bridge back to Hungary and visit the famous Basilica in Esztergom which is actually the biggest church and tallest building in Hungary.
Suggested Cycling Route #4: From Visegrád to the Visegrád Castle
Length: 5km
Difficulty: Hard (mountain bike needed!)
If you're a mountain biker, this trail is made for you. You can first cycle or take the train from Zebegény to Nagymaros and then cross the Danube from there with the ferry to Visegrád, which runs every hour and takes 10min (trains from Nagymaros on the right side). There are several steep uphill trails to reach the castle with your mountain bike from there, and the castle is hard to miss in the end. All of the routes are great fun, good workout and will make you sweat proper. 
Our tip for cycling at the Danube Bend: If you don't have a mountain bike or any bike or if you don't want to drag it here all the way from Budapest, you can rent one at KerékBár in Zebegény for very friendly prices. Their bikes are in excellent condition and will even get you up to Visegrád Castle with a bit of stamina.
Our Favourite Places to See in the Danube Bend Area
---
Zebegény – Zebegény itself is a picturesque little village that offers a nice array of walks and stunning sights of the Danube Bend. Even if you can't or don't want to afford staying at the Natura Hill Guesthouse, definitely walk up to that area, since it offers by far the most stunning view over the Danube. The main square of Zebegény is a super peaceful little place with a beautiful church, trees and benches to sit and linger for a while. Also, Zebegény in our opinion offers the best opportunities to start a hike around the area – all the routes start right at the Trianon monument a few meters above the main square.
Nagymaros – Nagymaros is another super charming little village just at the opposite side of the bend from Zebegény. You can easily get lost here for a while just walking around and admiring its bucolic flair. If you can, make sure to come here on Saturday before noon to see the local farmer's market, where the villagers are selling their handmade foodstuff and jewelery and the whole village community comes together for a great morning. You can taste and buy everything here from hot chili sauces to handmade earrings to spirits and fresh food and vegetables and even flowers.
Info: The farmer's market takes place every Saturday year-round at the main square (Fő tér) of Nagymaros between 6AM and 1PM.
Visegrád Castle – Even if you're no hardcore history fan, it's worth checking out this massive complex on top of the hill on the other side of the Danube. Visegrád Castle had an important representative role in Middle Ages' Hungary, as it used to be one of the richest Castles of the Hungarian Kings. Today, the Castle is a nice and interesting place to visit and makes for a great time travel, plus the views from here are amazing and will show you the Danube Bend from the opposite perspective.
Esztergom – Strictly speaking, Esztergom isn't part of the Danube Bend region anymore but is just an approximately 20 km cycling trip away from Zebegény and we highly recommend you to try this route  (Suggested Cycling Route #3) through the Slovakian countryside. The specialty of Esztergom is its massive, oversized Basilica which you can climb in 400 steps for a small fee. From above, you can see half of Slovakia (friendly exaggeration) and at least one quarter of Hungary. Exaggeration too, but nevertheless you'll see pretty far and chances are you'll like what you see. The Esztergom Basilica (officially: The Primatial Basilica of the Blessed Virgin Mary Assumed Into Heaven and St Adalbert – no joke!) is the seat of the Catholic Church in Hungary and the largest church and with 100m the tallest building of the whole entire country at the same time. Another interesting feature of Esztergom is its bridge connecting Hungary and Slovakia. From there, you'll get the best view of the Basilica itself and can be grateful for a borderless Europe at the same time.
Where to Eat and Drink in the Danube Bend Area
---
This is our favourite part of any weekend trip and luckily the whole region doesn't disappoint. You'll find a plethora of very good and super-affordable food and drinks everywhere in the region. We've divided this chapter by villages, so you can always scroll right to where you're getting hungry.
Where to Eat and Drink in Zebegény
Mókus Pub – Mókus is hard to miss if you're in Zebegény since it's right in the village centre and a real institution serving hardcore regulars and Budapest-escapists alike since forever. It's a friendly little place and it will be hard to spend more than 3.000 HUF even if you're splurging on both food and drinks. It's good for an evening beer and pálinka but they also have good coffee and a simple breakfast of a good old Hungarian pair of "virsli" (sausages) to start your active hiking or cycling day.
Kulacs Pub – Kulacs is a classic, super-cheap and friendly village rock-kocsma. No food here, but there is billiard, darts and classic Hungarian rock-music instead. It's open till late and is good for a fun but relaxed and completely unhipsterish night away from what you're probably used to in Budapest's party district.
We didn't find any useful trace of this place on the web, but the address is 2627 Zebegény, Pozsonyi út 1.
KerékBár – KerékBár literally translates to cycling-bar. This is THE go-to place for bike-enthusiasts, but also for everyone else. They serve huge retro-burgers, have all the Hungarian Spritzer-classics and also come equipped with our favourite "Meggysör "(cherry-beer). KerékBár is situated right at the Danube and is perfect for hanging out for many hours. The area is just so beautiful and peaceful that it's actually really hard to leave this perfect hideout. KerékBár is a super friendly place when it comes to their staff, too and they are happy to give you recommendations about cycling in the region. Plus they also rent bicycles and organise kayak tours.
Natura Hill Restaurant – For those who cannot afford to stay at breathtaking Natura Hill, a family-run guesthouse, we still suggest to try their dinner with a view here. For a few thousand HUF you get four courses and a view that is simply priceless. The service here is exceptionally friendly, and the vibe is laid-back and atmospheric at the same time without being pretentious. Seriously, you'll wish you could just stay at this terrace forever. This place is perfect for you if you'd like to treat yourself with a great dinner, have a romantic evening and want to pimp your weekend with a little extra. Highly recommended!
Where to Eat and Drink in Nagymaros
Èdeske – Don't miss out on Édeske, a super cute, little confectionary! Great coffee and delicious cakes. Perfect for breakfast or just because you need some sugar. Lovely place!
Bor-Piac – This charming little place is a mix between a craft shop and a café. If you missed the Saturday craftsmarket in the village, you can get some of the local, handmade stuff here, as well. They also serve good coffee and sandwiches which are perfect after a long hike or cycling tour.
Where to Eat and Drink in Esztergom
Csülök Csárda: Csülök Csárda is a real Hungarian classic and we often miss places of this kind in Budapest. It's perfect for lunch or dinner, and provides the best of traditional Hungarian food at affordable prices topped with a friendly service. Definitely try the classic Hungarian fish-soup here. It's delicious!
Where to Stay in the Danube Bend Area:
---
As written before, we suggest to make Zebegény your base of exploration. We always stay here and have two favourite options for two different budgets.
Börzsöny Kapuja Vendégház for the Backpackers
Börzsöny Kapuja is perfect for you if you are on a rather tight budget. It's a simple but cute family-run guesthouse offering private rooms with or without a bathroom and even dorm rooms. Prices vary based on your preferred room-type. The owners Timi and Zoli make great hosts and are happy to share their suggestions for the region. Their webpage is in Hungarian only, but you can find their telephone number on the top of this page. 
Natura Hill Guesthouse for the Flashpackers
Natura Hill is paradise for those, who can and want to afford it. This guesthouse is situated on the top of the hill right above Zebegény and provides you with a view which is just breathtaking and priceless.
Basically everything about this family-run place is perfect, from the rooms to the view, the sauna and the food and wine. The owners made sustainable tourism reality – the whole house is passive and all of the food comes from regional and organic sources.
And although it's rather expensive for Hungarian standards, we still regard it as being affordable luxury and the price is totally justified for what you get in return. Worth every penny!
Our tip for booking your stay anywhere in the Hungarian countryside: Forget booking.com & co. If you want to scratch below the surface and find a whole new world of home stays apart form those that specialise in foreign tourists. Szallas.hu is you new go-to address once you leave Budapest. Here, almost every little homestay and guesthouse of the country is listed and you'll sure have a more authentic experience than if you reduce yourself to solely English-language portals. Many homestay- and guesthouse owners speak only limited English, but be patient, fine tune your Hungarian and you will significantly enhance your stay in the Hungarian countryside. 
Our Suggested 4-Day Itinerary for a Weekend at the Danube Bend
---
If you are overwhelmed by all the info above and the plethora of things to see, do and eat or you simply hate planning – don't fret. We have compiled a complete four-day itinerary for you which you can follow and adjust as you wish. We've done exactly this itinerary too, so it's a tried and tested thing. Make sure to check seasonal opening hours / days though.
Day 1 – Take the train from Nyugati Railway Station to Vác (20min). Here, jump on your bike and cycle right to Zebegény. Make sure to include some photo-and food stops in one of the villages along the way, as there are plenty. After arriving, checking in and settling down, reward yourself with a fröccs or beer and pálinka at Mókus Pub and / or Kulacs Pub right in Zebegény.
Day 2 – Head straight to the main square of Zebegény and pile up some snacks in your rucksack from SPAR, as you're going on a hike today. Walk up to the Trianon Monument in Zebegény (10min; everyone in the village knows where it is) and follow the blue trail from Zebegény to the Julianus look-out (Suggested Hiking Route #1). Indulge in and enjoy the stunning view from the lookout – you'll see the whole Danube Bend stretching below your feet here. After that, follow the yellow plus-route back to Zebegény. This is a beautiful route, as you'll have the hills on one and the Danube on your other side. After that, reward yourself with a massive retro-burger and kick back for some time at KerékBár – you truly deserve it! If you have some energy left, have another evening drink at one of Zebegény's pubs.
Day 3 – Cycle from Zebegény to Nagymaros (Suggested Cycling Route #2) and have a sweet breakfast at Èdeske. These mere 10km are the most beautiful route in the entire region, so don't forget to enjoy the view! If it happens to be a Saturday, make sure to visit the local craftsmarket on the main square of Nagymaros for an amazing local experience. Afterwards, take the ferry to Visegrád (it runs once per hour) and hike up the blue trail to the Visegrád Castle (Suggested Hiking Route #2) for a history lesson with a view you won't forget too quikly. Once you're done with the castle, follow the path back and take the ferry back to Nagymaros. Cycle or take the train back to Zebegény and treat yourself with an amazing dining experience at Natura Hill Guesthouse. We suggest to walk the 3km uphill, as the walk is beautiful (and we wouldn't recommend cycling there; you'll see and feel why). It is an approx. 45min charming walk through the village.
Day 4 – Cycle the 20km from Zebegény to Esztergom via the Slovakian countryside and Sturovo (Suggested Cycling Route #3) and take the 400 steps up to the tallest building in Hungary – the Basilica in Esztergom. Enjoy the beautiful view over Slovakia and Hungary from above. After that, have a nice and filling lunch at Csülök Csárda before you take the train back to Budapest.
We really hope you'll enjoy your weekend at the Danube Bend and that we like the places we recommend. For us, Zebegény and the Danube Bend are the perfect place to escape the big-city buzz, recharge our batteries and to simply have an amazing time in the Hungarian country side. Please let us know if you have any further questions about anything there is to know in the area in the comment section!
You might also like:
https://www.catchbudapest.com/wp-content/uploads/Hungary-Danube-Bend-Visegrad12.jpg
600
800
catchbudapest
https://www.catchbudapest.com/wp-content/uploads/cbp_logo_dolt_fekete_karika_vastag-s.png
catchbudapest
2018-03-13 14:03:54
2018-07-11 18:01:15
A Stunning Weekend Getaway from Budapest - Zebegény & the Danube Bend (Dunakanyar)