We absolutely adore and cherish the Great Market Hall. Yes, it's touristy. No, it's definitely not a hidden gem. In fact, it can feel like a giant, overpriced snapshot factory. If you approach it the wrong way, that is. But if you know its secret corners, its best vendors, what to buy where and what to avoid by all means, you're gonna have a market experience that only few other cities can offer.
We don't want you to mistake the Vásárcsarnok as a tourist attraction. In fact, we do almost all of our shopping here and so do many-many other locals. My grandpa even used to make his way here from a far-away corner of Buda. We want you to experience it for what it is – an amazing market stuffed with local and other delicacies and friendly vendors, serving Budapesters and everyone else since 1897.
Whether you want to grab a bite, just gaze at the spectacle or do your whole entire weekly or monthly shopping here, you'll be good. You can drop by anytime for just a quick visit or soak up the whole thing and spend hours here.
Whichever you prefer, here it is. Our complete guide to Budapest's Great Market Hall from a very local point of view.
Note: If you are interested in other amazing Budapest Markets, check out this article about our favourite markets of Budapest.
Content:
How to get there
---
This is a no-brainer. Just take M4 or trams 47 or 49, exit at Fővám Tér and just fall into the spectacle.
When to Go
---
The short answer is: It doesn't matter. Come whenever it's open. Compared to other opening-times of major markets in Europe, Vásárcsarnok is super user-friendly and you don't have to be here between 6-8AM to get the full experience.
That said, many vendors start shutting their blinds one hour before closing-time. Anytime before that you'll be good.
We're by no means early birds so we consider that a big bonus.
Opening times are Mon 6AM-5PM, Tue-Fri 6AM-6PM and Sat 6AM-3PM.
General advice for any Great Market Hall Visit
---
In order to not fall into any tourist traps, here are three tips for you to consider for your Great Market Hall visit:
Enter from the back door – We personally never use the main entrance at Fővám Tér. It's simply too overwhelming and all the snapshot-hunters right at the main door quickly get on our nerves. Instead, enter from Csarnok Tér by just going around the corner leftwards. You'll be right at the most authentic and traditional part of the market with all its delicious and fruits and vegetables and friendly vendors. This simply makes for a better atmosphere in the beginning.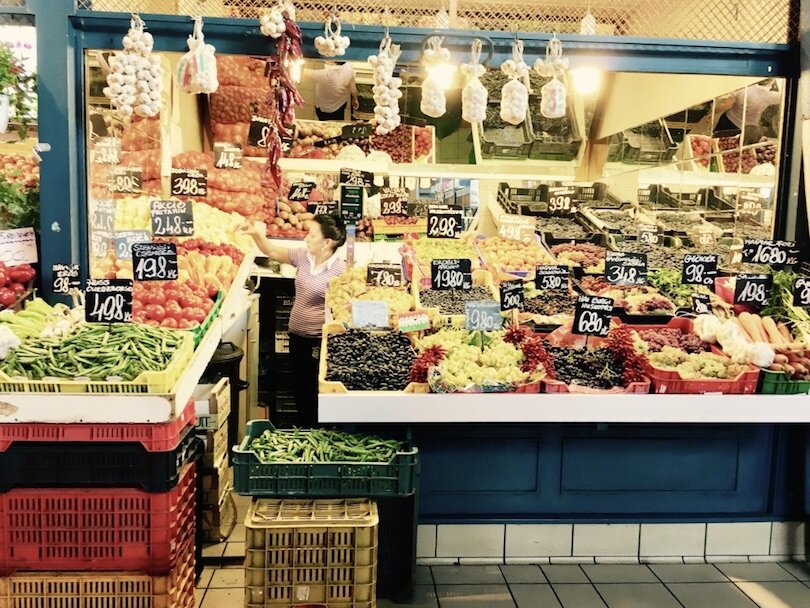 Buy your Hungarian goodies and take-home gifts elsewhere – Don't even think about buying "traditional Hungarian" goodies at the right row from the main entrance or, worse, upstairs on the first floor (there are exceptions, though – see our "gifts"-section for that). The stuff is overpriced, it has nothing authentic about it (not a single Hungarian person we know would wear these clothes, hang paprika in their kitchen and cook with a "traditional, Hungarian wooden spoon set". It's bullshit and most of this stuff isn't even made in Hungary but gets imported from China or Italy.
Have your lunch elsewhere – Don't even think about having your "traditional, Hungarian lunch" upstairs at the first floor. Not a single Hungarian person would eat there, ever. The Lángos is overpriced and definitely not the best. So is the Goulash plus you'll be on 175 different snapshots until you finish your meal. If you get Hungry, bite into a rétes or go to our "around the Market Hall"-section.
Where to shop – Our Favourite Stalls and a Complete Route for You
---
Now that the basics are all set, let's get to the fun part: Here is a list of our favourite stalls in the order we usually visit them – from general grocery-shopping in the beginning to snacks and coffee for the end with a good mixture of random stuff in-between.
The fruit and vegetable vendors in the left row – If you're facing the Great Market Hall with your back to the ring road, the very left row is the place to go for fruits and vegetables. This is the very area of the Great Market Hall which is mostly untouched by tourism and where fruits and vegetables are cheapest and best. The stalls look simply delicious but don't appear posed, as in the other ones on the opposite sites. Vendors here are super knowledgable about their stuff and very helpful. If you want to do your shopping in the Great Market Hall, the left row is the place to go for the best and cheapest products. But even if you're just looking around, this is definitely the most authentic part and will give you a good idea on what the whole market was like centuries ago.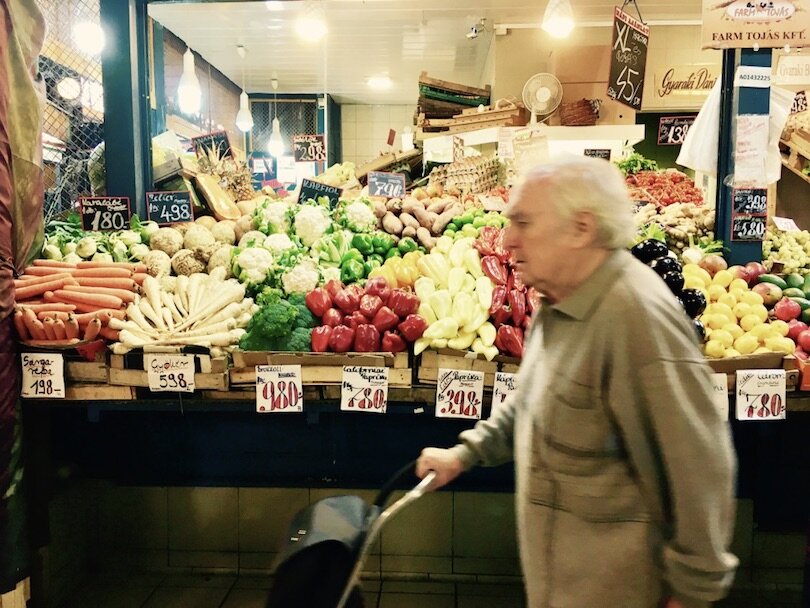 The Asian vegetable-vendor in the left row – Among the left-row vendors, there is one booth that stands out with it's white boxes stuffed partly with exotic vegetables and peculiar noodles in the back. This is the Asian vegetable stall run by a Vietnamese couple living in Budapest. This is the place to go for pak choi, coriander, bean sprouts, rice noodles and everything else, your Asian wok desires. We love both the aesthetics, as well as the products of this little stall; definitely check it out!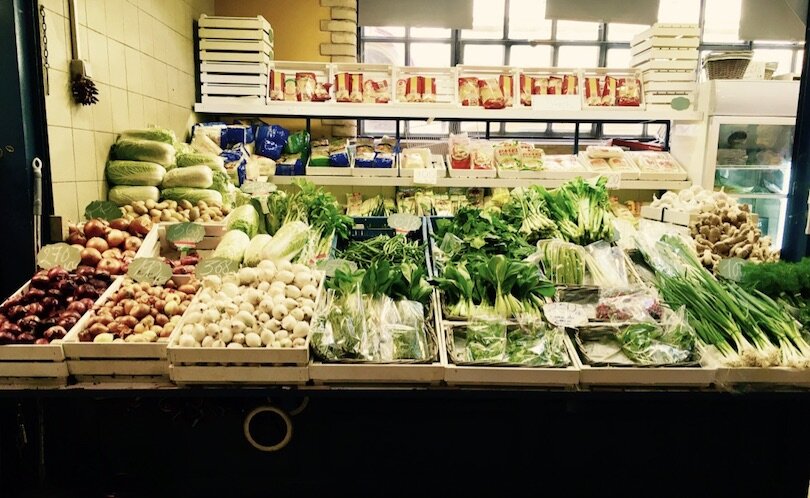 Cserpes Sajtműhely – Cserpes "cheese-factory" – "Cserpes" is an iconic brand in the Hungarian dairy industry and we personally recommend all of their products warmly. All of them are produced in Hungary and are simply different and better in terms of taste and quality. Cserpes sells everything that milk can be transformed into – yoghurts, cheeses, cream cheeses, milk drinks and, of course, the milk itself. At this stand you can also buy quality pastries and bread. We personally recommend the fresh breads you can get here, as well as their dill-cream cheese and the delicious seaberry-yoghurt. If you're after a quick bite, try their pogácsa – a salty dough stuffed with potatoes or greaves. You can find their stand in the second cross-aisle from the main entrance.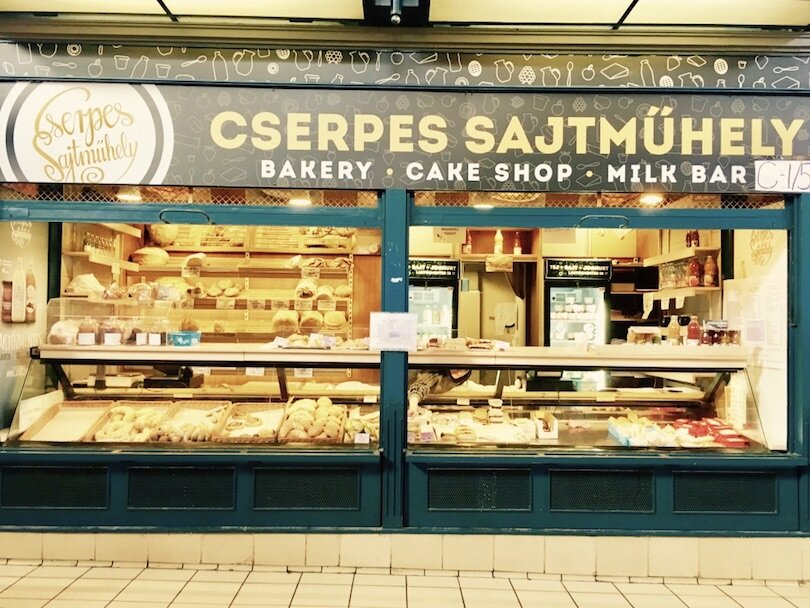 Háztájtej – milk-vendor grandma in the very back – Most people don't make it to this cute little stand, which is a mistake. Here, you will find dairy-goods as local as they can get, right from initial production. The selection is small but delicious. You can buy goat-milk, different kinds of cheeses with various spices and herbs, as well as sour cream and home-made spreads. To get to the stand, go to the very opposite side of the main entrance. Stick to the right side and exit the main hall to get to a fairly hidden corner in the back with almost no people and there you are.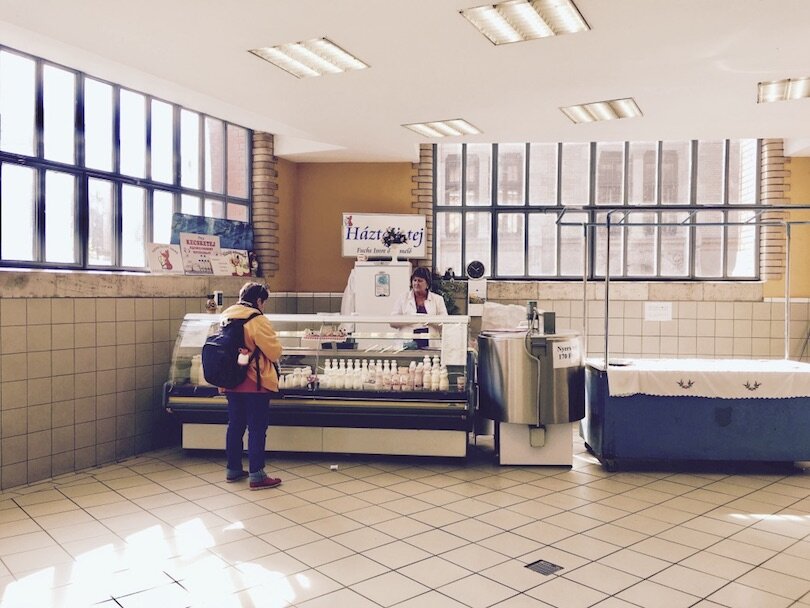 Hidden butcher in the back – Once you've made it to the very back of Vásárcsarnok, you will find a butcher that has everything that the meat-lover desires. Only it's a lot cheaper here, since it's not half as focussed on tourists as its big brothers in the main hall. They have the famous goose liver, as well as the curiosities, like tripes (the edible stomach linings of various farm animals), pig's feet, pig's ears, beef's heart, etc. It's definitely no stand for animal welfare activists, but offal and weird parts of animals simply belong to traditional Hungarian kitchen and once you're there you might as well check it out.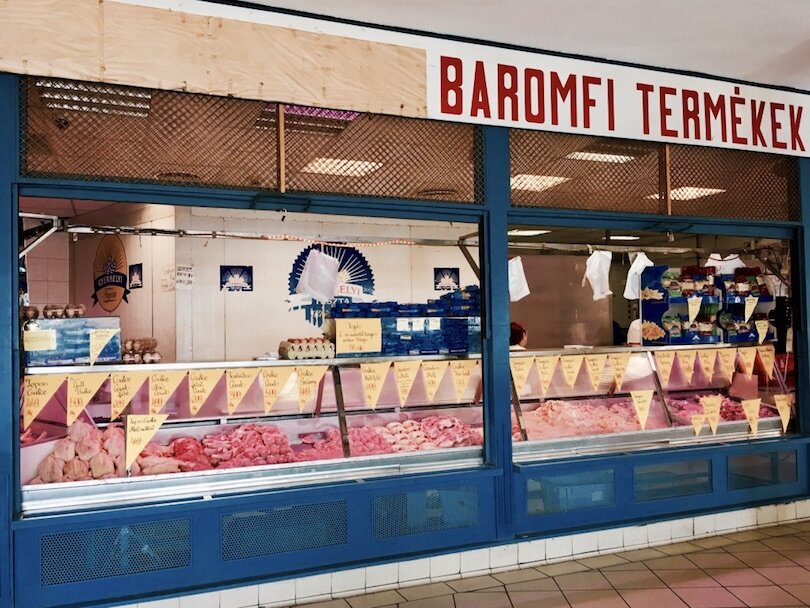 If you are adventurous when it comes to food, we suggest buying liver, though, since it's super easy to prepare. You can simply cook it in its own fat, together with onions, apples and the famous paprika-powder.
Pickles on the basement – For the delicious juicy-sour Hungarian pickles, head down to the basement, where they serve these tasty fermented stuff in abundance. We usually use pickles as side dishes, but they're just as good as a snack all by themselves. The ground floor is a fairly abandoned and dark place of the Great Market Hall, but it's totally worth jumping into the underground for the sake of these delicacies.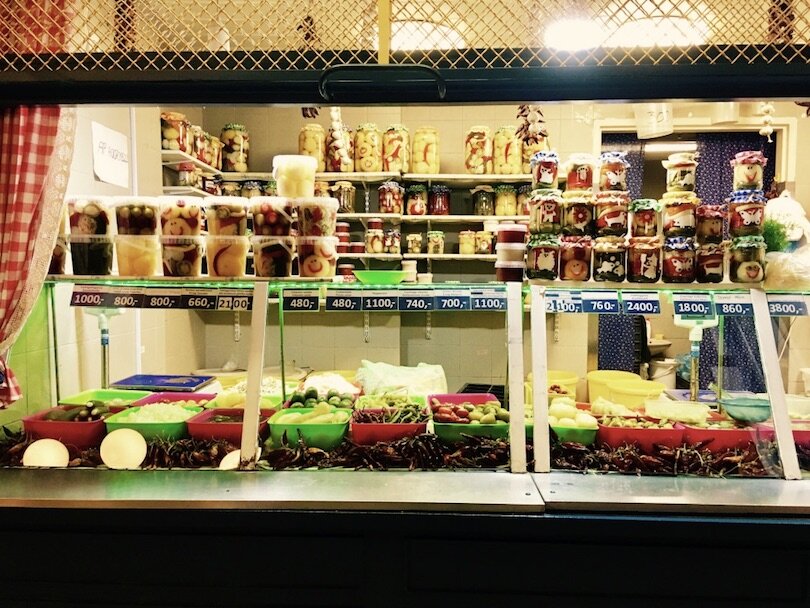 Definitely try the classic "kovászos uborka" (pickled gerkhins) and the savanyú káposzta (the Hungarian version of sauerkraut), but also go for some seasonal, advanced stuff, like pickled baby melons, apple-paprika (spicy!), fermented carfiol or -garlic.
The best Rétes (Strudel) – If you're craving a snack by now, get yourself a strudel. The famous rétes-stand is no insider-tip anymore, but we still love it; it's probably the best we've tasted in the whole Austro-Hungarian Empire, so it deserves its fame. It's located in the main aisle of the ground floor, close to the main entrance and serves strudels in endless varieties. Classical rétes is either filled with curd, apple, cherry, poppy seed or walnuts, but don't fret to try their more creative ones either. We personally swear on cabbage-rétes, but if you're sweet-toothed, go for curd-peach, curd-dill or poppy-seed apple. Or choose whatever makes your saliva run; you simply cannot go wrong here.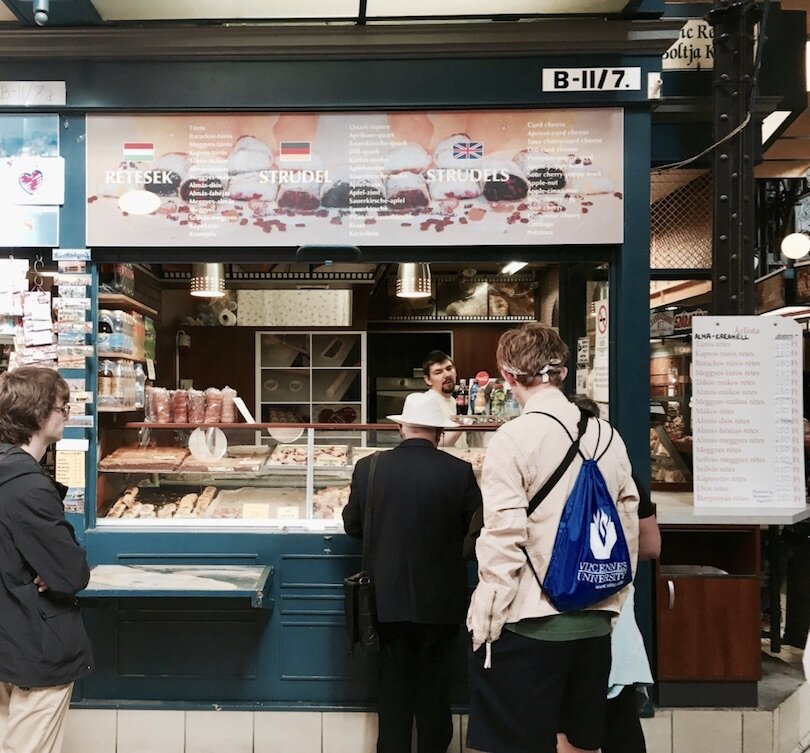 Rózsavölgyi – a shot of caffeine around the corner – Right around the corner on your right from the rétes-stall you'll find the Rózsavölgyi coffee-stand. They serve really good shots of coffee in various combinations (with / without milk, sugar, etc.). The owners named each and every combination differently. For less than 200 HUF this is an amazing bargain.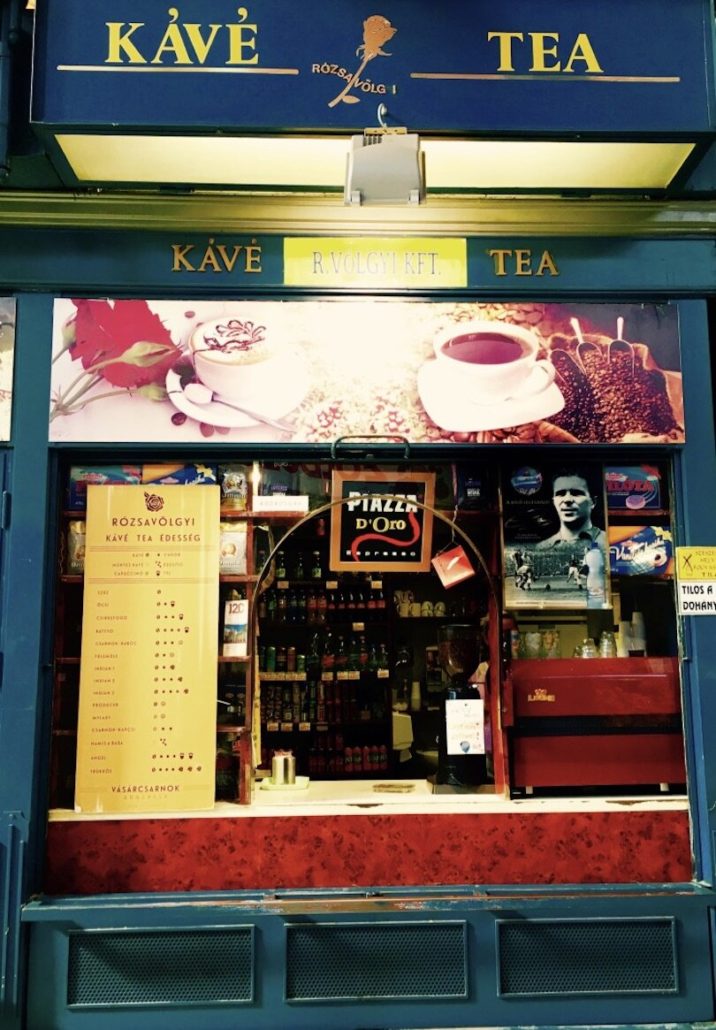 Goulash-Creme and spicy paprika chutney in the right lane – By now you're probably wondering why we didn't take you to the famous right lane yet. After all, that's where the stalls are most loaded and where most people are. Well, the short answer is: We don't like it. This is one of those parts of the Great Market Hall that has turned into a major tourist attraction and simply has nothing authentic about it anymore. It's overpriced, mostly a rip-off and the paprika-lines you see hanging there probably haven't been replaced in the last 10 years. What you can get here though for fair prices, are "Gulyáskrém" goulash creme), "Piros Arany" (Paprika Creme) and "Erős Pista" (Spicy Paprika Chutney). All of these are delicious ingredients for soups, sauces and stews and provide these with an extra taste. Don't let the vendors talk you into some fancy "authentic" kitchen set or spice rack, though! It's not worth it. And it's not authentic. Nobody has this kind of stuff at home and in our opinion buying these souvenirs on that lane is the most unoriginal thing you can do.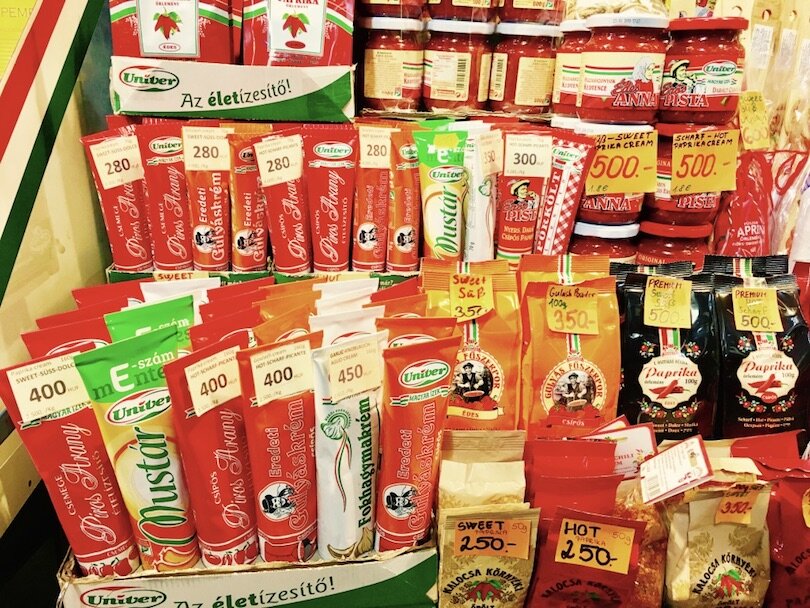 TRIFFLA – Everything that's truffle – Okay, okay, there is one more stall we can actually recommend on the "touristy-lane". TRUFFLA is kind of invisible compared to the loaded stands next to it. That's simply because their portfolio aims for quality, instead of quantity. Truffles (or, as we call it, "Szarvasgomba") do widely grow in Hungary and TRUFFLA does an excellent job in hand-processing them into delicious chutneys, pestos and honeys. If you want to bring something home for your loved-ones from the Great Market Hall or simply want to allow yourself some indulgence, do it here. With 1800 HUF for a small-sized pesto It's pricey, but delivers in taste.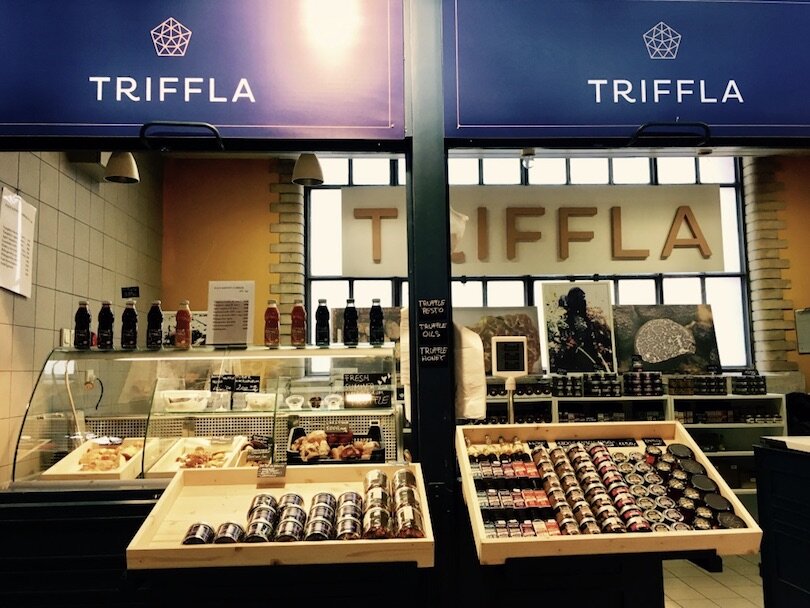 ---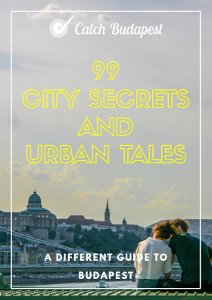 Explore the Authentic Side of Budapest!
Our guidebook will help you peel back the multiple layers of Budapest one by one. It'll help you see Budapest the way it's meant to be seen.
It's written for conscious travellers and locals. For those who are looking for more than just a glimpse at the main tourist attractions.
For those who want to not only see, but also feel the city and experience how it lives, plays, works, eats, drinks and functions.
It features countless little gems for you to discover while strolling the city streets – be it a hidden courtyard, a secret bar, a colourful garden, an offbeat flea market, or a stunning piece of street art.
---
Hungarian delicacies to look out for
---
The Great Market Hall is full with local curiosities of every flavour. Now, we don't necessarily recommend you to actually buy all this stuff, especially if you don't know how to utilise it. But trust us, it's interesting enough to look at.
Baby melons – These round little things are delicious. They're only available in autumn, after the main watermelon season. These are basically the leftowers; those fruits that won't ripe anymore. We either use them for pickling – these you can find downstairs at the pickles-section – or you can just cut and eat them raw. This version you will find at the local left aisle. Both options are delicious – try it!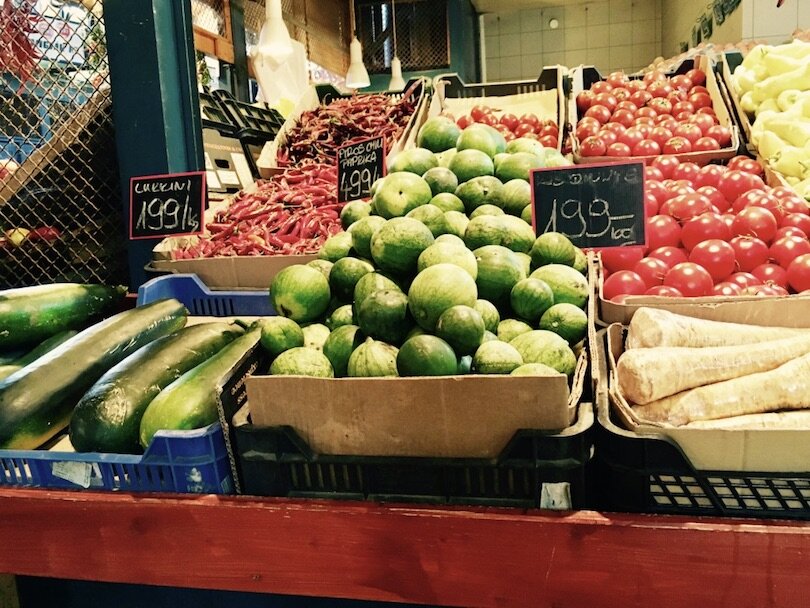 Baby cucumbers – The same applies for the little baby cucumbers. Pickled or raw, they are super tasty. We actually prefer these raw little babies to their bigger brothers, since they're a lot crispier. This is another seasonal product at the Great Market Hall and they make a delicious snack for at home with salt and humous or spreads.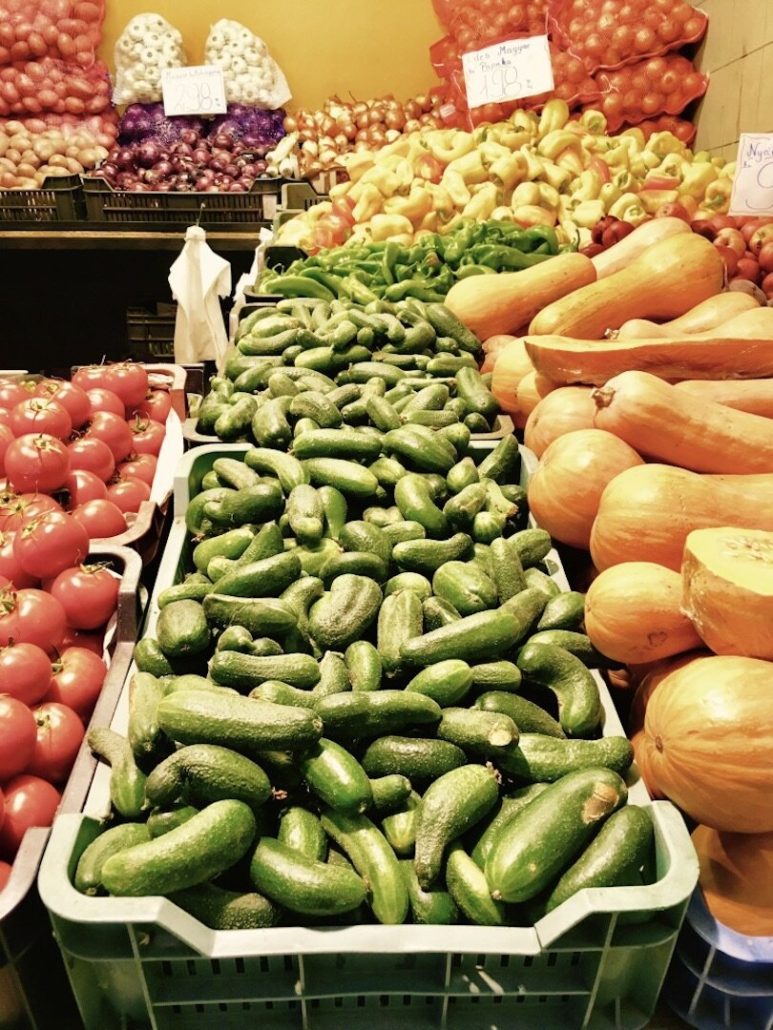 Chili – By that, we don't mean the 100-year-old chili-garlands hanging all over the right row. Again, for the really delicious fresh chilies go to the left aisle. You will find them in every colour and form and you can even get a whole little chili-tree for an astounding 400 HUF to ornament your kitchen and spice up your meals.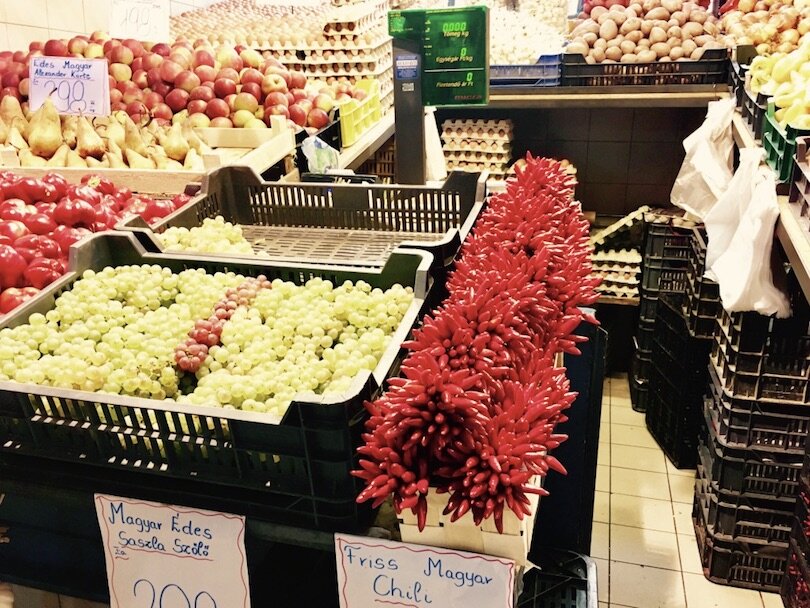 Liver – Liver is all over Vásárcsarnok. You can like it or loath it but it's an indisputable part of the Hungarian cuisine and is actually delicious if you just cook it in its own fat. If you're ready to eat offal, that is.
Pig's Feet – Available at almost every butcher. Stuffed with mushrooms, ham, tomatoes and spices it's another traditional meal, which is definitely not for everyone.
Pig's Ears – Another delicacy you will bump in at almost every butcher. Hungarians usually cook it together with garlic, onions and bay leaves and serve it with a slice of bread.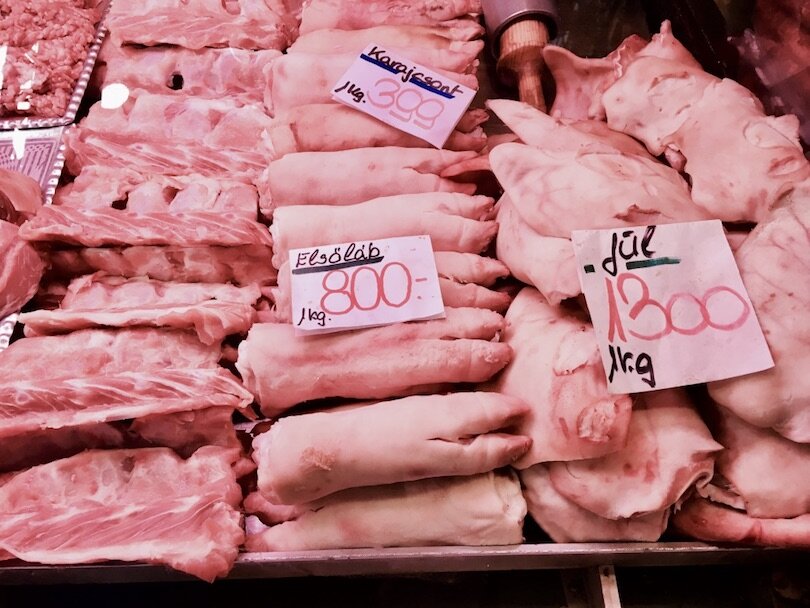 Tripes (Pacal) – Tripes is another example of Hungarian delicacies that usually raises a few eyebrows. It's the inside of the beef-stomach. You know, the one which it uses for rumination. It is served as a stew or a soup and if you're a culinary dare-devil, should try it at least once during your time in Budapest.
Gulyáskrém, Piros Arany and Erős Pista (Goulash-Creme, paprika-paste and spicy paprika chutney) – One of two reasons to visit the right row in the back are these delicious ingredients to soups, sauces and stews. They will definitely spice up your meals.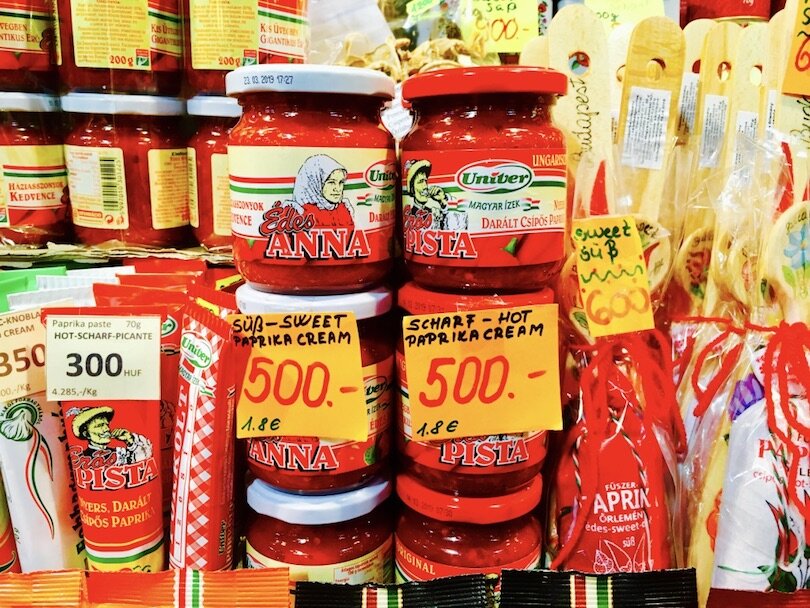 Körözött – Körözött is a tasty Hungarian spread, consisting of sheep-curd, butter, onions, cumin, and paprika powder. It's vegetarian, it's yummy and you can have a bite at almost every dairy-stand.
Buying Presents and other Treats in the Great Market Hall
---
While we generally advise against putting an emphasis on buying gifts in the Great Market Hall, there are two exceptions.
TRIFFLA – If you want to take home some locally produced edibles, head to  the already mentioned TRIFFLA, which serves delicious chutneys, honeys and pestos made out of truffles.
The one and only nice folklore shop – If you want traditional Hungarian handicrafts, head up to the first floor. Take the back stairs for that and visit the stall of Krisztina Tölcsér. It has the only unique and truly handmade products that you will find on the whole floor. Krisztina is originally from Transylvania and sells bags and little wallets ornamented by a traditional Hungarian pattern. It looks very bucolic so it's definitely not everyone's cup of tea, but if you want to take home or own something "traditional", this is what we recommend.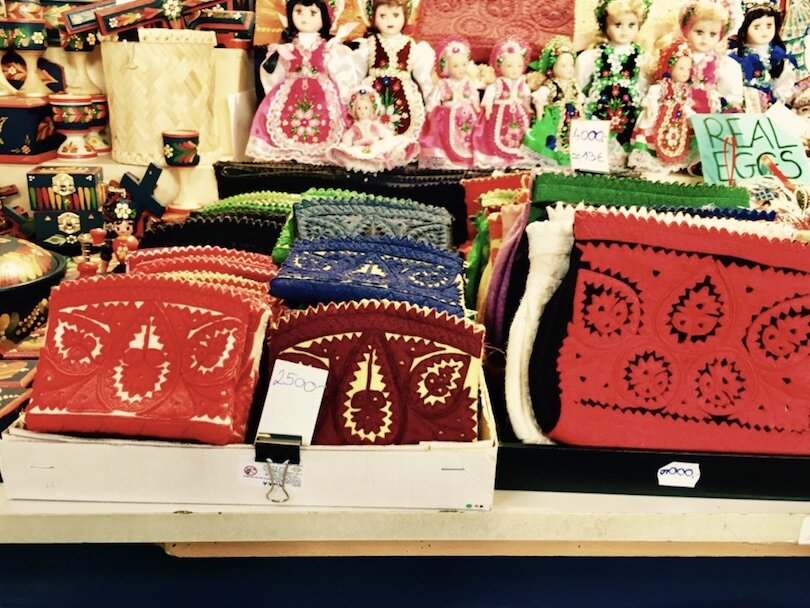 Bonus Tipps for Inside the Great Market Hall
---
A great photo spot – If you go up from the first floor taking the steps at the main entrance, the big windows will give you a unique and lovely view. You'll see the Liberty Bridge, the Buda side, and also the old building of Corvinus University right next door. This is a great photo-spot if you want a somewhat different angle.
The lottery booth – On the very other side of the hall, on the main floor, right where the previously mentioned hidden butcher and the milk-vendor grandma reside, you will see an old lottery cabin. It is still in use and many people try their luck there. We think it's a peculiar sight definitely worth a look.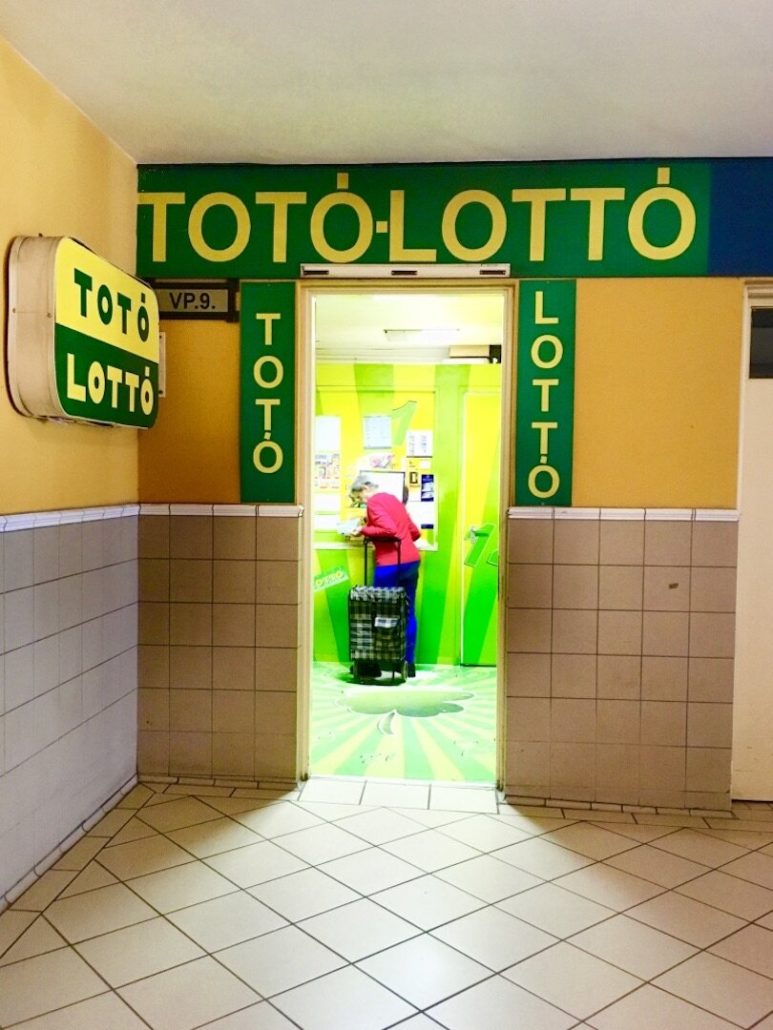 The Area around the Great Market Hall
---
The Great Market Hall by itself isn't the only entity worth checking out in the area. Actually, having lunch or a beer is much better outside of it in the surrounding pubs and restaurants. Plus there are two additional stores that are worth checking out.
Here are our top recommendations to make your trip complete:
Further Shops:
---
Àzsia – The Àzsia shop previously occupied almost half of the Grat Market Hall basement but has moved just outside of it recently. There is nothing you won't find here for any Asian meal. They have gazillions of sauces, oils and spices. Well worth checking out, especially if you've visited the Vietnamese stall inside the Great Market Hall previously and need some further inspiration for your curry or wok.
Adress: Vámház krt. 5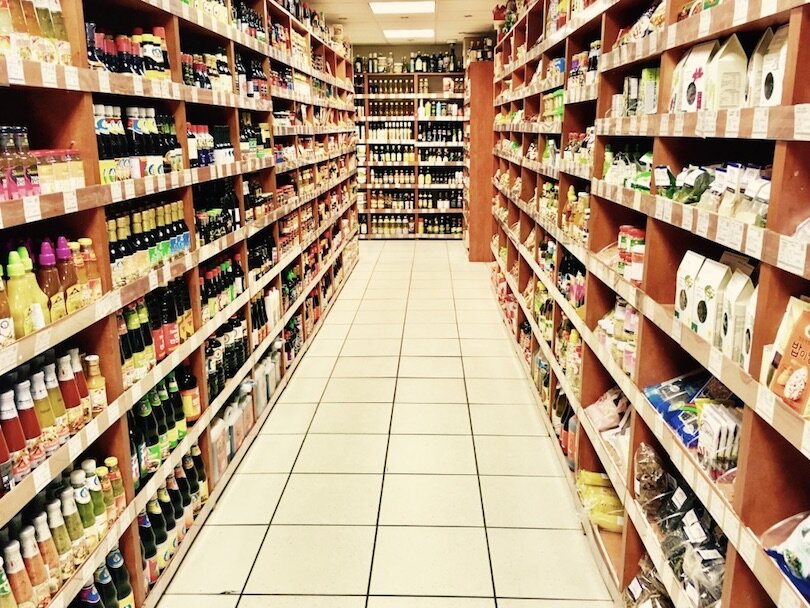 Àzsia Diszkont – Not to be confused with "Àzsia", this cluttered store sells everything for roughly half the price as regular supermarkets and drugstore chains. There's literally nothing you won't find here in some of its hidden corners. Think all kinds of sweets (from Mozart Balls to Milka), cosmetics and cleansers, but even light bulbs, picture frames and clothes lines are available here. We have no idea where exactly the goods come from and how they make it here and it's probably better to not ask. We're just happy this place exists.
Adress: Vámház krt. 7
Food
---
Leves. – Leves. is a small and hip soup-kitchen, ideal for a quick bite in-between your shopping. The soup is cheap and delicious and the selection is unique (think pumpkin-cream-soup with coconut-flakes or cold, sweet raspberry soup). If you're still hungry, you can order a sandwich as a side-dish.
Adress: Vámház krt. 14
Pasta. – The guys of Leves. also run Pasta., just a few metres further down the ring road. Only this time we're talking pasta, as the name suggests. Indulge in pasta with tomato-peanut sauce, chicken, curry and coriander. Oh, and this one's a bargain, too. Yum!
Adress: Kálvin Tér 2
Corvinus Buffet – If you want a sneak peak into the new and modern building of Corvinus University, you can definitely do that and combine it with a snack at its buffet. This is a super cheap, student-friendly option. The warm sandwiches with a thick layer of cheese, as well as their other snacks are good. Also the facilities are modern and well-worth seeing.
Adress: Közraktár u. 4
Food and Drinks
---
Trapéz – Trapéz is a cozy haven mostly for the students of the next-door Corvinus Economics University. Go up one floor to find a unique interior. It's full of old furniture and decoration plus they have a big and tasty food selection. If you want to see where students spend their time in-between and after their lessons, definitely head here. Plus they have tabletop football, which is obviously a big bonus.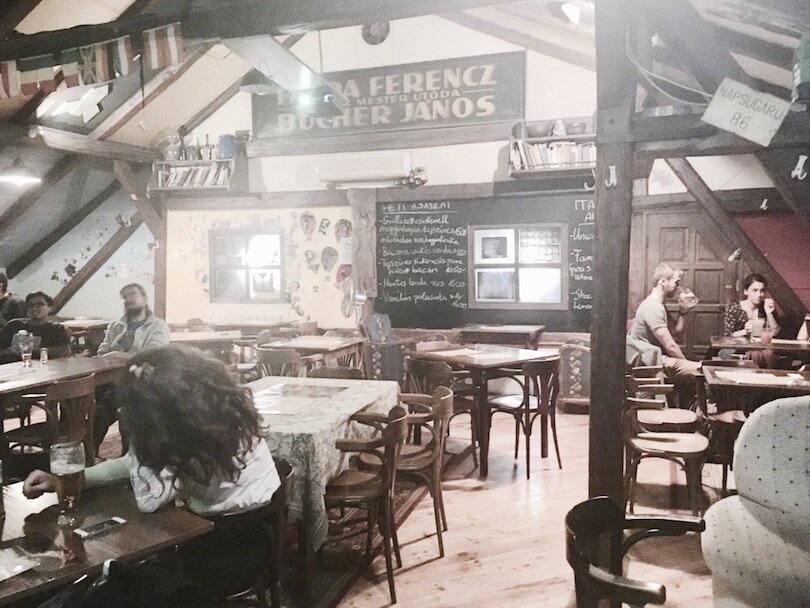 Drinks
---
Jópipa Söröző – Jópipa is a typical Budapest kocsma (pub) that's been behind the Great Market Hall since forever. Drop in here for a beer or fröccs (the Hungarian equivalent of wine with soda). You can also sit on its terrasse if the weather is nice enough.
Mézes – Café Mézes is another Market-Hall area institution popular with students. Although the interior is really nothing special, they have a nice selection of craft beers for very fair prices.
Bonus Tipp:
If you want to enjoy your snacks outside in a calmer atmosphere, exit again through the back door and sit on one of the benches of Csarnok tér. This is a great spot for people-watching. Trust us, it's a way better option than being in a crowd between five others on the first-floor food corner.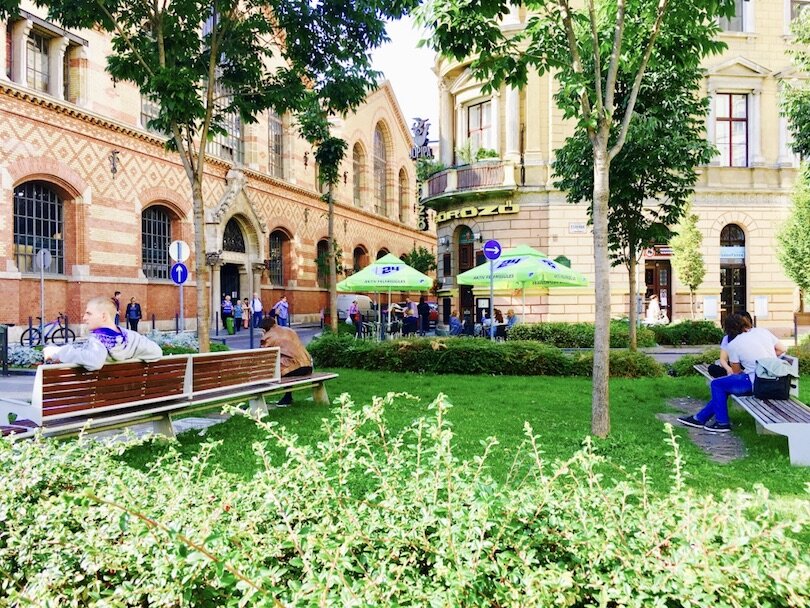 We're always open to new suggestions, so it's your turn now. Let us know in the comments about your favourite stall, the weirdest thing you bought here and best snack you've tried. And tell us everything we have missed here. We're super curious about other tips and we're sure there's a lot that missed our eyes. Every proposal will make us happy.
If our guide proved useful to you, spread the word; we're glad we could help.
More posts about Budapest Markets:
8 Amazing Markets in Budapest – The Cutest, Hippest, Weirdest and Liveliest Places to Hunt for your Fresh Goods
https://www.catchbudapest.com/wp-content/uploads/market-hall-budapest11-s.jpg
608
810
catchbudapest
https://www.catchbudapest.com/wp-content/uploads/cbp_logo_dolt_fekete_karika_vastag-s.png
catchbudapest
2017-09-28 12:11:53
2018-07-11 18:01:16
The Ultimate Guide to Budapest's Great Market Hall and its Surroundings