Budapest's summers are colourful, lively, dynamic and fun. It's the season when the city literally shines and unfolds all of its potential. It's impossible to get bored on a nice and hot summer day in Budapest, but to help you navigate through all the things to do, see and experience, here is our list of unusual experiences in Budapest this summer that you might've missed so far.
Enjoy the Coolest Waterfront Bars
---
The Danube is Budapest's lifeline and one of the biggest arguments the city has up its sleeves. It's wide, wild and beautiful, scattered with dozens of great places, sights and activities. And while the Danube bank is most well-known for its panoramic views of the Parliament and the Buda Castle, luckily it's also home to some of the coolest outdoor bars the city has to offer. At the following places you can chill all day, watch the sunset and even dip your toes in the water:
Fellini – It's very much worth making the trip to Óbuda ("Old Buda") and it's Római part, as this area is full of warm summer vibes that'll make you feel as if you were right in a beach town. Fellini is our favourite place when it comes to Római's waterfront bars. The colourful chairs, garlands and lightbulbs paired with the good food, fresh drinks and the view of the Danube simply won't let you want to leave again.
Contact: Facebook
Wasser & Kabin – Népsziget island is one of our favourite hidden gems of the city. With its rather uncontrolled plant growth and little beach front, fresh fish and bars it's the perfect place to hang out on a summer day and forget about all your problems. Wasser and Kabin are those two latest bars that bring a youthful charm to Népsziget which was industrial and deserted for decades. They're located right next to each other and they each serve fresh lemonade, cold "fröccs" (Hungarian spritzer), beer and good food. If you cannot decide which one to pick, Kabin uses reusable cups instead of throwaway plastic which is a plus, at least in our eyes.
Contact Wasser: Facebook
Contact Kabin: Facebook
Island Hop
---
Although Budapest is not the city of a thousand islands, it's the city of at least three and all of them are worth checking out, especially during summertime! They're the perfect place for shades and cool breezes from the rivers accompanied by a picnic or even a romantic date away from the crowds.
Népsziget – Strictly speaking only a peninsula, Népsziget sure has the deserted flair of an island. This special little-abandoned paradise is a lot of things wrapped into one. It's a place to get lost – rather uncontrolled plant growth results in a wilderness you can only dream of at Margitsziget, especially if you walk down its smaller paths. It's also a place for relaxation – you can ride your bike, skate and you'll find multiple little hideaways where you can just take a picnic or read a book and wind down. Since Népsziget once was a place for heavy industry, you'll also find lots of old abandoned factories, as well as the remnants of former company summer resorts. The place definitely has an industrial charm which is creepy but somehow nostalgic and photogenic at the same time. Oh, and there's also a mini goat farm which hosts ducks, as well! It's run by the only permanent resident of the island, a retired employee of MÁV (federal railways). Weird? Weird!
Margitsziget – Everybody knows it, but only a few people know how much you can really do, see, experience and photograph here. So much that we've actually dedicated a whole entire separate guide to Margaret Island. Explore Margitsziget like never before this summer!
Óbudai Sziget / Hajógyári Sziget – There's more to Óbudai island than Sziget Festival (which is absolutely worth visiting once in your life, by the way!). In fact, we could easily call it a completely abandoned paradise, if it wasn't for that one special week of every year. As for the rest of the year, the Island of Old Buda is peace in its purest form and nobody will disturb your picnic, me-time, romantic date or soul search here. Perfect for solitude, privacy and nature. Funny thing: if you look closely, you'll see how the grass is kind of worn out on the meadow where the main stage of Sziget has been standing for decades.
Follow the Danube North and Head to the Danube Bend
---
The Danube Bend which is just a short train- or bicycle ride away from Budapest is a perfect day- or weekend-trip. It's definitely your best bet for hiking, cycling, bucolic villages and beautiful views. We make sure to visit this special countryside area at least once a year, as it's the ultimate place to recharge our batteries and reconnect with nature away from the city. We have collected everything there is to know about a trip to the Danube Bend in this article and have even included the best hiking and cycling trails as well as a complete, 4-day itinerary for you.
Visit Lake Naplás
---
The Danube is not the only piece of water that Budapest has to offer. Although you cannot swim in the Naplás-tó it's a pretty lake and a natural reserve in the city's lesser-known 16th district (Cinkota). The sunsets here are beautiful and lying in the grass for a day reading a book is perfect recreation. Lake Naplás is surrounded by moorland and a forest and there is not a single trace of Budapest's usual city buzz. Our recommendation is to turn your visit into a day trip and get here by bike. On the way you'll pass the aristocratic villa-quarter of Mátyásföld which is one of Budapest's best-kept secrets that is very much worth exploring. Once you've arrived at the lake, make sure to leave the paved road and get through to its other side – this is where you'll have all the privacy in the world among the reeds.
Our tip: Once biking back towards the centre, make a stop at "Vietnámi Speciális Melegkonyha" – one of the best Vietnamese restaurants in Budapest. Lots of Vietnamese families reside in the 16th district and this family-run place is a very authentic, affordable and unexpected opportunity to eat delicious Asian food. Don't let appearances deter you – although the restaurant looks rather low-key, it's the place which the Vietnamese community picks for dinner and even for family celebrations.
… or visit the Lakes outside of Budapest!
---
If you feel like jumping into some waters outside of the city, there are plenty of opportunities to do so just short train- or bus rides away from Budapest. Each of these lakes is a great opportunity to spend a hot summer day with your kids, family or friends. Here are our favourite ones – get ready for lángos, retro feels and plenty of fun!
Gyömrői Tófürdő – Located in Gyömrő, the small town just behind Budapest's airport, this little lake has a charming turn of the century feel to it. It's surrounded by a forest and is a favourite among locals and families from the area. The lángos, as well as the fried fish, are fresh and delicious and if you want you can even try yourself at wakeboarding here.
Getting here: Several buses run daily from Örs Vezér tere metro station.
Contact: Facebook
Bánki-tó – Lake Bánki is a very pretty little lake located about an hour away from Budapest, close to the Slovakian border. The water is clean, cold and clear and the tiny jetties and grassy areas scattered all around are the perfect spots to lie in the sun or shade on a hot day.
Getting here: Several buses run daily from Újpest-Városkapu metro station. Some are direct with others you'll have to transfer once to Rétság. Just ask at the ticket desks.
Lake Malom in Veresegyház – this romantic lake just 25km away from Budapest comes with a sandy beach and is a great place for small children and families. The whole lake-system of Veresegyház consists of three lakes, where Malom-tó is the one for swimming and beach-fun while the other two belong to the anglers.
Getting here: Several buses run daily from both Stadion metro station and Újpest-Városkapu metro station.
Our tip: for the timetables of all buses and trains outside of Budapest always check the webpage menetrendek.hu. Although the site exists only in Hungarian its pretty straightforward, as you just have to enter your starting point and destination, after which it shows you all of both bus- and train options.
Discover Lake Balaton by Bike
---
Lake Balaton is what we call the "Hungarian seaside". With its 70km-s of length, it's the largest lake in Central Europe and offers so much to see, do and experience that it'd actually deserve its very own article. But to give you an idea, here are our top picks for a day or weekend at Lake Balaton:
Cycle – There is a 210km long cycling trail around the whole lake which really lets you experience its tiny villages and various areas and beaches. We suggest to take your time, put aside three or four days and take it all in. Don't forget to stop and jump into the lake every once in a while during your trip!
Sip wine in the Badacsony region – The Badacsony-region on the north shore offers bucolic villages, beautiful vineyards and great views of the lake. There are plenty of famous wine cellars located here and its worth to indulge for a day or two and to allow yourself a few glasses of good drops.
Marvel at the Lake from the elevated shore in Balatonvilágos – You can make it to Balatonvilágos from Budapest in just an hour and a bit. It's the closest point of the lake to the city and a beautiful hidden gem that hardly sees any tourism – unjustly! From here, you'll see gorgeous sunsets, the peninsula of Tihany and you'll pretty much get the impression that the lake is endless.
Visit the Festetics Castle in Keszthely – The Festetics Castle is a beautiful baroque castle located at the far western end of the lake. It has a huge colourful park surrounding it and you can also step inside and travel back in time. Find information about the castle in English here.
Visit the Balaton Uplands – If you're looking for Hungary in its purest and most bucolic form, look no further than the Balaton Uplands. This area consists of nothing but pretty little villages, vineyards, views and great cycling routes and is best explored by bike. Our suggestion is to drive north from Balatonudvari and make your way across the Pécselyi– and Káli basins in one or (even better!) two full days.
Have stunning views from the Szépkilátó-lookout in Balatongyörök – This is our other favourite lookout that'll give you stunning views over the rather western end of the lake. Once you've soaked it all up and shot some great photos don't forget to dip your toes in the ice cold Kneipp water treading pool just below.
Live the high life in Balatonfüred – Balatonfüred is somewhat the epicenter of the lake with plenty of nightlife, fine dining opportunities, the best ice cream, a great beach and a general sea-side vibe. We call it the Cote d'Azur of Lake Balaton and if you're looking for a more urban and vibrant feel, this is definitely your place to be.
Our tip: for the timetables of all buses and trains outside of Budapest always check the webpage menetrendek.hu. Although the site exists only in Hungarian its pretty straightforward, as you just have to enter your starting point and destination, after which it shows you all of both bus- and train options.
Explore, Explore, and Explore more!
---
Summertime is exploration time and Budapest is a city that'll never let you hang when it comes to discovering something new, unexpected and hidden. The problem is rather where to start with all those secret spots and corners. Luckily, some passionate explorers (including us!) have taken care of that for you. Here are three great starting points if you want to dive deep below the surface of Budapest and learn about the city from locals:
Budapest – 99 Things You Need to See, Do and Experience – Our 500-page long Budapest guidebook will help you peel back the multiple layers of Budapest one by one and will show you Budapest the way it's meant to be seen. We've written it for conscious travellers and locals – for those who are like us and are looking for more than just a glimpse at the main tourist attractions. This guidebook features countless little gems for you to discover while strolling the city streets – be it a hidden courtyard, a secret bar, a colourful garden, an offbeat flea market, or a stunning piece of street art.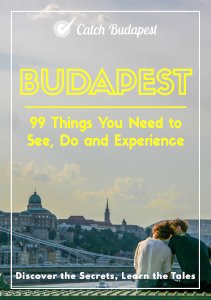 My Map of Budapest – German expat Aramis' unique project is a great start for getting out there and exploring. His beautiful (printed!) map is perfect for all locals, new arrivals, travelers, backpackers, tourists, and lovers of Budapest featuring a walking route and lots of hidden spots, cafés and parks around the city. A great choice if you're looking for a smart-phone free treasure hunt!
Budapestflow's free Street art-map – Attila, the friendly guy behind "Budapestflow" is somewhat the expert when it comes to showing alternative spots of Budapest that usually miss the eye. His latest project is a comprehensive street-art map showing you every single mural painting of the city. A great resource if you want to design your very own and special street art discovery tour. The great thing about it is that street-art hunting in Budapest will lead you to places and districts you probably would've missed otherwise but that are well-worth seeing. Ever heard of Csepel Island? Yapp, even that completely offbeat part of the city has interesting street art combined with a whole new world of Budapest.
Pssst! If you want to understand the significance and meaning behind the street art pieces, Budapestflow also got you covered with an in-depth street-art tour showing you the most interesting pieces of the scene.
Spotted by Locals – Another awesome source to discover the best hidden spots of the city is Spotted by Locals. It's a page (and app) where Budapest-people discover and write about the coolest hangouts in the city. Super inspirational!
Shop Fresh, Locally Produced Groceries
---
Budapest's markets truly come to life in the summer featuring locally sourced and produced fruits and veggies in abundance.
See our article about the best markets in Budapest here.
But even if you don't have the time or energy for a full-on market visit there are great opportunities to buy your groceries from sustainable sources. In that case, we recommend Budapest's little fruit- and veggie stands that are mostly family-run friendly places with fresh ingredients for that soup or salad. Here are our two favourites of the city:
Ági's little fruit- & veggie-stand – Located in friendly and familiar Újlipótváros (district XIII) Ági is the neighbourhood's favourite when it comes to grocery-shopping. Shiny-happy apples, full-bodied melons, all kinds of vegetables in every color of the rainbow and lots of specialties.
Address: Tátra utca 18, 1136
A Másik Bolt – Located straight in the middle of the otherworldly Wekerle-estate, the "Other Store" (that's what "Másik Bolt" literally translates to) is another neighbourhood favourite. Next to offering fresh and locally produced fruits and veggies this little place is also a café and bakery, even serving fresh lunch during the weekends.
Contact: Facebook
Stuff Yourself with Ice Cream
---
That's a no-brainer. Budapest is full of the greatest ice-cream parlours ranging from classical spots to the latest fancy ice cream inventions everyone dreams of on a hot summer day.
Here are three of our favourite ice cream heavens of Budapest:
Levendula – goat cheese-, basil-, lavendel-ice; you name it! Unique tastes, scattered all across the city.
Contact: Facebook
Fragola – Although we loved their chimney cakes during winter too, ice cream is still their real thing and they do it super well!
Contact: Facebook
Gelarto Rosa – This isn't ice cream, these are rose-shaped, heaven-sent fruity bits of refreshing little miracles you'll see in almost every person's hand in the Basilica area. We're usually all for standing out from the crowd, but not this time.
Contact: Facebook
Anjuna Ice Pops – These flash-freezed pieces of paradise come in both fruity and sweet flavours. They're great and refreshing as they are but if you fancy you can dip them in chocolate and sprinkle it with various nuts and other goodnesses.
Contact: Facebook
Ride the Children's Railway and Enjoy the Buda Hills
---
Budapestians lovingly refer to the "Children's Railway" as the most pleasant remnant of socialism in Budapest. This cute railway that is operated by schoolchildren can be enjoyed in many ways. Its whole route is a scenic and beautiful ride through the hills of Buda. You can simply get on at "Széchenyi Hill" or Hűvösvölgy" (the two final stops), sit back and just enjoy the 11.2km-long train-route through nature. But it's also perfect for a whole day full of hiking and panoramas. You can read here about our suggestion for an amazing day trip in the Buda Hills.
Dip your Toes into the Vituki Pool
---
Budapest's pools are mostly two things: Overpriced and overcrowded. This is not the place with the Vituki Pool, a forgotten little bath tucked away in the rather industrial 9th district. And although you shouldn't expect a luxurious spa-experience here, there is everything you might need on a hot summer day: a pool, a buffet, changing rooms and you can even get a massage. All of this comes with the proper feel of retro without any fuzz, but this is exactly what we like about it so much. Here, you don't have to fight for a place even on the hottest weekend-day and with 1,650HUF for a day ticket, this is definitely your cheapest bet to kick back in cold water within the city. Plus the opening times at 6 am making it the perfect place for a quick morning swim before work.
Address: Kvassay János út 1, 1091
Opening times: Mo-Su 6 am – 8pm
Contact: Facebook
Enjoy the Cool of the Inner Courtyards
---
While the streets can get steaming hot on a warm summer day, Budapest's inner courtyards function as little oases. The thick walls of the old buildings make sure that the temperature is always pleasantly cool, plus these architectural gems offer beautiful insights behind the facades of the city. While some stunning courtyards are open to everyone, at others you have to make your way in by specifically asking the residents whether you can take a look (it works!). And it's so worth it, as what you'll see are architectural masterpieces, beautiful frescos, a whole ecosystem of colorful plants and flowers and the general care and effort many residents put into what they call their homes. So where are they – the most beautiful courtyards of the city that are worth to cool down at? In general, it always pays off to walk with your eyes wide open and seize as many opportunities to sneak peeking as you can. Nobody has yet seen the insides of every building in the city and who knows what you will find behind a specific door? Be adventurous!
For starters, we recommend stepping into Szent István körút. 16, in district 13 to See a fountain, ornamented doors and the stunning frescos of Károly Lotz on the ceiling of the entry hall, straight on the big ring road ("Nagykörút"). You get lucky here, as the gate is always open on weekdays until the evening since there are multiple stores inside.
But there are so many more! After exploring Budapest for several years, we've listed the most stunning inner courtyards in chapter 36 of our book "City Secrets and Urban Tales – A Different Guide to Budapest." Check it out to see a unique face of the city and to take a look beyond the obvious.
Visit the Night Market in Chinatown
---
Only a few people know that Budapest has one of the biggest Chinese communities in Europe. Their community is hidden and tucked away in district X ("Kőbánya"), but a great way to experience it as an outsider is to visit the Chinese night market. It takes place every summer evening between 5 pm and 12 am and will make you feel as if you were travelling on the streets of Asia. The food in the usual Chinese buffets of downtown doesn't even get close to the delicacies you'll get here and the atmosphere is truly authentic, as this is where large parts of the community hang out to spend their evenings. Our tip is to be adventurous and order what you'll see on the table of others – your best bet anyways, as there is no English or Hungarian menu and even the Hungarian language skills of many of the vendors are limited. A great and delicious adventure that is not to miss!
Contact: Facebook
Take an Evening-Jog (or Walk) on the Lesser-known Part of the Danube Promenade
---
There are certain moments we cannot be anything else but grateful for living in a city like Budapest. This very feeling strikes us every single time we go for a walk or jog along the Danube between "Bálna" and Rákóczi Bridge. This roughly 2.5km-strip is full of life, summer vibes, and great views. There's nothing like jogging there at sunset time and refreshing yourself with an ice-cold lemonade once you've made it there and back – an inherently Budapestian summer experience!
Explore other Cities of Hungary
---
We cannot stretch enough that Hungary is so much more than Budapest. Thanks to the country's small size you can literally explore its every corner in the course of a day- or weekend trip. Listing every worthwhile town and area would go far beyond the scope of this article but our suggestion is to start with Hungary's cute university towns this summer that each offer their separate characteristics and sights.
Szeged – a young and fresh city  in southeastern Hungary providing an ideal mix of current culture and history. Read more about a visit to Szeged here.
Pécs – the southern player with Balkan-influenced food that is packed with arts and culture. Pécs was also elected as the European Cultural Capital in 2010. Read more about a visit to Pécs here.
Sopron – A charming and historically rich city located right at the Austrian border. It's also the ideal base to discover Lake Fertő, the Fertő-Hanság National Park as well as the bucolic Burgenland-region of Austria. Read more about a visit to Sopron here.
Explore Bartók Béla Way and Surroundings (District XI)
---
This avenue in very local district XI comes with its own charm and special places to discover. It's somewhat the up-and-coming area of the Buda-side with plenty of new but also well-established places to discover and relax at. Here are our favourite picks for this summer:
Pagony – Budapest's bar culture never fails to reinvent itself and Pagony is a prime example for that. This atmospheric bar is located in the former children's sector of the famous Gellért Baths, so you'll literally be sitting in sky-blue empty pools here while sipping lemonade or beer and eating great food. A really refreshing and cool experience on any hot summer day!
Contact: Facebook
Béla – Being the latest player on Bartók Béla Way, Béla is a truly enchanting experience. It's four letters stand for "bár", "étterem", "lakás" & "arborétum" (i.e. bar, restaurant, flat, arboretum) and it actually looks like a well-designed living room with lots and lots of plants bringing you the proper jungle-feel.
Contact: Facebook
Lake Feneketlen – If you want to let it all hang out for a bit, make your way straight to Lake Feneketlen (the "Bottomless Lake"). This tiny lake is where young moms and dads are pushing baby strollers and where the sporty types live it up at the outdoor gym. It's surrounded by a running track, numerous benches and green areas. You can feed the ducks and there is a nice church overlooking the whole spectacle.
Enjoy Car-Free Liberty Bridge
---
On some weekends between July  and August  Liberty Bridge belongs solely to pedestrians and cyclists (if COVID allows it this year). That's when locals, creatives and summer vibes flood the whole bridge from morning until late night and the area is truly thriving. You can bring your hammock, yoga mat, sarong, food, drinks and everything else you could possibly need for a sunny day above the Danube. Enjoy the view of Budapest's most iconic sights, celebrate the youthful spirit, dance the night away on the bridge and feel what such a buzzing city as Budapest can be like without any cars.
Prepare a Barbecue or Goulash in a Kettle at Két Rom Busz
---
Római Beach is an amazing and laid-back place with lots of bars, fresh fish and great vibes all summer long. If you want to have a truly unique day here with your friends or family, consider reserving one of the cooking- or barbecue spots at Két Rom Busz – a bar consisting of two old buses turned into a vibrant open air summer terrace. You can bring all ingredients yourself and finally prepare that barbecue or kettle goulash you've been longing for for so long but didn't have the appropriate place and equipment for. The mood at Két Rom Busz is always great and somehow this venue reminds us of a small festival – one that lasts all summer long…
Contact: Facebook
Call +36209427392 to reserve your space.
Now you know all of our favourite things that make a long Budapestian summer truly worthwhile. We hope that we could give you lots of new insights and info about how to have an awesome summertime in Budapest and around. As you see there is now absolutely no way that you could ever get bored here! As always, we'd like to hear from you: What makes your summer this year exceptional and what are your trips to make the most of a Budapestian summer? Let us and others know in the comments!
Also, if you like our tips, don't forget to share this article on social media and with your friends on- and offline.
You might also like:
Your Ultimate Spring Bucket List for Budapest
How to Spend Winter in Budapest
The Best Markets of Budapest to Hunt for Fresh Goods
https://www.catchbudapest.com/wp-content/uploads/Budapest-Summer-Cover.jpg
675
900
catchbudapest
https://www.catchbudapest.com/wp-content/uploads/cbp_logo_dolt_fekete_karika_vastag-s.png
catchbudapest
2020-06-20 10:23:32
2021-10-16 17:23:57
18 Great Unusual Summer Experiences You Can Have in and around Budapest 2021